IHD Izmir Branch calls for the immediate release of ill prisoner Ahmet Çakal
IHD Izmir Branch said that prisoner Ahmet Çakal, who is suffering from stomach cancer, is getting worse and demanded his immediate release.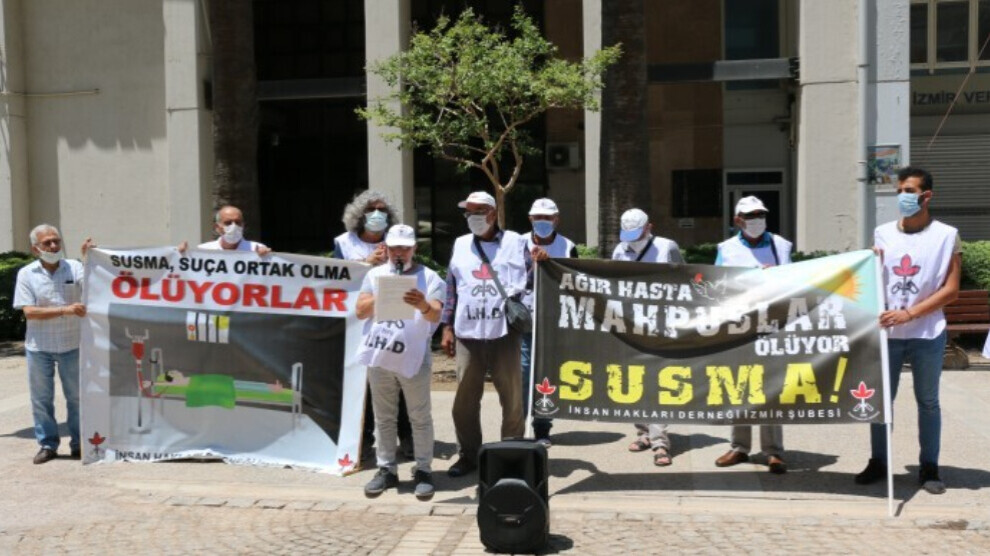 The Human Rights Association (IHD) Izmir Branch Disappearances Commission made a statement in front of the former Sümerbank in Konak to draw attention to the situation of seriously ill prisoner Ahmet Çakal (68) who is in Şakran T2 Penal Institution.
The action was attended by IHD members and executives. Activists were carrying banners saying "Seriously ill prisoners are dying, don't remain silent" and "Don't remain silent, don't be a partner in crime, they are dying".
IHD executive Ahmet Çiçek said that prisoner Ahmet Çakal suffers from many diseases and has been lastly diagnosed with stomach cancer at Izmir Katip Çelebi University Atatürk Training and Research Hospital.
Çiçek said: "In the report given 2 months ago, the medical oncology department said that it would be appropriate to postpone the sentence during chemotherapy. Çakal was sent to Istanbul to wait for the decision of the Forensic Medicine Institute (ATK). The ATK agreed with the postponement of the sentence. With this report, Çakal's lawyer, Fatma Demirer, requested that the execution be postponed. But unfortunately, on June 23, the prosecutor's office rejected the petition."
Çiçek said that it takes 4-5 hours for Çakal to go to and from chemotherapy, and that physicians warned that stomach, internal and intestinal bleeding may occur due to chemotherapy.
Çiçek reminded that Çakal was admitted to Yeşilyurt Hospital on 24 June due to an internal bleeding. The IHD called for his immediate release.