Justice for disappeared people demanded in Amed
The Human Rights Association and families of the disappeared held sit-in for justice in Amed.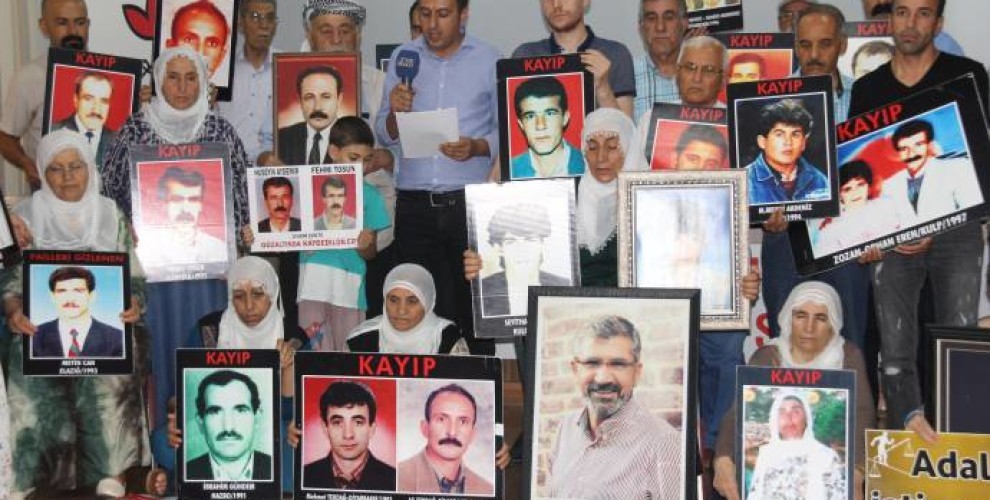 The Human Rights Association (IHD) Amed Branch and relatives of the disappeared people staged their weekly sit-in for the 492nd time on Saturday.
The photos of the disappeared were lied on the ground around participants who this week demanded to know the fate of Ebubekir Aras, who was taken into custody in Cizre (Şırnak), and never seen again.
IHD Amed Branch chair, Abdullah Zeytun, recalled the thousands of unidentified murders committed in the Kurdish region and said that "These murders were committed by public forces and paramilitary forces. At the time we learned they were carried out by the forces called JİTEM. These forces have yet to be brought to justice. None of the murders committed in the '90s was accounted for".
Following Zeytun, Orhan Örhan, member of the IHD Amed Branch Commission for the Disappeared, told the story of Ebubekir Aras.
On 13 July 1994 at 5 am, Aras who was working as watchman at a truck garage was taken into custody during a raid by security forces. That same day, another five people were taken into custody at different addresses.
A week later, everyone except Ebubekir Aras was released. Aras' brother, Abdurrahman, went to Cizre District Police Department to ask about his brother. 
The police officer in charge told Abdurrahman that in fact Ebubekir had been released the same evening of the day of his arrest.
Ebubekir's brother Abdurrahman Aras then told of the five people who were detained on the same day and released a week later. They said they were going to be tortured with electricity, but as Ebubekir died under torture, police decided to stop.
When Aras told the Cizre District Security Directorate about the witnesses, he was told once again that his brother was alive and that he should wait.
Cizre District Police Department issued a document to Abdurrahman about his brother's detention and release.
The date of detention is given as 17 July 1994 at 5 am. The release date is given as the same day at 8.30 pm.
The signature was in fact a fingerprint as Ebubekir could not read nor write, which lead to the conclusion of his family that facts don't add up and truth is not told.
Despite all search and efforts, Ebubekir's fate remains unknown.