'Justice will not come to Turkey unless justice is served in Roboski'
The Justice for Roboski Initiative said that "Justice will not come to Turkey unless justice is served in the Roboski massacre case."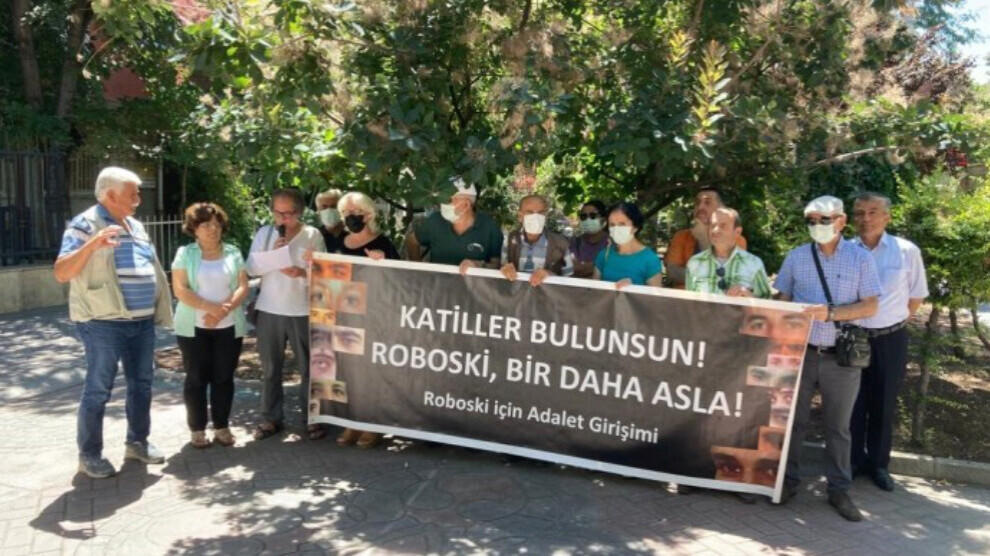 The Justice for Roboski Initiative made a statement in front of the Ankara Branch of the Human Rights Association (IHD) in the 127th month after the Roboski Massacre. Many human rights defenders participated in the press briefing during which a banner reading "Let the murderers be found, Roboski never again" was displayed. Delivering a speech during the protest, Tanju Gündüzalp noted that the people of Roboski have been seeking justice for 10 years, 127 months, 552 weeks and 3,865 days.
Gündüzalp pointed out that the investigation into the massacre was closed with the decision of non-prosecution. He said that the file was condemned to a policy of impunity, and the authorities have been trying to cover up the massacre for 10 years. "Roboski is a symbol of unjustness that destroyed the lives of our people who made their living by doing business with their relatives that were tortured while living in their own villages in the '90s, migrated from their own lands in Turkey to the south. As in the murders in the notorious 1990s, everyone knows the responsibility of the system. However, the truth is always covered in all the murders, massacres and the Roboski Massacre. The Roboski Massacre is a litmus test concerning the limits of the state, democracy and solution," he said.
Gündüzalp remarked that those responsible are being protected by the state. "The way to oppose borders and maintain peace is justice for Roboski. The Roboski Massacre is the threshold of history, time, people, borders, trees, water, creatures, life and pain. A crime against humanity was committed with the Roboski Massacre. A crime against humanity was committed by the rulers and administrators with the taxes paid by our people themselves. Those responsible will be revealed eventually. Those who want to confront the past atrocities are also punished by the state. A future cannot be built without confronting the past, a just order cannot be established. There is no statute of limitations for any massacre. Justice will not come to Turkey unless justice is served in the Roboski massacre case. The state budget should be allocated for peace, not for weapons/war. The path to 'Peace and Justice' in these lands will first pass through Roboski. Roboski is the shame of these lands, a bleeding wound and a search for justice," Gündüzalp said.