KOMAW members take over Freedom for Öcalan Vigil in Strasbourg
KOMAW members took over the Freedom for Öcalan Vigil in Strasbourg.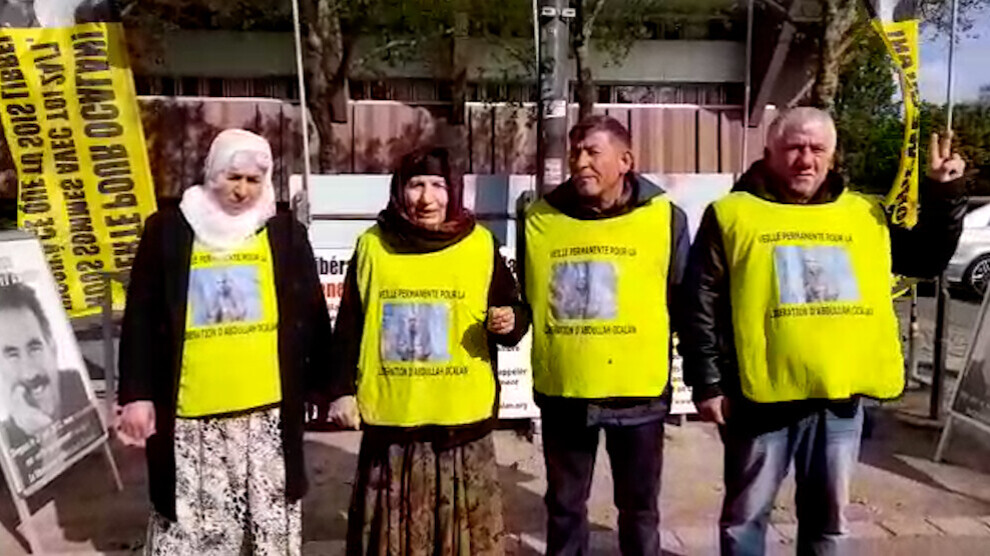 The Freedom for Abdullah Öcalan Vigil, launched on 25 June 2012 in Strasbourg, demanding freedom for Kurdish People's Leader Abdullah Öcalan and breaking the isolation imposed on him, continues in its 569th week.
Members of the Martyrs' Families Institution (KOMAW) took over the vigil that Kurds living in Europe and their friends take over in groups every week.
The group includes Xane Yıldız, Selamet Mat, Selim Oltan and Mehmet Şirin Akbaş.
Speaking on behalf of the group, the mother of martyr Xane Yıldız, expressed her anger and feelings about the isolation imposed on Kurdish People's Leader Abdullah Öcalan and said: "We made a promise to President Apo [Abdullah Öcalan]. We call out to the whole world, to those who handed over our Leader to the Turkish state. We want our Leadership free. He has not been allowed to see his lawyers or his family for 2 years. I am 80, but even if I were 100 years old I would sit here. On this occasion, I send my special greetings to all our heroes in the mountains of Kurdistan."
Yıldız said that the mothers can no longer tolerate the injustices inflicted on the Kurdish people, and added: "They have filled the prisons. They put our girls, our mothers, our boys in prison. No state stood up to protest this mistreatment. Aren't we human too? We also have rights. We were driven from our land. We want our leadership to be freed. We want our country."