Lawyers convey Öcalan's message and details of the latest meeting
Asrın Law Office published details of the meeting with Öcalan on June 18, and a message from the Kurdish leader.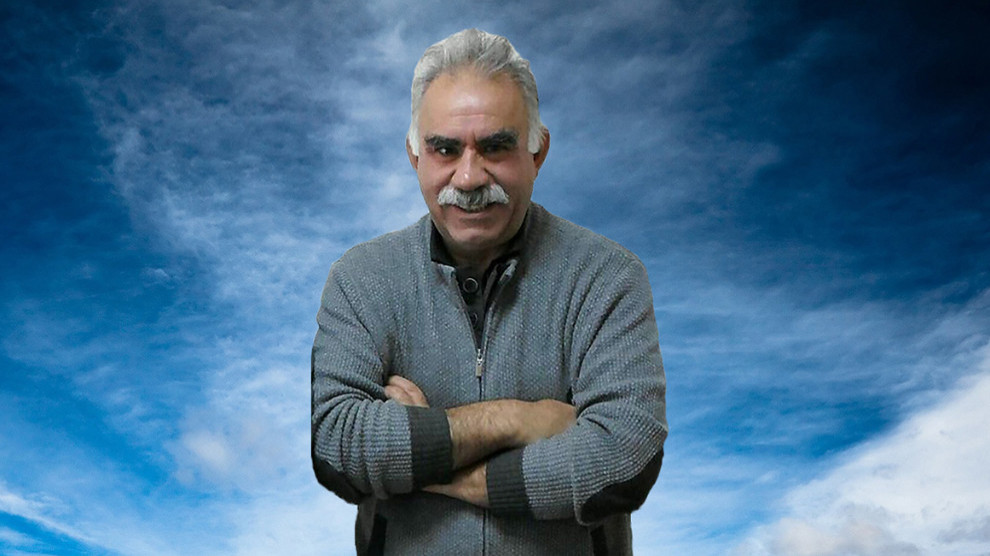 Asrın Law Office published a written statement about the meeting they had with their client, Kurdish People's Leader Abdullah Öcalan on Imralı on June 18.
Full text of the statement reads as follows;
"We had a lawyer meeting with our client Mr. Abdullah Öcalan in Imralı Island Prison on 18.06.2019.
Mr. Öcalan made evaluations and shared his opinions on various topics as was the case in other meetings. These topics are mainly the hunger strikes, Turkish-Kurdish relations, Kurdish history, personality and culture, the situation and possibilities in Syria and Northern Syria, Democratic Politics-Democratic Alliance potentials and methods, current politics in Turkey and potential developments.
Mr. Öcalan also wrote a text about the current politics and possible developments. He wanted this text, too, to be shared and discussed with the HDP, the primal addressee, together with the content of the meeting. As per his request, we shared the text with the HDP officials after the meeting, and we planned a public information on 21 June 2019, Friday. We would like to point out that we have shared nothing except with the mentioned addressees.
As we made our preparations and talks in line with our own planning, we came across a person by the name of Ali Kemal Özcan's statements made to the press. Özcan contacted lawyers from our Office on Thursday evening and claimed to have had a meeting on Imralı. We were not aware of any person other than lawyers having been granted visit. As has been the case after every meeting we had with our client since 2 May, we have been sharing our client's messages firstly with the addressees and then with the public. We are aware of the importance of our client's stance and words in social political context and we have been making an effort to manifest this responsibility and attention in our statements. Therefore, we have to approach any person and institution that would try to reach us about Imralı and our client with this very same attention and responsibility. The issues Özcan mentions about the meeting he claims to have had, his manner of sharing these with the press and the notions he uses will be binding for himself. We don't feel any obligation in confirming or answering these issues without meeting with our client.
We share with the public the statement written by Mr. Öcalan during our meeting on 18.06.2019.
Mr. Öcalan stated that every word in this text has the value of a book, and he expressed opinions and proposals to be evaluated with the content of the text.
He stated that he would have wider solution-oriented messages which he himself called "hope". He reiterated the emphasis he had put on the language of polarization and he made clear that the third way must be protected.
He indicated that the democratic alliance should not be made into a part and buttress for dilemmas in the context of current discussions, and that the HDP should protect this by basing on the third way. He expressed that this two-pole state of affairs has existed since the founding of republic, and that it was a dangerous move and a work of great courage to establish and run a democratic alliance and a party like HDP as the third way under these circumstances. He explained that the HDP as a democratic alliance should develop a democratic negotiation and a politics of solution that will invite all political structures to democratization with courage and reason like a catalysator.
In stating that the sense of democratic alliance that is embodied in HDP should not be made a party and buttress to the current election discussions, Mr. Öcalan remarked that he referred to social reconciliation and that it should be abstained from polarization and promoting the existing bilateral situation. He is of the opinion that the policy of polarization is a policy of conflict and war with its offensive discourses and demagogy, and that HDP should protect its own way. He stated that these issues should be talked and discussed with HDP, while at the same time the HDP that conducts its works as a political party shall be making its decisions itself.
Mr. Öcalan thinks that HDP is a party of democratic alliance and democratic negotiation, and in order to achieve this HDP should also consolidate its politics with the alliances made within itself. He highlighted that there exist numerous issues from the smallest structure in society to the top, that politics stands at the core of these matters and the solution is to be developed by democratic politics.
He emphasised the need to develop democratic politics basing on democratic reconciliation, free politics and universal law, and proposed the Democratic Constitutional Alliance term in universal law. He stated that a democratic constitutional solution would be sought within universal law. He recalled that there was an emphasis in the 7 point declaration with respect to the Democratic Alliance line.
As he has done during recent meetings, he has continued with his evaluations on Turkish-Kurdish relations. Like he had expressed numerous times before, he pointed out that the Turkish-Kurdish relations were reciprocal, that there would be no Turks without the Kurds, that Kurds opened the gates of Anatolia for the Turks in Malazgirt, and that later on the Ottomans could cover ground by coming to an agreement with the Kurds in Çaldıran and Mercidabık (Marj Dabiq).
He stated that the same situation also goes for the Kurds. According to Mr. Öcalan, it should be questioned and exposed by whom, when and how this relationship between Turks and Kurds was brought to an end.
He said it was known by everyone that the disruption of this relationship has brought about many rebellions and massacres, noting that his manner was different as even greater massacres have been prevented in spite of what has happened during the past 40 years.
As to his own methods of politics, Mr. Öcalan told during the meeting that he has so far sought a solution to the existing problems by putting forward a creative politics based on thinking and producing. As has been revealed during the process of hunger strike and death fast actions, despite the presence of thousands of people expressing loyalty to his person, he cannot accept the existence of this much pending work and this many social issues to be resolved. He expresses that all the burden is laid on his person, that self-sacrifice is not enough by itself, and that everyone could focus on some things by means of wise, creative and solution-oriented politics. For instance, he wonders to what extent the Democratic Municipalism will be developed in the coming period.
With regard to Syria, Mr. Öcalan attaches importance to the politics of Kurds' co-existence with Arabs and other peoples and convincing the Syrian state for a constitutional resolution. He expressed that this was the main measure to prevent a possible destruction or annihilation.
He continued with his assessments on Kurdish history, personality and culture over Mem û Zin and Cizre, remarking that the shadow of Mem û Zin stood on Cizre despite a history of 400 years. In his evaluations on the history, geography and culture of Cizre, he shared his opinions on Yazidis over the "Yazidi Kurdish Girl" Berivan that has an important place in the history of Cizre. Mr. Öcalan thinks that the Kurdish culture has not been learned and experienced righteously, considering the failure of Kurds to teach their children Kurdish to be a terrifying situation.
21.06.2019
Yours sincerely,
Asrın Law Office."
KURDISH PEOPLE'S LEADER ABDULLAH ÖCALAN'S MESSAGE
"To the public,
I felt the need to make this statement in consideration of probable developments with regard to the personal initiative that I had to take in order for hunger strikes and death fasts to come to an end.
I have talked about a deeper and clarified stance regarding the resolution process. I have treated the current developments from this perspective. The pro-conflict and pro-polarization manner that has left its mark in the post-resolution process and does not go beyond the traditional dilemma of Turkey has proved to be aggravating all the social problems, the Kurdish question being in the first place. Contrary to this reality of the Cumhur (Public) and Millet (Nation) Alliances, the Democratic Alliance and associated democratic negotiation option that has been expressed in the HDP, bases itself on a solution-oriented manner.
Considering that both social, regional and global issues will get even heavier in the coming period, it is of great importance and meaning to preserve the manner of the third way. In this scope, the sense of Democratic Alliance embodied in HDP should not be made into a party and buttress to the current election discussions. The importance and historic meaning of Democratic Alliance is its abstention from engaging itself in the existing dilemmas and its insistence on its impartial manner in elections, as has been the case up to until today.
The way basing on democratic negotiation, free politics and universal law stands as the most accurate and solution producing political platform. I call upon all concerned circles to be sensitive on this basis.
18.06.2019 Imralı Closed Prison
Abdullah Öcalan"