Mothers of prisoners and HDP members brutally detained in Istanbul
The police attacked the relatives of prisoners in Istanbul and detained mothers and HDP members by use of brutal force.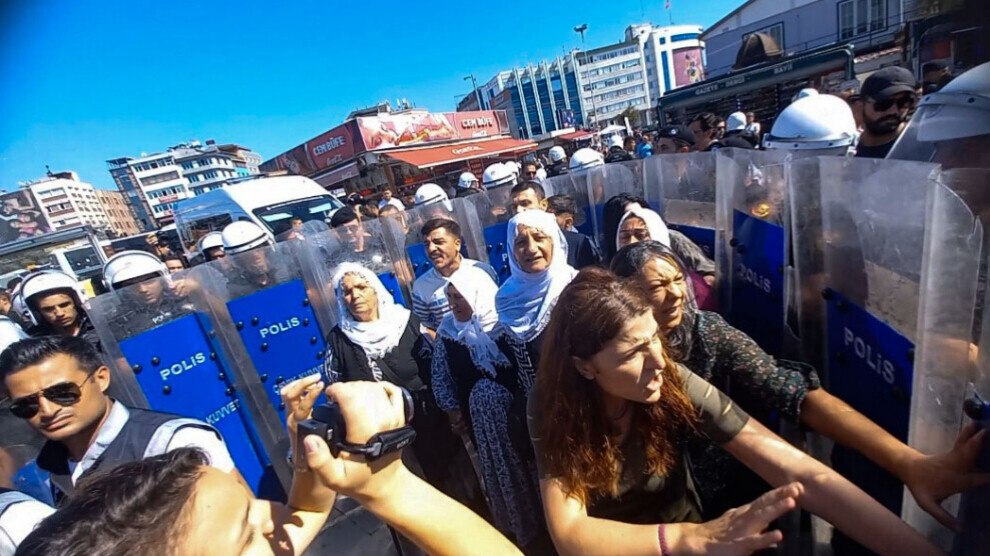 The crackdown on political prisoners in Turkey continues and inmates who have completed their sentences are not released, in line with the infamous measure of the Ministry of Justice to make the release of political prisoners dependent on a confession of remorse after they have served their prison sentence. There are many people in Turkish prisons whose regular prison term has long since expired and who are still not released because of their political views.
Families of prisoners have long been taking to the streets across the country to demand justice for their children. The families repeatedly face police brutality in response to their demands.
Families of prisoners gathered in Istanbul's Kadıköy district today to protest against prisons being turned into death cells. They were joined by HDP deputies Züleyha Gülüm and Dilşat Canbaz Kaya, as well as several administrators and members of the party in the city.
Obstructed and besieged by the police, the group protested the denial of their right to assembly by chanting the slogan "Bijî berxwedana zindana" (Long live the prison resistance). During the ensuing crackdown by the police, who also forced journalists out of the area, several people were taken into custody, handcuffed behind their backs.

Speaking under police blockade, HDP MP Dilşat Canbaz Kaya denounced the unlawful treatment of the relatives of prisoners who are suffering from ever-worsening detention conditions and more of them lose their lives behind bars every day. The deputy called for an end to this unlawfulness and called for solidarity with the families of prisoners.
Speaking after, HDP deputy Züleyha Gülüm said, "We are faced with a mentality that even tries to prevent members of the parliament from speaking. This very same mentality is committing a massacre in prisons. While thousands of inmates with health problems are not released, their mothers are detained here for raising their voice against deaths in prison. We have to say "stop" to this unlawfulness all together. What is going on in prisons is a concern to all of us. 49 prisoners have lost their lives this year alone."