No decision in the case of Ecevit Piroğlu
Ecevit Piroğlu is still under acute threat of deportation from Serbia to Turkey. In Ulm, activists have demanded his immediate release from Serbian extradition custody and his recognition as a politically persecuted person.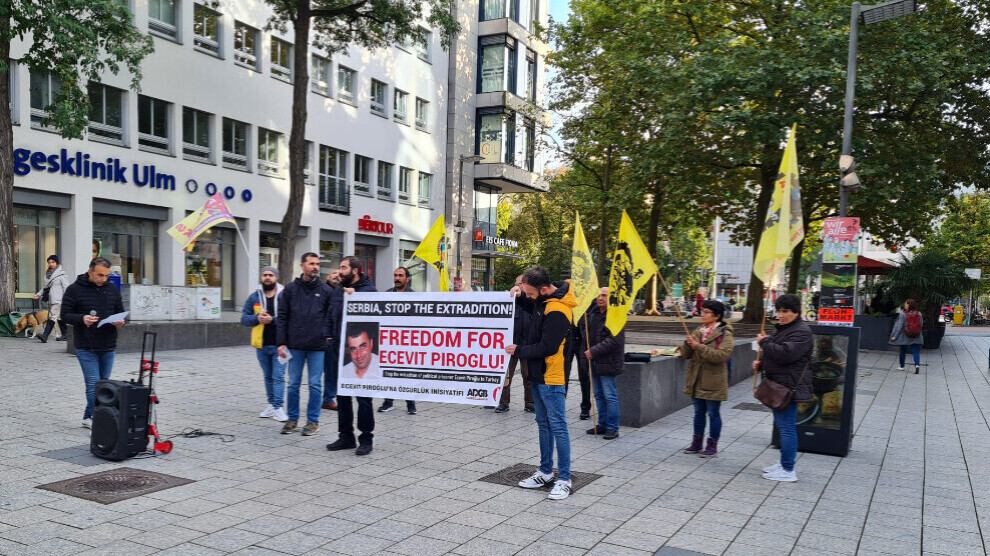 Ecevit Piroğlu remains in Serbian custody. After fleeing from the Erdoğan regime, the Kurdish activist from Turkey is being held in extradition custody in Serbia, where he went on hunger strike in June. A court hearing was held in Belgrade on Friday, and the non-public hearing was adjourned without a verdict. The next date of the trial was not mentioned.
In Ulm, activists from the left alliance ADGB demanded Piroğlu's release at a solidarity rally on Friday. The opposition activist, who has been weakened by his month-long hunger strike against extradition to Turkey, must receive immediate medical treatment. Speakers stressed that his deportation meant sending him to torture and death.
In a statement read out here, Ecevit Piroğlu was described as a political activist who has been working for democracy, justice and peace in Turkey since 1992. Due to his political work, he was arrested several times: "After his last imprisonment, he was forced to leave Turkey to escape further political persecution. On 25 June 2021, Piroğlu flew to Serbia and was arrested after landing at Belgrade's Nikola Tesla airport and has been in detention ever since. On 2 June 2022, Piroğlu went on an indefinite hunger strike against his extradition. Months later, he has lost considerable weight and is losing strength and consciousness. He is now held in solitary confinement and his life is in danger."
Protests against the extradition of Ecevit Piroğlu have taken place in front of Serbian representations in several European states. The actions are coordinated by the "Initiative for the Freedom of Ecevit Piroğlu". Piroğlu is to be tried for his role in the Gezi uprising of 2013, among other things. For this alone, he faces 30 years in prison. He also fought against the "Islamic State" (ISIS) in Rojava, for which he is being prosecuted in Turkey as a "member of an armed terrorist organisation".