Protest by Xosnav Ata in front of OPCW reaches day 288
Defend Kurdistan member Linda Weerts and a delegation from Bashur visited Xosnav Ata, who has been protesting in front of the OPCW in Den Haag for about a year the chemical attacks by the Turkish state.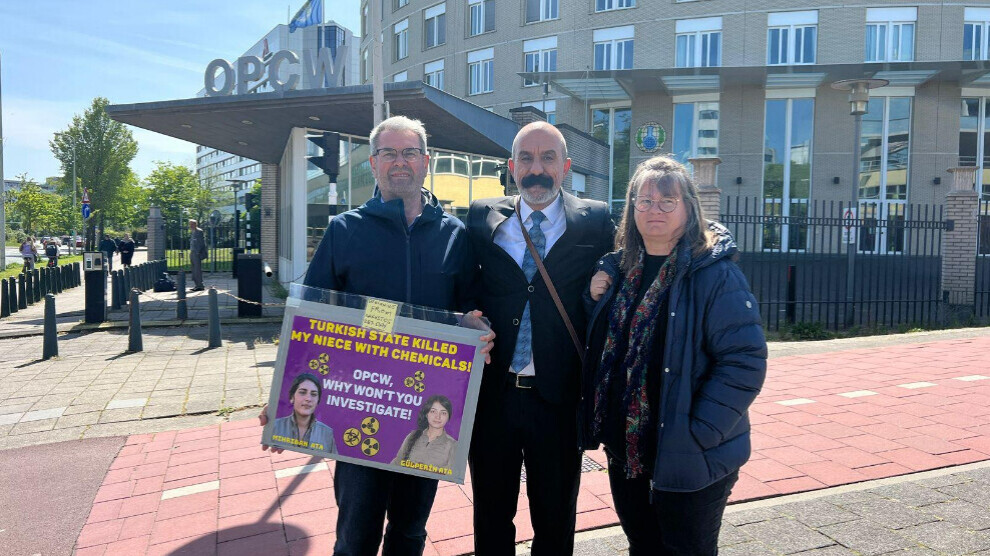 The protest of Xosnav Ata, who demands that the Organization for the Prohibition of Chemical Weapons (OPCW) conduct an investigation against the Turkish state's chemical weapon attacks against the guerrillas, is on its 288th day.
Defend Kurdistan member Linda Weerts, as well as a delegation from Bashur Kurdistan, who attended a meeting of the United Nations about OPCW, visited Xosnav Ata, whose two nephews were killed in Turkish chemical attacks. The delegation received information from Ata about his action and said that they would raise the issue with questions at the UN.
Thanking the visitors, Ata said: "288 days is quite a long time. The OPCW hasn't talked or given a response to our requests during all this time. In the past, we had meetings with the United Nations, with Amnesty International, at the European Parliament. The European Parliament sent the collected signatures against the Turkish state's use of chemical weapons against the guerrillas to the OPCW. The Turkish state has been using chemical weapons in different parts of Kurdistan since 2021. Two of my nephews were killed because of these chemical weapons. That's why I decided to take action. We have been expressing our demands in front of the OPCW for about a year. The OPCW has so far not responded to our requests. Visits are important for the awareness of public opinion. We get morale from the visits."