Remains of 10 people from Garzan delivered to their families
Of the 267 bodies that were excavated in Garzan Graveyard in Bitlis, only 10 were delivered to their families and with two years delay.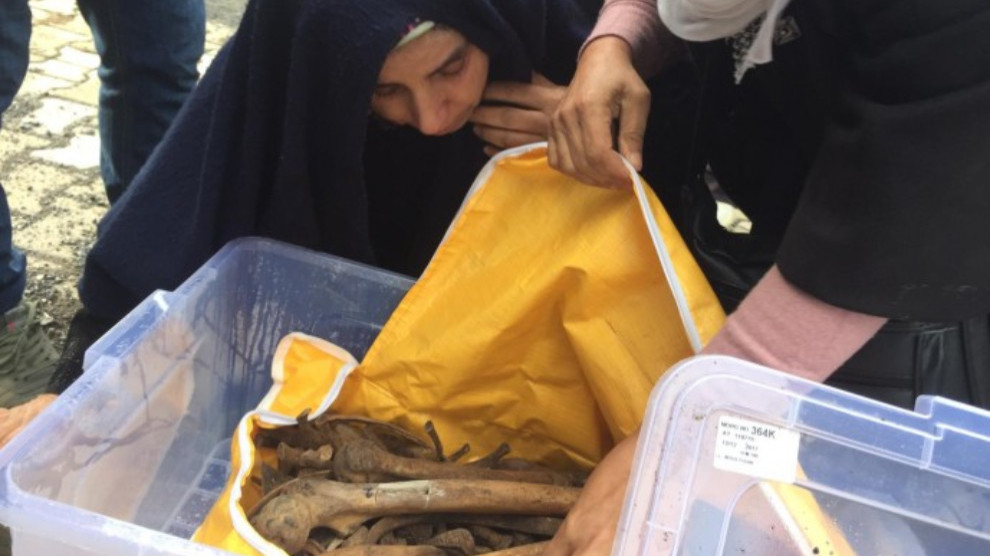 On 19 December 2017, the remains of 267 PKK members were taken from Garzan Graveyard in the Upper Ölek (Oleka Jor) countryside of Bitlis to Istanbul Forensic Medicine Institute (ATK) for DNA matches.
Five of the remains were delivered to their families as the result of the DNA examination came through and were finally buried.
Apart from these families, 30 more families applied to ATK for DNA matching, but only 11 of them had actually the test done.
The families expected to receive the remains of their beloved but instead they were buried with the others in March 2019 at Kilyos Unknown people graveyard in Sarıyer.
On Thursday 11 families applied to the Istanbul Public Prosecutor's Office to retrieve the remains of their beloved. The Prosecutor's Office decided to satisfy the request. Then families went to Zincirlikuyu graveyard Directorate and handed over their documents. Families, after the completion of the necessary procedures to get the remains of their relatives went to Kilyos Unknown people graveyard.
However, only the remains of 10 people were delivered here. Hüseyin Döner's remains were not handed over to the family on the grounds that the necessary documents had not been received by the cemetery directorate.
The bones were buried in plastic boxes. The families went through highly emotional moments during the excavation of the bones of their relatives from the soil.
Şükriye Sincer, who was delivered the bones of her brother Müzeyyen Gördegir said: "We have taken the bones of our brothers and children at the end of our long struggle."
Ferhat Can (Ferhat Garzan), Burhan Altintas (Numan Tatvan), Fedakar Turan (Vecip), Faysal Bingol (Herekol), Mehmet Reşit Karakoç (Gabar) and Necla Karabay (Zekiye) will be finally laid to rest in Tatvan (Bitlis); Ahmet Döner (Edip) and Behzat Yıldırım (Kani Garzan) in Hizan (Bitlis); Müzeyyen Gördegiri (Berivan) will be buried in Batman and Nadire Elma (Nalin) will be buried in Nusaybin district of Mardin.
For the release of the remains of the other 252 people from Garzan graveyard buried in the Kilyos Unknown graveyard, their families are expected to submit new applications.