Saturday Mothers on trial: We will never give up
The Saturday Mothers made a press statement in front of the Çağlayan Courthouse before a court hearing against them saying that they will never give up.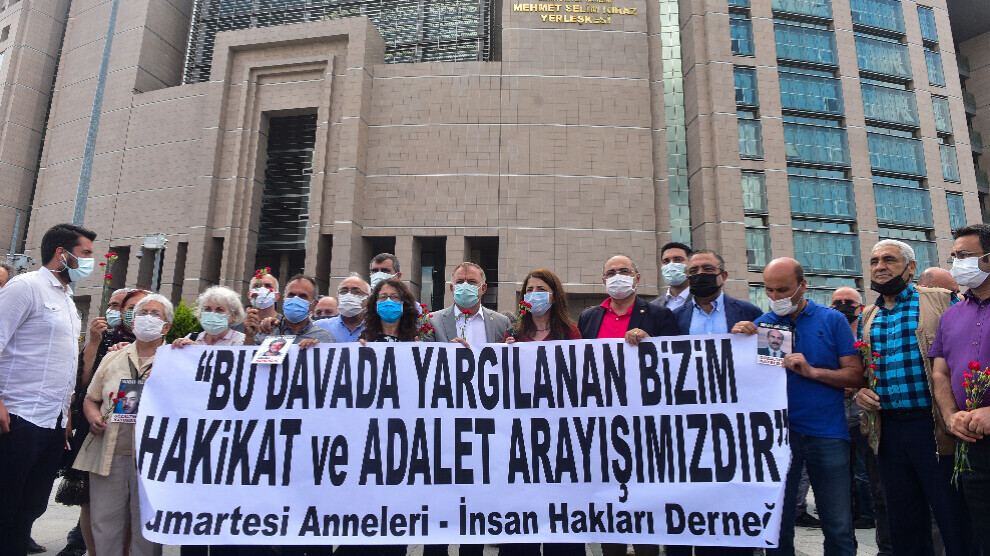 The second hearing of the case against 46 people who were detained in a police attack on the 700th week protest of the Saturday Mothers was held at the Istanbul 21st Criminal Court on Monday. The relatives of the disappeared emphasized that "Even if you file a thousand lawsuits, we will never stop searching our children!"
People's Democratic Party (HDP) deputies Oya Ersoy, Züleyha Gülüm and main opposition Republican People's Party (CHP) deputies Sezgin Tanrıkulu and Ali Şeker participated the press statement.
'WE WILL NOT STOP SEARCHING OUR CHILDREN'
The statement was read out by Ayşe Tepe, the sister of journalist Ferhat Tepe, who disappeared in custody.
"We have been speaking out loudly at Galatasaray Square for years saying, 'Give the bones of our children at least'. We are the defenders of rights. We are the ones who are harassed and silenced since we want to enjoy our constitutional right and ask, where our children are. But we are also ones who never give up. We are the ones who do not keep silent. We will not stop our action at Galatasaray Square, where we have been sitting for 700 weeks without a single incident. Even if you file a thousand lawsuits, we will never stop shouting and asking, 'Where are our children?'.
'PURSUIT OF TRUTH ALWAYS WINS'
Making a speech following the statement, Human Rights Association (IHD) Co-Chair Öztürk Türkdoğan underlined that the court should rule acquittal for the defendants.
"Still there is something that is forgotten: The pursuit of truth always wins. The pursuit of truth is always legitimate. Therefore, no one should try to intimidate human rights defenders with such cases," Türkdoğan added.