Yazidis: The whole Europe should recognize the Yazidi genocide
Yazidi people living in Aleppo demanded the European Parliament, as well as Belgium, to recognize Yazidi genocide and stated that the Turkish state and allied gangs should be brought to account.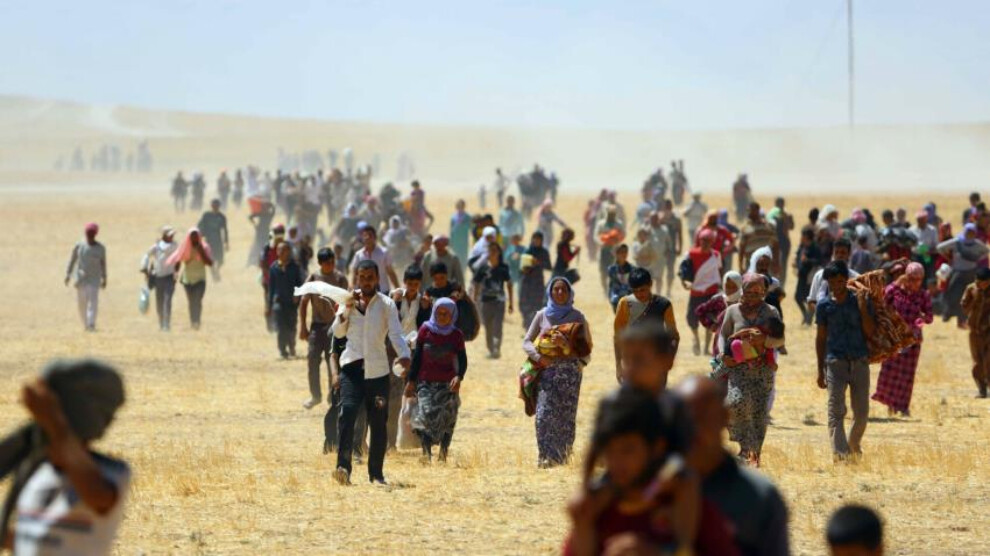 The Foreign Relations Committee of the Belgian Parliament unanimously adopted a bill to recognize the Yazidi Genocide earlier this month. The bill adopted by the Belgian Parliament "condemns and recognizes" the genocide committed against Yazidis by ISIS in Iraq and Syria starting in 2014.
This decision will be a significant step in order for the Turkish state and its allies to be brought to account. Aleppo Yazidi House members assessing the issue thanked Belgium and stressed that the European Union also should recognize this decision.
Gule Xezal, chair of Aleppo Yazidi House remarked that what happened to the Yazidis can only be defined as a genocide and said, "Our community faced genocides in various aspects. The latest genocide of the Yazidis in the 21st century, with all regarding documents, still remains fresh."
'There is just one enemy with different names'
"Women were exposed to sexual crimes in Shengal. The fathers were slaughtered in sight of their children. They intended to annihilate the whole Yazidi community. The enemies of Yazidi people are the same in Shengal and Afrin. In Afrin, the Turkish state and allied gangs did the same as what the ISIS did in Shengal."
Pointing out the brutal crimes committed by the Turkish state and its gangs against the Yazidis, Gule Xezal recalled that Turkey had also supported the ISIS as they attacked Shengal.
Similarly, Ranya Cafer, member of Aleppo Yazidi House, expressed that they are pleased with Belgium's latest decision on Yazidi genocide and added, "We condemn the massacres against the Yazidis. In particular, the Kohco village faced a great massacre; they killed everyone, even women and children. Women were exposed to sexual assaults. The entire world witnessed these massacres and even the states, so-called defenders of human rights have remained silent against these incidents. All European states should recognize the genocide against Yazidi people. Still, there have been tens of unaccounted mass graves."
'The Turkish state must be prosecuted for war crimes'
Indicating the crimes of the Turkish state against the Yazidis in Afrin, Ranya pointed out that the international community should prosecute the Turkish state for war crimes.
Ranya noted that the Turkish state strives to change the demographic structure in Afrin, saying, "They build strongholds in Yazidi villages and settle the gangs in the evacuated houses. They demolish our places of worship and build mosques in place of them. The Turkish state commits all these crimes under the guise of Islam. Such practices cannot be connected with Islam. Turkey, through its gangs, intends to annihilate the Yazidi community and the Kurdish people."