Civilian vehicles bombed by Turkish jets in South Kurdistan
In the town of Bamernê in Southern Kurdistan, two vehicles were bombed by Turkish fighter jets. There are said to be dead and injured, the exact number is unclear.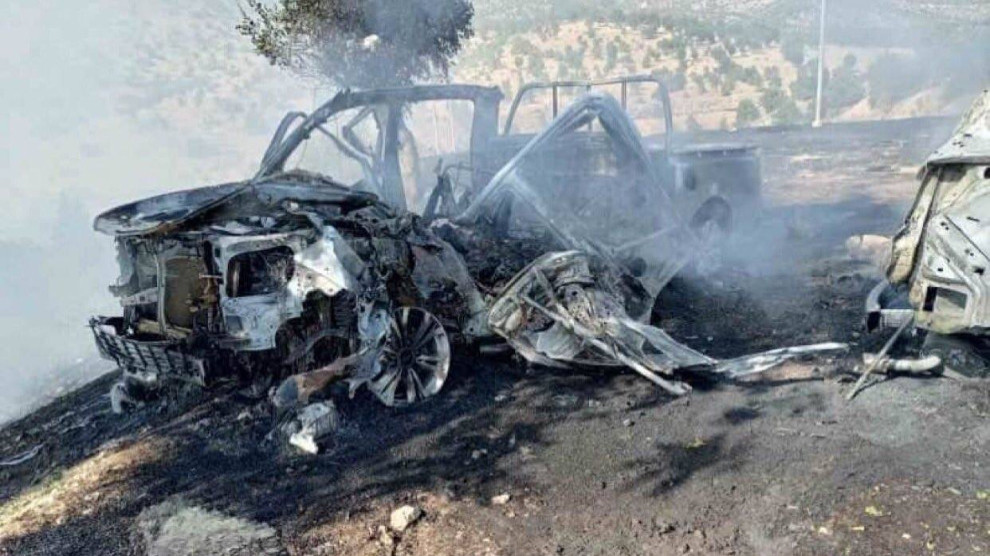 Two vehicles were bombed by the Turkish air force in the town of Bamernê in southern Kurdistan (Northern Iraq) on Sunday. While there are said to be dead and injured, the exact number is unclear. There is no information on the identities of the persons either.
The air raid took place in the late afternoon on the road between the villages of Hesenpirkê and Şirta. Security forces closed the main road in Bamernê to prevent residents from reaching the scene, local sources report. Fire-fighting teams have already extinguished the burning vehicles, they say.
Turkey has been attacking Southern Kurdistan in violation of international law since mid-June. According to information from the Christian Peacemaker Teams-Iraqi Kurdistan (CPT-IK), an international human rights organisation that has been documenting the impact of Turkish military operations on the lives and livelihoods of the civilian population in Southern Kurdistan since 2007, at least six civilians have been killed and at least four wounded since the Turkish Air Force launched "Operation Eagle Claw" on 15 June 2020, followed by the operation called "Tiger Claw" on 17 June. In addition, during these military operations, agricultural land, orchards and land for livestock were burned. Many villages are under existential threat.