Dozens of Turkish soldiers killed in massive fighting in Kurdistan
The Turkish army airdropped troops 31 times at Girê Amêdî last night. HPG reported massive fighting and 32 occupants killed. In addition, the use of six different chemical warfare agents was detected.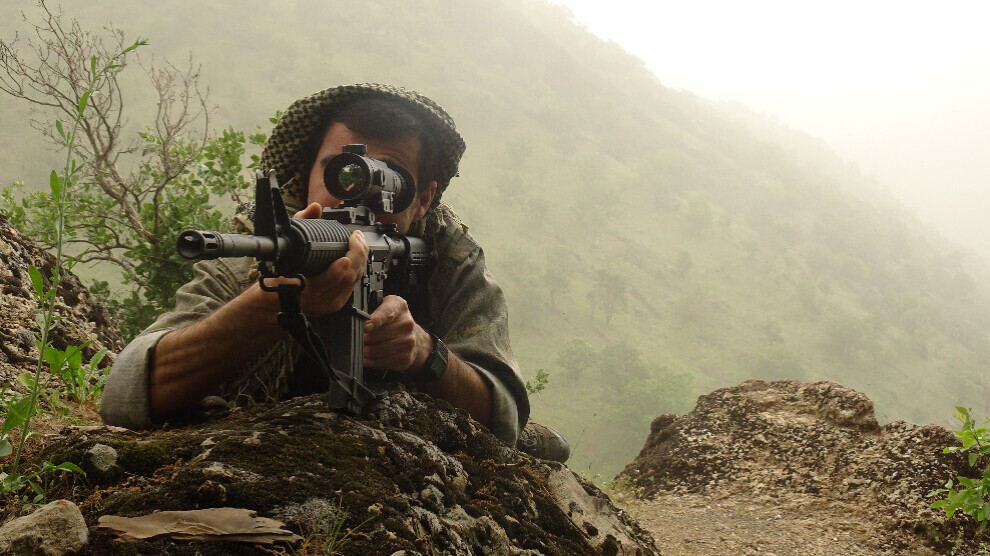 The press centre of the People's Defense Forces (HPG) reported that the Turkish army has expanded its occupation operation in the west of the Zap region in Southern Kurdistan (Northern Iraq) and massively used chemical weapons against guerrilla positions.
"The resistance put up by our forces with great courage and certainty of victory continues unabated. The Turkish army is not achieving any results and is continuously trying to overcome its tactical stagnation in the war zone by expanding the occupation operation and massively using banned chemical weapons against our forces. For this purpose, it extended the operation west of Zap towards Girê Amêdî on the evening of 4 July and at the same time used chemical weapons against our fighting positions and tunnels in a very intensive way. The Turkish occupation forces used six different types of chemical weapons in the resistance areas and bombed the battle positions 22 times with chemical weapons and explosives. In addition, the resistance areas have been bombed 28 times by fighter jets, 36 times by attack helicopters and dozens of times by howitzers. Our mobile units have carried out effective actions from Botan to Zagros and from Metîna to Zap, punishing 32 occupants, injuring three occupants, destroying one Transit military vehicle and one drone, and striking one drone and two helicopters."
HPG provided the following information on the individual areas and the various chemical warfare agents used by the Turkish army:
Botan
In the Besta area in the northern Kurdish region of Botan, a vehicle on its way to Girê Tenûrê was blown up by a mobile unit of the YJA Star (Free Women's Troops) by means of a sabotage action on 27 June. The vehicle was completely destroyed and six occupants were killed. The dead were taken away by helicopters by the Turkish army.
Avaşîn
In the Werxelê resistance area, a Turkish unit was pursued by the guerrillas on 4 July and struck three times with hand grenades and firearms after two actions of sabotage. Seven occupiers were killed and another injured.
Massive fighting took place in the vicinity of the guerrilla position Şehîd Têkoşer last night until the morning.
Zap and Metîna
On 4 July, YJA Star guerrillas carried out two sabotage actions against a group of occupiers who were advancing towards the Şehîd Umîd position. Two occupiers were seriously injured. Another attempted advance was again repelled by sabotage tactics.
In Çemço, a drone was shot down by the guerrillas and another drone was hit. In the same area, armoured cars were struck by the guerrillas. In Koker, an advancing unit was targeted with firearms.
At Girê Cûdî, two occupiers were shot by HPG snipers, and there was also an action with heavy weapons. At Girê FM, the occupation forces wanted to cut down trees and were targeted by a guerrilla sniper; one occupier was killed.
Girê Amêdî
The Girê Amêdî resistance area near the town of the same name in Duhok governorate came under continuous fire with howitzers and mortar shells from 5 pm on Monday. From 6.10 p.m., 17 airstrikes were carried out by fighter jets. At 9.30 pm, the area was bombed by four attack helicopters approaching over Amêdî. After that, troops were airdropped in the area 31 times. The guerrillas intervened and two Sikorsky transport helicopters were hit. Shortly after midnight, the airdropped troops were infiltrated from two sides and assaulted from close range. Ten soldiers were killed and later taken away by helicopters. During the airdropping operation, the guerrillas carried out five actions of sabotage, in which five occupants were killed. At 5.30 a.m. today, an occupier was shot dead by a sniper unit.
Chemical weapons attacks by the Turkish army
The Turkish army used chemical weapons and explosives against guerrilla positions 22 times on Monday, targeting the areas of Girê Hekarî, Girê Cûdî, Şikefta Birîndara, Şehîd Umîd and Koker. The guerrillas found out the use of six different chemical warfare agents: The first spreads a burnt smell, the second spreads intensely and slowly, the third smells of chlorine and pungent detergent, the fourth causes irritation to the skin of the face and eyes and resembles pepper gas, the fifth is grey and leaves a sweet taste in the mouth, and the sixth smells of fruit.
Turkish artillery and air strikes
Permanent drone flights continue to take place over the guerrilla areas. The areas of Girê Hekarî, Girê Cûdî, Girê FM, Dola Şehîd Tekoşer, Şikefta Birîndara, Kurojahro, Koker, Çemço and Werxelê were shelled dozens of times on Monday by Turkish border guards with howitzers, mortars and heavy weapons.
On 3 July, the areas of Girê Hekarî, Girê Amêdî, Werxelê, Şikefta Birîndara and Kurojahro were attacked a total of 36 times by attack helicopters. The areas of Girê Amêdî, Şikefta Birîndara and Kurojahro were attacked 28 times by fighter jets on the same day.