Family of Deniz Bülbün given his remains
The remains of Deniz Bülbün, who was killed in the attack on the Kurdistan National Congress in Hewlêr, have been given to his family.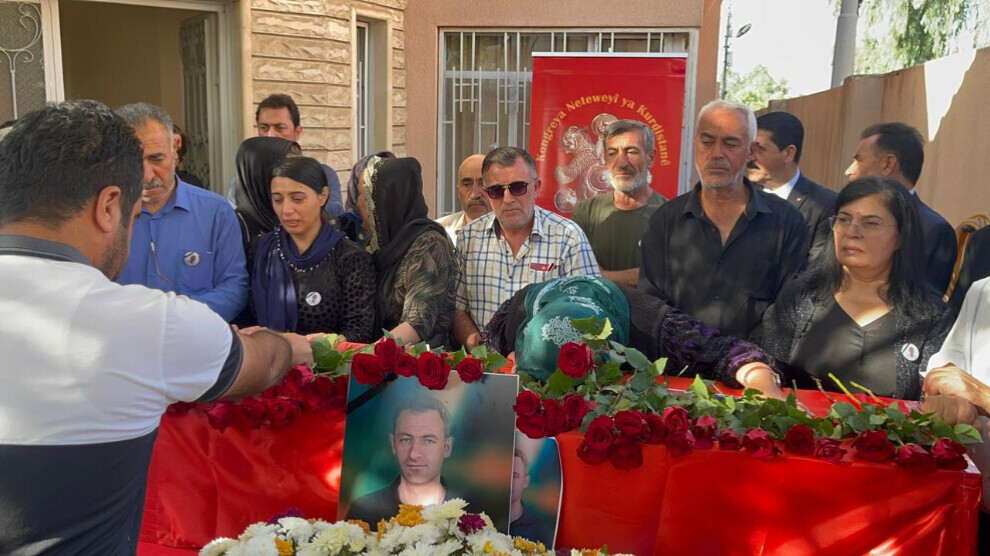 On Thursday, the family of the murdered Kurdistan National Congress (KNK) representative Deniz Bülbün was given his remains at the Rizgarî Hospital in Hewlêr. Many people accompanied the family to the hospital. A ceremony for Bülbün then took place at the KNK representative office. Many representatives of the Green Left Party and the KNK attended the ceremony. The numerous participants repeatedly shouted: "Martyrs are immortal."
"Let us get rid of the betrayal around us"
Bülbün's uncle, Nadir Bülbün, said: "Deniz is a martyr not only for us, but for our entire patriotic people. Deniz fought with his pen and showed us the way. Deniz was a beloved son of the entire people of Kurdistan, and his death has touched the hearts of our entire people. We want the perpetrators to be found so that such murders do not happen again. Let us be united, let us stick together, let us finally shake off these traitors around us."
After the official farewell, the relatives and the crowd set off in a large convoy towards Yüksekova (Gever) in North Kurdistan.
34-year-old Deniz Cevdet Bülbün came from the village of Kısıklı (Dêlezi) and will be buried there.
MIT and KDP are the main suspects
The murder of KNK representative Deniz Bülbün shocked the Kurdish community worldwide. Bülbün was shot dead in an attack at the KNK headquarters in Hewlêr on 18 September. The KNK headquarters is monitored around the clock by the secret service of the KDP and the police. Due to this fact and because of similar murders carried out by the Turkish secret service MIT with the support of the KDP, Kurds believe that both organizations are also responsible in this case.