Guerrillas shoot down Turkish helicopter in South Kurdistan
The Turkish army expanded its military operation in the Zap region, dropping troops from helicopters 32 times in the Şehîd Fedakar area last night. One helicopter was shot down by the guerrillas.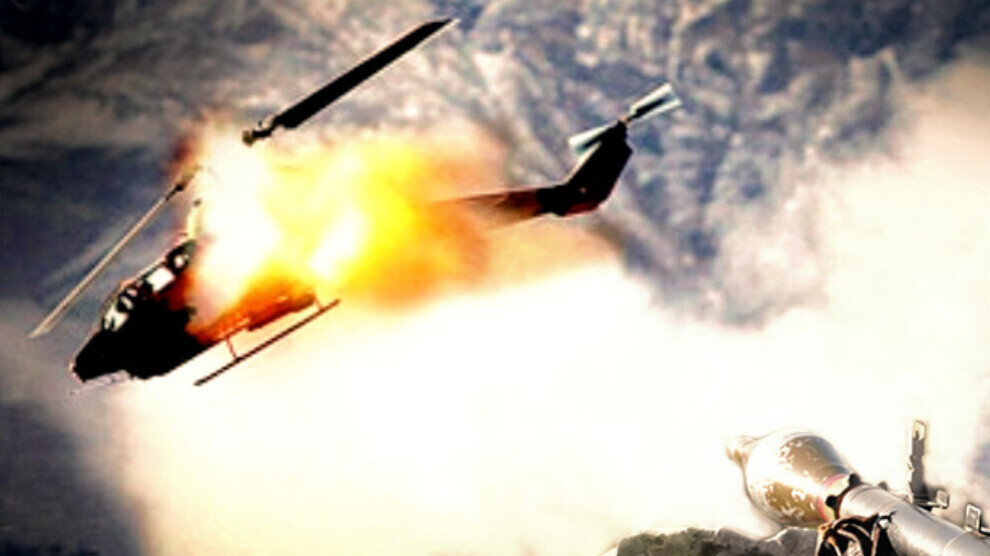 According to the press centre of the People's Defense Forces (HPG), the Turkish army expanded the scope of attacks on the guerrilla areas of Sîda and Çemço in the Zap region last night through airdrop operations and massive bombardment from the air and with howitzers. The occupation operation launched in southern Kurdistan (northern Iraq) in April is failing due to guerrilla resistance and the army is trying to break the deadlock with intensified attacks.
According to HPG, mobile guerrilla groups carried out twenty actions against the invading forces on Friday. One Sikorsky transport helicopter and two surveillance camera systems were destroyed. Two other helicopters and an excavator were damaged by guerrilla fire.
Fierce fighting in the Zap region
The guerrilla positions in Sîda, Çemço and Şehîd Fedakar were bombed 28 times by fighter jets and 65 times by attack helicopters last night. Hundreds of other attacks were carried out with howitzers. In the Şehîd Fedakar area, troops were airdropped 32 times. The guerrillas intervened and fired on nine attack and transport helicopters. A Sikorsky was hit during an attempted airdrop operation and crashed after a hundred metres. The helicopter exploded and was completely destroyed along with the soldiers on board. Two other transport helicopters were badly hit. Soldiers who had fled into the area were attacked with heavy weapons. At six o'clock today, an advance of the invading forces towards a guerrilla position was stopped by heavy weapons.
Four soldiers shot dead by guerrilla snipers
In the Karker area and at Girê Hekarî, two soldiers were shot dead by YJA Star (Free Women's Troops) snipers. In Werxelê, guerrillas from a mobile unit of YJA Star struck an excavator. The excavator was damaged and the construction of a road to the guerrilla position was stopped.
At Girê Cûdî, two more soldiers were shot dead by snipers. In addition, two surveillance cameras installed by the Turkish army were destroyed in this area and at Girê FM.
Further attacks by the Turkish army
HPG reported six uses of banned weapons against guerrilla positions in the Saca and Girê Cûdî areas on Friday. The guerrilla areas in southern Kurdistan were attacked a total of 32 times by fighter jets, 79 times by attack helicopters and hundreds of times by howitzers and mortars. The KDP continues its cooperation with the Turkish army and the construction of roads and positions in the Girê Amêdî and Girê Hekarî areas.