Guerrillas: We will continue to carry out our successful actions
The guerrillas said that the Turkish army is targeting the resistance with advanced technical and chemical weapons combined with psychological warfare, but added that they "will fight until we achieve success. We will go against the enemy."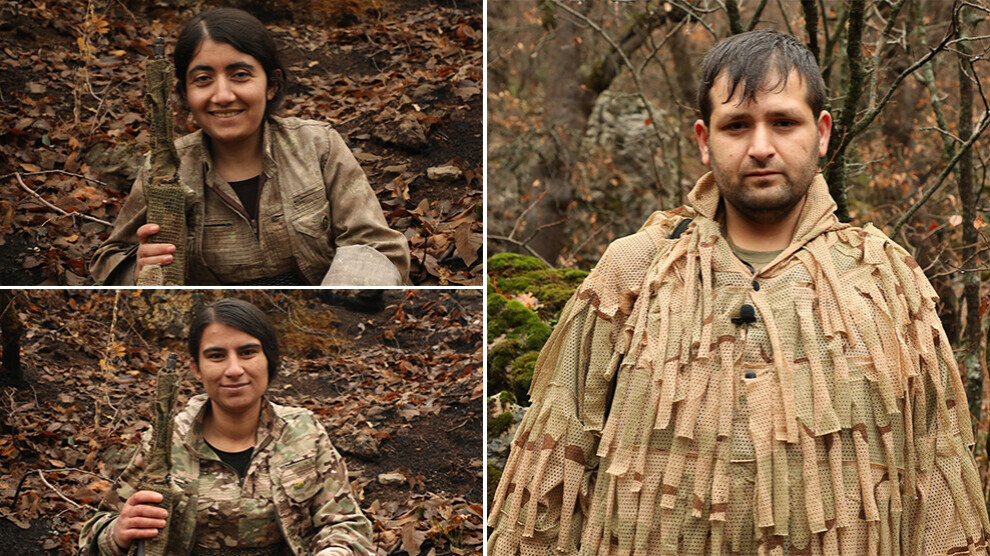 The guerrillas said that they would continue their fruitful actions, adding that the Turkish state could not overcome the resistance of the guerrillas despite mobilizing all its means.
The guerrillas spoke to ANF about the ongoing great resistance. YJA Star guerrilla Bişeng Cûdî said that the extensive invasion attacks carried out by Turkey since 23 April 2021 continue, and that the guerrillas showed great resistance and strong determination.

Guerrilla Bişeng Cûdî drew attention to the epic resistance carried out in the area of Küçük Cilo in Zap and reminded the leadership of guerrillas Bawer, Delal and Ronahi. "In Ertuş, Viyan, Gülistan, Delal, Berwelat resisted the enemy attacks and fought a great battle. Comrades Delal and Viyan prevented the enemies from passing through. They fought against the Cobras. In Zendura, despite the chemical weapons used by Turkey, the resistance was successful.
New era guerrilla tactics were exhibited in Avaşîn's Werxelê, Tepe Sor and Tabura Ereban areas. The enemy was attacking with aircraft, helicopters, howitzers, mortars, and other heavy weapons. They had at least 4-5 reconnaissance planes in the area. Despite this, our friends carried out successful actions with small and secret teams. The guerrillas have shown that the enemy cannot easily enter the territory of Kurdistan and that they are ready to pay whatever price is necessary for this."
Guerrillas will continue their successful actions

YJA Star guerrilla Destina Tolhildan said that the Turkish state planned to end the guerrillas with its advanced technology and chemical weapons, accompanied by psychological warfare, but the historical resistance and ability of the guerrillas was shocking.
Tolhildan said: "For example, the enemy claimed that it would take Avaşîn in a few days. Our comrades fought in the war tunnels for months, carrying out big actions with small teams. The battle in Zagros went down in history. In Martyr Munzur, the enemy was attacked from 5 sides and its weapons were seized. The guerrillas will continue their successful actions."
We are fighting to liberate the lands of Kurdistan

HPG guerrilla Xemgîn Bîrhat noted that they were going through a difficult process and that the Turkish state had mobilized all its resources, but added: "We are resisting and fighting with Leader Apo's ideology and philosophy. The guerrillas are fighting for the people and lands of Kurdistan. We will fight not until the last drop of our blood, but until we bring success. We will go against the enemy."