Günay: Our party is preparing for a new era
HDP spokesperson Ebru Günay said at a press conference ahead of the party's Central Executive Board meeting to be held today: "Our main goal is to prepare for the new era by putting in place a criticism-self-criticism mechanism."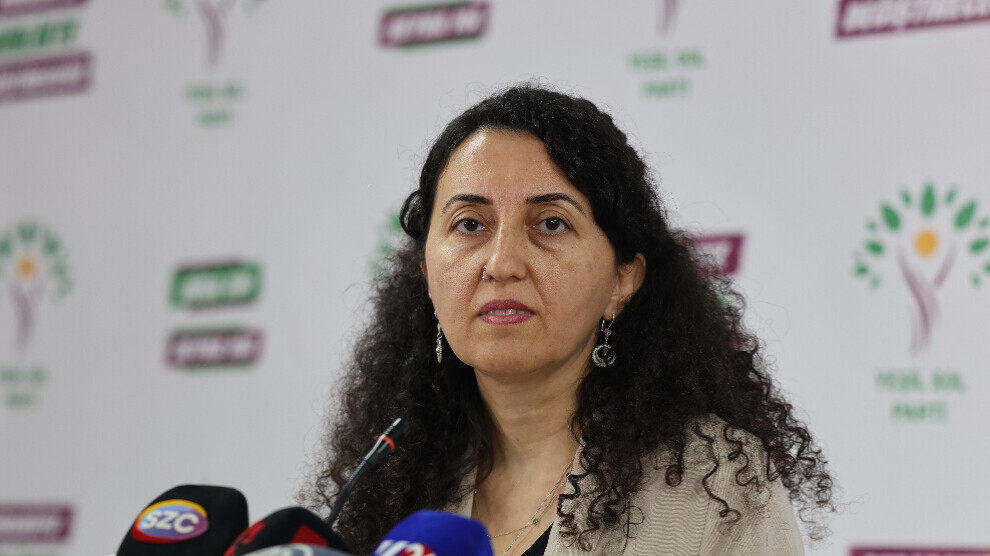 Peoples' Democratic Party (HDP) spokesperson Ebru Günay held a press conference at HDP Headquarters ahead of today's Central Executive Board (MYK) meeting that will discuss the restructuring process of the party. Günay thanked all those who supported them at the elections and stated that they started the renewal process after the election.
Günay said: "We have left behind a period for our country's politics as well as for our party work. We started our post-election evaluation process. First of all, joint consultation meetings among the HDK, DTK, HDP, Green Left Party and DBP co-speakers and co-chairs were held. After that, we held a meeting among the HDP components' co-chairs and co-spokespersons. At these meetings, ideas were exchanged on the topics and methods of the post-election evaluation process. A closed group meeting will be held with our parliamentary group today. Then, on 4, 5,6 June, the Women's Assembly, Party Assembly and provincial co-chairs meetings will be held and necessary planning will be made."

'Criticism self-criticism mechanism'
Günay continued: "Our main goal is to prepare for the new period using a criticism-self-criticism mechanism. After the Headquarters meetings are completed, meetings will be held with our people, provincial and district organizations. All these preparations have two main purposes: first, to eliminate the deficiencies and inadequacies experienced during and before the election period; second to learn from our mistakes through a mechanism of criticism/self-criticism.
Call to all parties
Günay added that this will be a process marked by collective debate. "Our call to all our party friends is as follows: let's make a mutual assessment of this period, passing through a genuine and restorative criticism-self-criticism process, and meet again with the determination we have brought to politics. This will allow us to go to the Great Congress with high morale. That's our goal. We invite all our party members and veteran friends who want to be the subject of the new process to contribute, participate and restructure the process of criticism and self-criticism and restructuring. A new era has begun for us."
Günay then answered questions made by journalists after the statement.
Asked when the Great Congress will take place, she said: "The date will be determined as a result of our discussions with people."
Günay said the following about Selahattin Demirtaş: " I would like to say that Demirtaş himself gave the necessary answers to the speculations and interpretation of his interview. While we were conducting these discussions, we carried out a discussion process with all of our party committees, with our friends in the HDP and currently imprisoned. Therefore, his (Demirtaş) presidential candidacy was not evaluated due to his legal situation. Furthermore, in the consultations with him, he had a proposal for a female presidential candidate."