HDP delegation meets with Barzani in Hewler
Politicians from the HDP met with Massoud Barzani in southern Kurdistan, northern Iraq.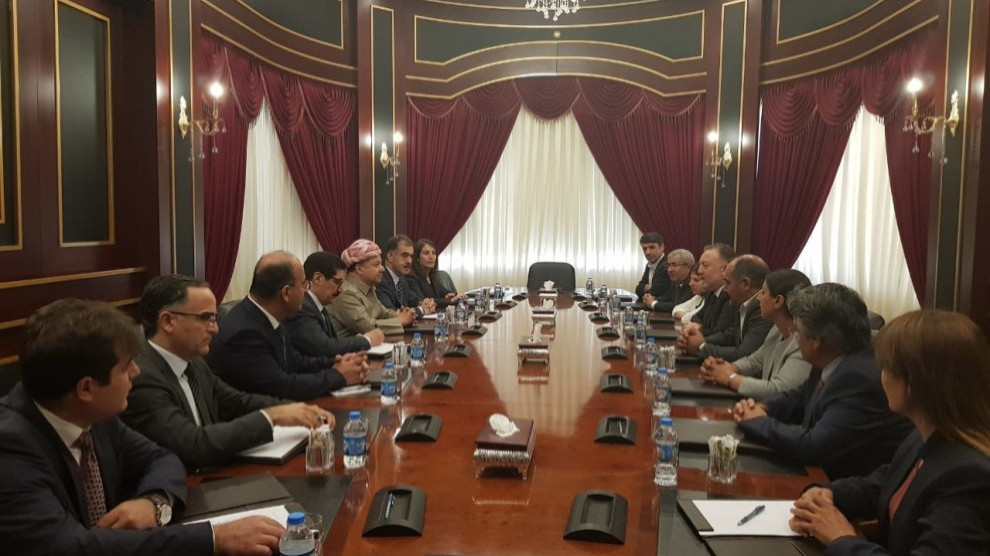 A delegation from the Peoples' Democratic Party (HDP) met with KDP (Kurdistan Democratic Party) Leader Massoud Barzani in Hewlêr (Erbil). The HDP delegation from Turkey was made up of Co-chairperson Sezai Temelli, deputies Berdan Öztürk, Fatma Kurtulan, Nazmi Gür, Feleknas Uca and Imam Taşçıer.They were accompanied by co-chairs of the HDP representation in Southern Kurdistan, Müzeyyen Güneş and Abid Ike.
The HDP group was welcomed by Massoud Barzani, Fazil Mirani from the KDP Politburo, South Kurdistan Region Foreign Affairs Representative Safeen Dizayee and other party officials.
Sezai Temelli said in a short speech that a four-day visit to Southern Kurdistan is planned: "We hope that these days will be productive. We consider this visit a great responsibility and at the same time a great honor."
Temelli also sent greetings from Pervin Buldan, who co-chairs the HDP with him and was unable to attend the meeting for health reasons.
Massoud Barzani thanked the HDP delegation and said he was happy about the visit.
The meeting continues closed to the press.