HDP Hakkari branch protests against racist attacks against Kurds
The Peoples' Democratic Party Hakkari provincial organisation held the AKP-MHP bloc responsible for the racist attacks against the Kurds and invited the democratic circles to a common struggle.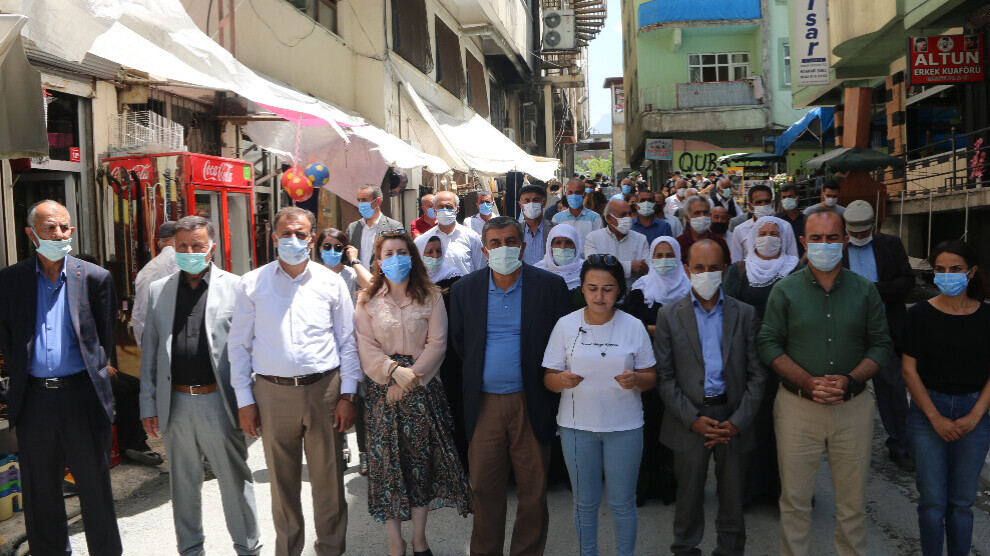 Peoples' Democratic Party (HDP) Hakkari Provincial Organisation made a press statement regarding the latest racist attacks that targeted Kurdish citizens in Afyon, Ankara and Konya provinces. The event in the party office was participated by HDP Hakkari Deputy Sait Dede, members of the Peace Mothers Assembly, co-chair of district organisations and a number of party members.
'Political power is responsible for the attacks'
Sinem Seven, co-chair of Central District Organisation, reading the statement said, "The AKP-MHP fascist bloc points the Kurds and the HDP –which they treat as an obstacle against their political objectives­– as targets. Those who cannot deal with us through political and judicial ways resort to racist attacks. Discriminative, polarizing and hostile policies implemented by the AKP-MHP bloc undermine the ground of a common life. Seeking to resolve political, cultural and historical problems through discriminative and hostile policies poison peoples' centuries-old common life tradition."
Recalling that racist attacks are defined as a crime against humanity by international law, Sinem Seven continued, "The political power either disregards such attacks or paves the way for homicides through impunity. Such incidents pose a great threat and danger to everyone living in Turkey; not only for the Kurds exposed to the attacks. In the event of an escalation, similar attacks will lead Turkey to the edge of a cliff. The government should back down from this state of affairs which would throw the country into the fire and abandon the hate langue and hostile policies."
Call for a common stance against attacks
Addressing a call to the democratic public opinion, Seven added, "Only through a common struggle can we stop such racist attacks against the Kurds and our party. We can stop racism and violence which have been executed throughout Turkey unabated through a common struggle that will include NGOs, trade unions, belief groups, intellectuals, artists, political parties, the youth and women. In this country, our peoples with different cultures, mother languages and ethnic values will sustain their determined stance for co-existence in a democratic atmosphere. For a life free of violence and hate, we call on everyone to build co-existence and solidarity against the racism."