HPG martyr Zagros: My commitment grew as I got to know Sara
HPG guerrilla Tîrêj Zagros, who fell a martyr in Kato Marinos, said in one of his articles how he was influenced by Sakine Cansız (Sara) since he got to know her and and how this influence contributed to his devotion to Kurdish leader Abdullah Öcalan.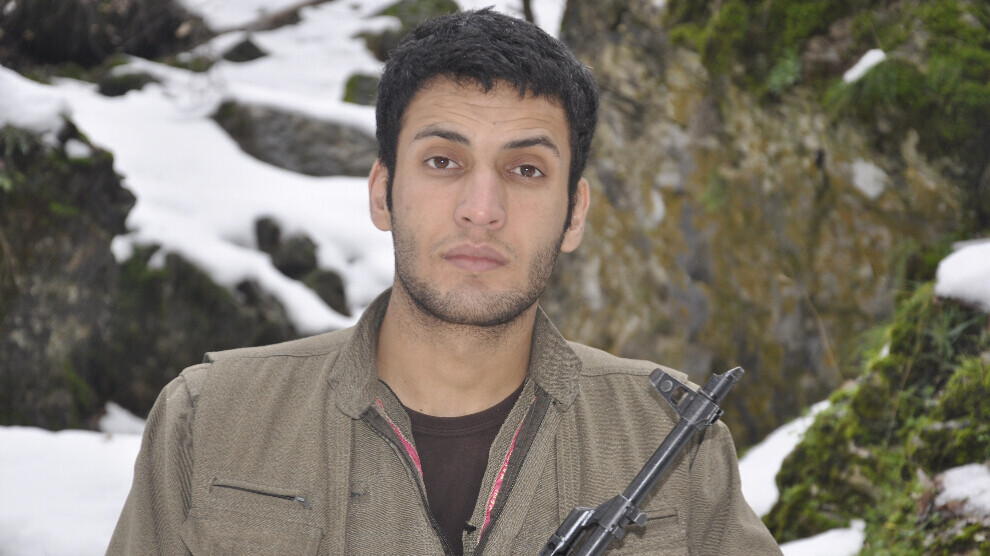 HPG guerrilla Tîrêj Zagros wrote about the mountains, his comrades and the heroes who contributed to the revolution. In one of his articles, he explained why he compared Sakine Cansız to the first snowdrops and her influence on him.
HPG guerrilla Tîrêj Zagros fell as a martyr on 18 September 2019 along with his fellow fighter Kandil Berxwedan in the Kato Marinos region of Şırnak's Beytüşşebap district.
He talked about his participation in the guerrillas in his last interview before he was deployed to North Kurdistan. During the interview, he said that he joined the guerrillas after he was influenced by the resistance of the Kurdish people during the self-government resistances in 2015 and 2016. He revealed that he decided to join the guerrillas as he got to know the PKK and Sara by listening to the stories of resistance and heroic deeds. Tîrêj realized how important comradeship was when he joined the guerrillas. He stated that the spirituality in the PKK was unique. He said that one's comrade is the most valuable thing in the world, more than a brother. He insisted that being hungry, tired and sleepless can sometimes be forgotten thanks to determination.
SARA IS OUR FIRST SNOWDROPS
HPG guerrilla Zagros was fond of writing. He always wrote about the mountains, his comrades and the guerrillas he cherished. He wrote very much about the PKK, the conditions of struggle, and the reality of the enemy. He mostly dealt with heroes in his writings. He wrote about the beautiful young people who contributed to the revolution.
In one of his writings, he wrote the following about Sakine Cansız: "Snowdrops have a very different and tremendous story of clinging to life. As the sun melts months-long heavy snow and the ground slowly appears in the snowy field, first snowdrops grow to herald the coming of spring. In the meantime, a second snowfall comes and some of these snowdrops surrender to this second snow, and the rest struggle to fulfil their duty to herald the coming of spring against all difficulties and pains. Despite all the pressures and attacks, they do not give up their fight. Until spring comes and other snowdrops meet spring, they stay upright. This is a conscientious duty. Being precursors is in the nature of snowdrops. Martyr Sara was one of our first snowdrops. She was also one of the vivacious, the most beautiful, and the stubbornest ones in the revolution."
SHE INCREASED MY COMMITMENT TO LEADERSHIP
Zagros added: "Sara's love, affection, respect, devotion to Öcalan has increased my commitment to Öcalan. This has become an ideal for me in life. The principles I want to adopt in my personality are the revolutionary Apoist principles."