HPG: 23 soldiers killed, 1 helicopter damaged, six positions destroyed
23 soldiers of the Turkish army were killed, and six military positions destroyed in guerrilla actions in Southern Kurdistan. At Girê Amêdî, three guerrillas fell in resistance against the Turkish occupation.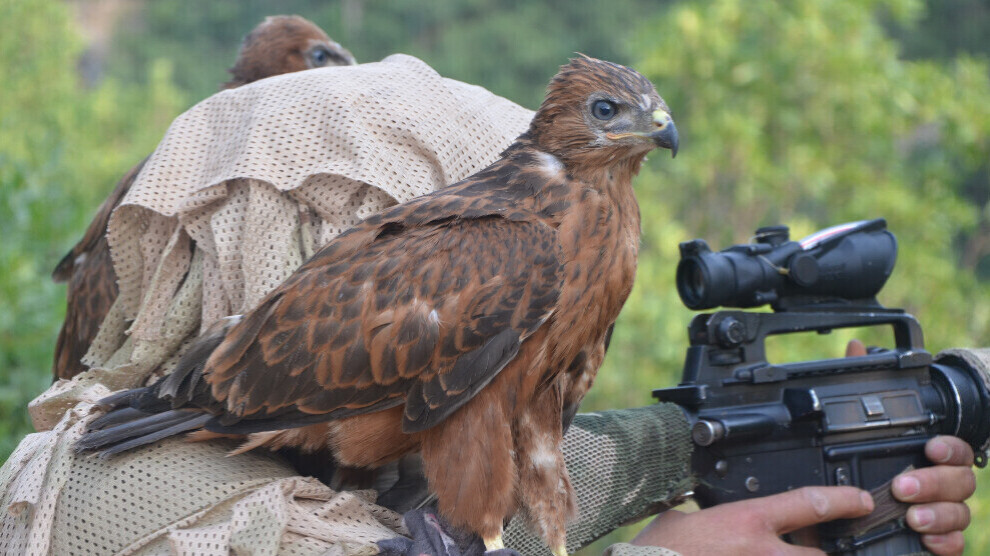 According to the Press Centre of the People's Defence Forces (HPG), 23 soldiers of the Turkish army were killed, and three others injured in guerrilla actions in the Medya Defense Zones in southern Kurdistan (northern Iraq) in the last few days.
In the guerrilla resistance against the Turkish invasion, six military positions and two booby traps were destroyed, a transport helicopter and an armoured car were damaged. The HPG dedicated their actions to the anniversary of the founding of the PKK on 27 November 1978.
According to the HPG statement, the Turkish army again used internationally outlawed weapons on Friday. According to the report, guerrilla positions were attacked in one case with a banned bomb and in four cases with chemical weapons. In addition, the HPG reported 50 airstrikes, including six by fighter jets and 44 by attack helicopters, and dozens of attacks with howitzers, tanks, mortars and heavy weapons.
The HPG provided the following details:
On 16 November, the Turkish occupation forces in the Girê Amêdî resistance area near the Şehîd Pîrdoğan position were attacked by mobile guerrilla teams from four flanks. Light and heavy weapons, hand grenades, semi-automatic weapons and precision rifles were used during the action, while the guerrillas were fired upon from a position where KDP troops were located. At least 14 soldiers were killed and six positions destroyed in the action. The guerrilla fighters Mîlîtan, Serxwebûn and Nejwan were seriously injured in the battle and detonated themselves with hand grenades. "They approached the enemy positions with great courage and fought on the line of sacrifice against the occupiers until the last bullet," the HPG said and expressed their condolences to the relatives of the martyrs and the people of Kurdistan.
The ID information of the fallen guerrillas is as follows:
Nom de Guerre: Milîtan Heqî
First-Last Name: Ahmet Yavuz
Birthplace: Amed
Mother's-Father's Name: Makbule – Davut
Date and Place of Martyrdom: 16 November 2022 / Metîna
Nom de Guerre: Nejwan Mêrdîn
First-Last Name: Neşvan Kanbur
Birthplace: Mêrdîn
Mother's-Father's Name: Terfa – İzzettin
Date and Place of Martyrdom: 16 November 2022 / Metîna
Nom de Guerre: Serxwebûn Baz
First-Last Name: Hamza Aykut
Birthplace: Mêrdîn
Mother's-Father's Name: Ayhan – Arap
Date and Place of Martyrdom: 16 November 2022 / Metîna

MILÎTAN HEQÎ
Milîtan Heqî was born in Bismil, Amed and grew up in an environment close to the Kurdish liberation movement. He joined the guerrillas on 27 November 2014 and completed basic training in Metîna. Afterwards, he spent three years in practice on the borderline between the territories of Turkey and Iraq. Guerrilla warfare in this area required creativity and military discipline, and Milîtan participated in many successful actions with great courage and intelligence. In the process, he was slightly wounded several times. He learned the professional use of different types of weapons and eventually became part of the special unit Hêzên Taybet, which requires an explicit willingness to sacrifice. For Milîtan, however, being "self-sacrificing" did not just mean putting his own life on the line in action, but rather a way of life. In 2017, he wrote in his diary: "To live for freedom and die in battle is an honour. We can accept anything, even if our bodies are torn apart and dragged across the ground, but an undignified life is unacceptable to us." When the occupation attacks on the Zap, Avaşîn and Metîna regions began, Milîtan fought with revolutionary conviction and "joined the caravan of martyrs as an immortal self-sacrificing commander", stated the HPG.
NEJWAN MÊRDÎN

Nejwan Mêrdîn was born in Kızıltepe district of Mardin. His family and social environment were close to the Kurdish liberation movement and he already felt sympathy for the PKK as a child. In 2015, he joined the armed struggle. The decisive factors for his decision were the fight for Kobanê and the resistance for self-determination in Northern Kurdistan. He fought against ISIS and suffered injuries to his chest, hand, stomach and head. With his fight, he contributed significantly to liberating several places from ISIS barbarism. He then took to the mountains and complemented his military experience with ideological training at the Haki Karer Academy. At the academy, he questioned his own personality and took his first steps as a leading commander. He then went back into practice. In the guerrilla action on 16 November at Girê Amêdî, he played a leading role in one of the attack groups.
SERXWEBÛN BAZ

Serxwebûn Baz was born in Kızıltepe district of Mardin and grew up with Kurdish culture. He got to know the PKK and became active in the youth movement. Because of his political work, he was arrested and spent five months in prison. During this time, he decided to fight even more radically. The ISIS attack on Rojava and Shengal in 2014 was decisive for the rest of his life. Like thousands of other people, he went to Rojava and took part in the resistance against the Islamist invasion. He was seriously injured twice and continued his struggle with even greater determination after recovering. In 2016, he went to the mountains and deepened his knowledge of Abdullah Öcalan's ideas. During this time, he understood more and more what life inside the PKK meant. Later, he went to Botan, where he was able to successfully put his military experience into practice. For further training, he came back to the Medya Defence Zones. He emerged from the advanced training as a leading commander. Most recently, he fought with great courage in a mobile unit in the Girê Amêdî resistance area.
OTHER GUERRILLA ACTIONS IN MEDYA DEFENSE ZONES
Several other guerrilla actions took place on 18 November. At Girê Cûdî, three soldiers were shot dead by snipers of the YJA Star and HPG. Two more actions against the invading forces were carried out with heavy weapons. Near the Şehîd Yunus position, the guerrillas destroyed two booby traps installed by the Turkish army. Last night, a Sikorsky helicopter was fired upon by a mobile guerrilla team.
In Avaşîn, a Turkish squad in the Kilise area was struck by guerrillas with heavy weapons from two sides. Six soldiers were killed, and three others wounded here.
In the Zap region, guerrillas hit the occupation forces several times with heavy weapons. Among other things, a military convoy travelling from Sîda to Çemço was targeted and an armoured car was damaged.
ATTACKS BY THE TURKISH ARMY
The Turkish army used a prohibited bomb and chemical weapons four times against the Şehîd Felat position in Sîda on Friday. The areas of Gundê Şêlazê in Metîna, Sinînê in Xakurke and Girê Cûdî were bombed six times by fighter jets. The 44 helicopter attacks were directed against Girê Amêdî and Girê FM. In Karker and Çemço, the Turkish army again attempted to destroy guerrilla positions with construction machinery.