HPG announces the names of two fallen guerrillas
HPG published the identities of the fallen guerrilla fighters Şervan Agirî and Agir Botan.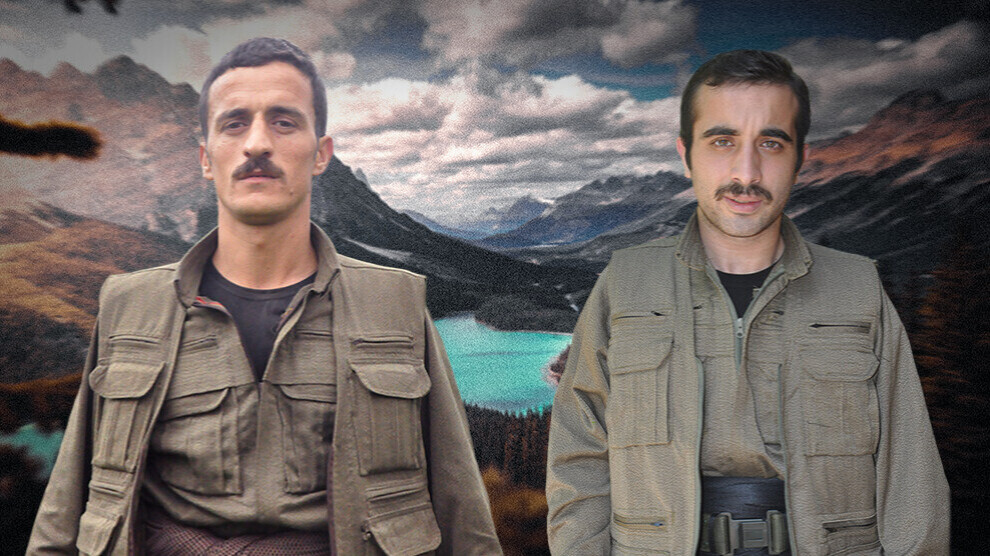 The press centre of the People's Defense Forces (HPG) announced the martyrdom of guerrilla fighters Şervan Agirî and Agir Botan.
"We are in an intense phase of war. Our liberation struggle is being waged relentlessly and heavy blows are being dealt to the enemy. Our people are getting closer to freedom with each passing day. In this war, our comrades want to live up to the people's attachment and trust in the guerrillas, and with the strength they receive from Rêber Apo (Abdullah Öcalan), the martyrs and the people, they are looking for ways to increase the struggle. Our companions Şervan and Agir also fought with this attitude and did everything to expand our struggle. They fell in enemy attacks and joined the caravan of immortals at the height of their struggle."
The ID details of the two guerrillas are as follows:
Nom de Guerre: Şervan Agirî
First-Last Name: Şervan Ergül
Birthplace: Ağrı
Mother's - Father's Name: Ayşe – Sevdin
Date and Place of Martyrdom: May 2022 / Herêmên Parastina Medya
Nom de Guerre: Agir Botan
First-Last Name: Rıdvan Arat
Birthplace: İstanbul
Mother's - Father's Name: Gulê – Enver
Date and Place of Martyrdom: May 2022 / Herêmên Parastina Medya
Şervan Agirî

Şervan Agirî was born in the village of Mametxan in Diyadin district of Ağrı. He grew up in a patriotic family and a natural environment and remained largely untroubled by the influences of capitalist modernity during his childhood. When he later moved to a large Turkish city due to economic difficulties, he grew aware of the state policy of annihilation and denial of the Kurdish people. Especially in the period between 2013 and 2015, he experienced these destructive policies first-hand and decided to take up armed struggle. He joined the guerrillas in 2015 and completed basic training in the Medya Defense Zones. At first, it was not easy for him to get used to the conditions in the mountains. Through the ideological and military training in which he participated with great zeal, he developed into a conscious fighter with a high work rate. Among other things, he took part in the defence of Metina, Maxmur and Kirkuk against the occupation attacks. In doing so, he showed great courage and was a source of strength for his fellow fighters, stated the HPG.
Agir Botan

Agir Botan was born in Istanbul. His family environment was patriotic and Agir experienced early on what it means not to be assimilated as a Kurd. As a teenager, he became politically active and was arrested several times. He was not intimidated by the repression and continued his commitment undeterred. His perseverance was appreciated in his political environment and was a blow to the state's attempts to force Kurdish activists to surrender. In response to the barbaric attacks on the Kurdish people, he joined the guerrillas. He also stood out in the mountains for his resolute stance and intensively studied the philosophy of Abdullah Öcalan. Putting this philosophy into practice was a fundamental goal for him, to which he adhered until his death.

The HPG declared that the struggle of the martyrs continues, expressing their condolences to the relatives of Şervan and Agir and the patriotic people of Kurdistan.