HPG Commander: We are growing stronger in the spirit of June 1 offensive
"The PKK is growing stronger in the spirit of the June 1 offensive and is making its way towards victory every day," said Botan Serdar, one of the HPG commanders, vowing to carry out a full-scale struggle against fascism with all their might.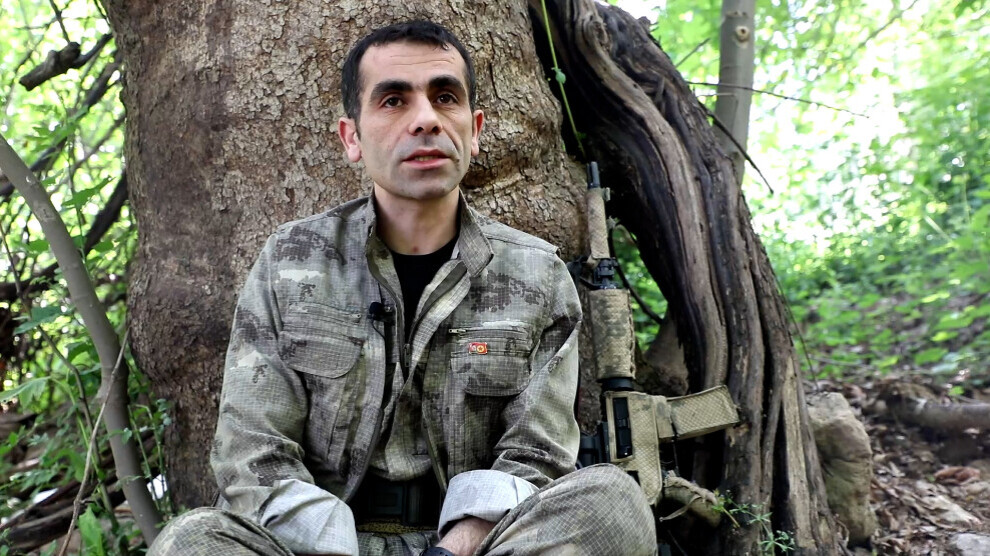 The June 1 offensive in 2004 represents a historic turning point for the Kurdish freedom movement. After a deep crisis, attempts to dismantle the PKK from within and a comprehensive restructuring, a renewed PKK entered the stage of world history on June 1, 2004 with a wave of actions. Five years earlier, the crisis of the freedom movement had been heralded by the abduction of its leader Abdullah Öcalan in an international conspiracy. Subsequently, patriarchal, pro-imperialist, feudalist forces tried to hijack and destroy the freedom movement. However, through the resistance of the Kurdish movement in the mountains and of Abdullah Öcalan on the prison island of Imrali, the PKK was able to renew itself and spread a genuine, anti-authoritarian alternative to capitalist modernity with the model of democratic confederalism. Thus, 1 June became an important commemoration day for the Kurdish freedom movement.
Botan Serdar, one of the commanders of the People's Defense Forces (HPG), spoke to ANF about the importance of the 1 June Offensive for the Kurdish movement and people.

The HPG commander pointed out that: "The June 1 Offensive has an important place for us. Because it was a critical process, and they wanted to eliminate the Kurdish people and the freedom movement through an international conspiracy. To prevent this, leader Abdullah Öcalan created a new freedom system to help society reinforce itself, and for all the peoples of the world. The aim of this system is the liberation of all oppressed peoples. This shows that the PKK movement has been embraced by the peoples as a movement to lead international freedom. Of course, many of our companions who took the lead in this move were martyred. The resistance continues with the spirit of our leading comrades, taking inspiration from the likes of Sorxwîn, Nuda, Kurtay and Ferhat."
'Tactical and professional resistance with the spirit of 1 June'
The HPG Commander noted that, "During the 1999 conspiracy and the June 1 Offensive in 2004, not only the Turkish state but also a vicious international alliance waged a war against us."
He continued: "This war is still going on. Our HPG forces are resisting tactically and professionally with the spirit of the June 1 Offensive. The spirit of resistance we witness in the Zap, Avaşin, Metina and Heftanin resistance areas today is related to this offensive. The PKK freedom movement is thus growing stronger with the spirit of resistance and is making its way towards victory. Not only did the PKK become stronger, but also a spirit of resistance developed among the Kurdish people who are fighting for freedom. I can easily say that the invading Turkish state has not succeeded in its policy of denial and destruction."
'Öcalan's philosophy has become widespread'
Botan concluded: "With his resistance on Imralı, Öcalan put forward a new idea which has become a universal perspective. When we look at the Middle East and the world in general, Öcalan's philosophy has become widespread because it reunites society and offers hope and freedom to society. All revolutionaries across the world have special days. The 2004 June 1 Offensive has a special meaning for us. Many offensives have been introduced within the PKK, each of them has created revolutionary breakthroughs. These experiences helped the PKK achieve great success by inflicting major blows to the fascist mentality. As HPG fighters, we promise that we will carry out a full-scale struggle against fascism with all our might in the spirit of the June 1 Offensive."