HPG commemorates the martyrs of Heftanin
The HPG published the names of three guerrilla fighters who died on July 3 in a Turkish air raid on Heftanin.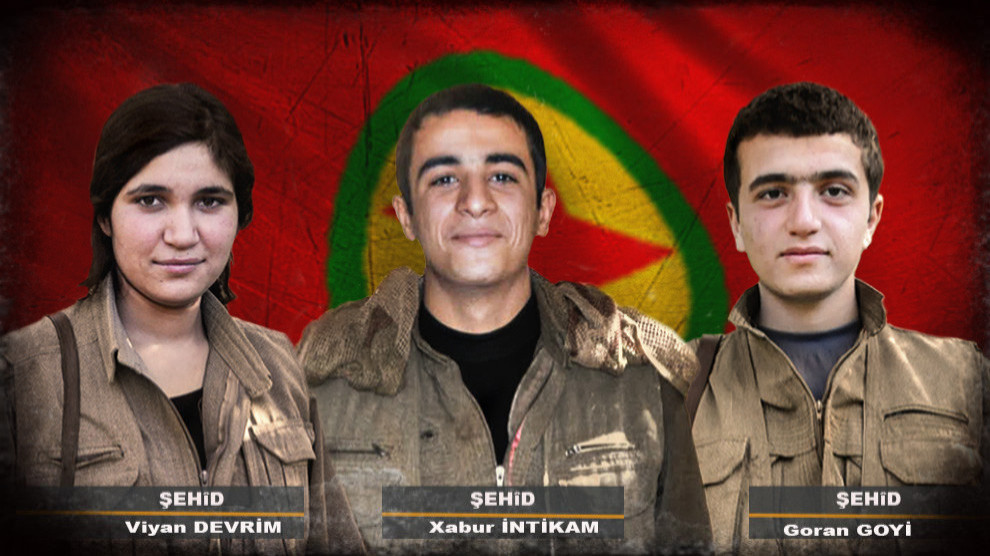 The Press Centre of the People's Defense Forces (HPG) has published the identities of three martyrs. Goran Goyî, Viyan Devrim and Xabûr Intikam died on 3 July during the Turkish army air raid on the Xantûr area in the region of Heftanin in southern Kurdistan (northern Iraq).
HPG paid tribute to the selfless struggle of the martyrs, saying: "The freedom movement of Kurdistan is an epic of resurrection. In world history, imperialist powers and regional occupiers have forged alliances to oppress and exploit the peoples. Kurdistan has become a centre of this exploitation system. The Kurdish people have been deprived of all rights. The Kurdish people have been subjected to a constant assimilation policy and were on the verge of extinction. Only with the emergence of the Kurdish liberation movement led by Abdullah Ocalan, this development was stopped."
The HPG said that the Turkish state has already carried out several operations in Southern Kurdistan with the support of imperialist powers but has always suffered defeat against the guerrillas: "Goran, Viyan and Xabûr have participated in the resistance from the first day of the occupation operation in Heftanin and have fought with great willpower and commitment. They were leading figures in a historic resistance."
The HPG expressed their sympathy to the families of martyrs and patriotic people of Kurdistan and give their word to do justice to the memory of the martyrs and to continue their struggle.