HPG Headquarters Command pays tribute to commander Yılmaz Dersim
The People's Defense Center Headquarters Command has confirmed that commander Yılmaz Dersim (Ismail Sürgeç) has fallen a martyr and announced retaliation.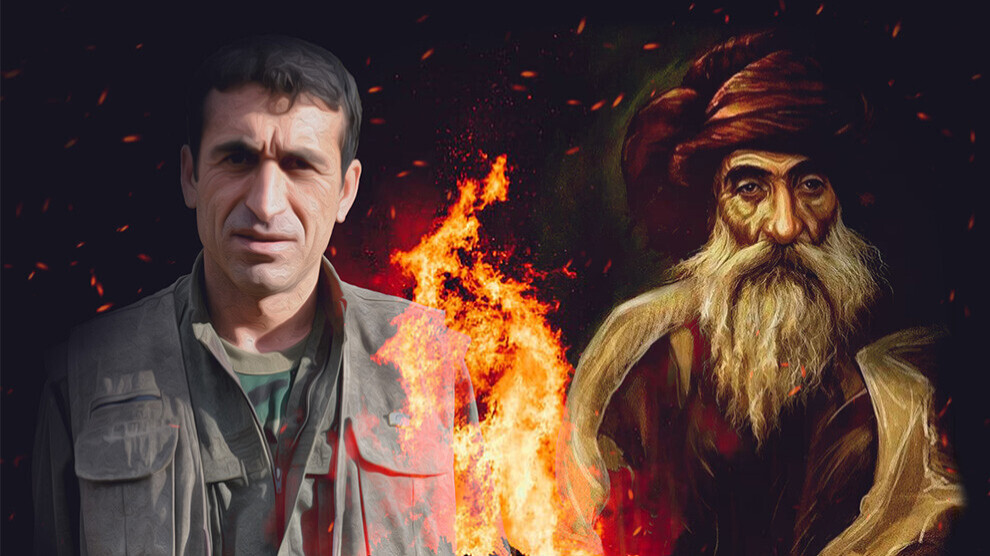 The guerrilla commander was a member of the command council of the HPG and area commander of Dersim. He and another HPG fighter fell as martyrs on 10 November following a air raid by the Turkish army in the Axvanos Valleu in Dersim.
The HPG recognizes Yılmaz Dersim as an extraordinarily courageous commander with a high degree of sacrifice and great patriotism: "We express our condolences to his precious family and the entire population of Dersim. We also express our condolences to the guerrillas, who heroically continue the fight in the mountains of Dersim with great determination, and to the entire people of Kurdistan. We promise that we will let the memory of our courageous commander, who - as his name suggests – was an intrepid revolutionary, to live by waving the flag of victory that has been handed over to us.
Our friend and commander Yılmaz was a rebellious child of Dersim, a region that plays an important role in the struggle for the existence of the people of Kurdistan. For us and for his comrades, he had a very special value. His martyrdom sadden us but at the same time carries a meaningful message. Dersim has historically been considered a stronghold of resistance and the home of people like Seyit Riza, who represent the Kurdish and Alevi identity. The fighters of Heval Yılmaz will hold the murderous and colonial Turkish state accountable. Seyit Riza once said 'friend and foe should know that under every tree in Dersim lies a brave hero'. His grandchildren and the successors of Sara, Baran, Atakan, Jîndar, Çetin, Zîn and Yılmaz will crown the history of resistance in Dersim with victory and bring the murderous colonialism to justice."
The statement continued: "Heval Yılmaz joined the caravan of the martyrs four days before the anniversary of the death of Seyit Riza and his companions. He dedicated all his life to the people. he grew up and was brought up with patriotic-revolutionary values by his family. He was a hero who set out to avenge his two fallen brothers. Already at a young age and during his school days, he experienced police pressure and torture. He was jailed twice, but as a brave descendant of Dersim, he never allowed himself to be intimidated and instead joined the fight with even greater anger."
The statement continued: "His 27 years of guerrilla fighting are a legend of the resistance. Heval Yılmaz was fond of the mountains in Dersim. He has wandered and fought all areas in Dersim. However, with his unsustainable revolutionary enthusiasm, he has always insisted on going into the most difficult areas. That is why he went to Ezirgan, Koçgiri and the Black Sea region and showed great selflessness there. When Rêber Apo [Abdullah Öcalan] was captured as a result of the international conspiracy, Heval Yılmaz kept suggesting that a self-sacrificing action be carried out. In order to follow the path of Zîlan and others, he participated in the organization of the special forces and was commander of the self-sacrifice guerrillas for years. In Dersim he took on various tasks. He was a successful militant and commander who made no concessions. A family that brings forth such fine children and the entire population of Dersim can be proud of their martyrs and our great commander Yılmaz.
We will always be proud and happy that we could count a hero like Yılmaz Dersim among our comrades. We will resolutely continue on his path, ensure his memory lives on and make his dreams come true. We will transform the mountains of Dersim into a great stronghold of resistance. There will be other people like Yılmaz in Dersim. Every guerrilla fighter in Dersim will be like Yılmaz. The mountains in Dersim will become the grave of Turkish colonialism and its genocidal mentality. In the fight for the freedom of Rêber Apo and a free Kurdistan, people like Commander Yılmaz will live on forever."