HPG: One soldier killed after Turkish attack on guerrilla positions
The Turkish army continues to attack the Medya defence Zones in southern Kurdistan. The guerrillas retaliated in self-defence, killing one soldier and destroying a reconnaissance drone and a surveillance camera.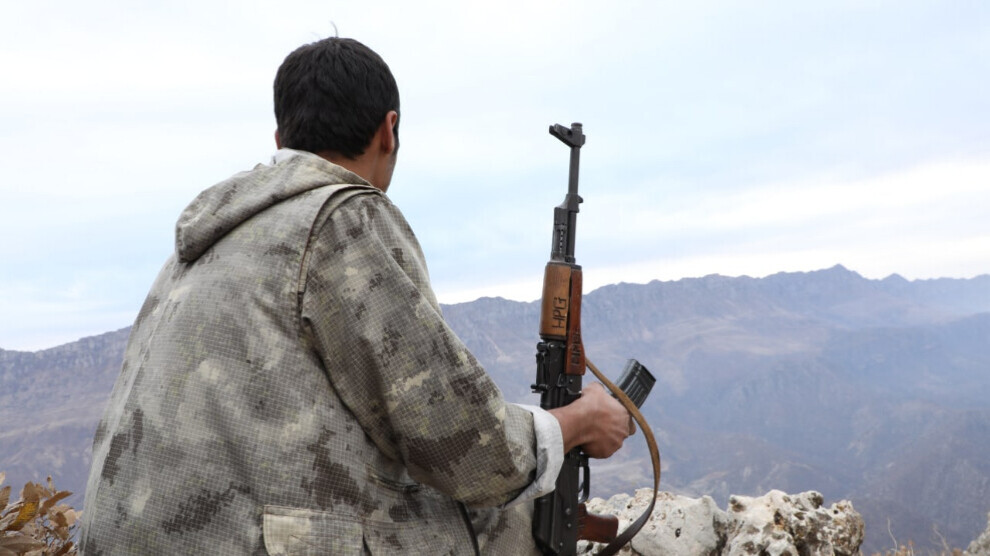 The People's Defence Forces (HPG) and the Free Women's Troops (YJA Star) exercised their right to self-defence against the Turkish invading forces in the Medya Defence Zones in southern Kurdistan (northern Iraq) at the weekend.
The HPG Press Centre statement on Monday said: "The Turkish occupying army is committing war crimes and continuously attacking our forces who are preserving their existing position. In self-defence, our forces carried out actions in which an occupier was punished, and a drone and a surveillance camera system were destroyed."
According to the statement, the guerrillas responded to a Turkish attack against a position in the Çemço area in the Zap region on Saturday, killing one soldier. On Sunday, a surveillance camera installed by the Turkish army around a guerrilla position in Sîda was destroyed.
In the Girê FM resistance area in Metîna, a reconnaissance drone was shot down on Saturday evening. According to the HPG, several Turkish drones flew over the area to discover the guerrillas' positions.
According to the HPG, the Turkish army carried out 26 artillery attacks on Girê FM and guerrilla positions in Çemço and Sîda in the Zap on 18 and 19 March, using howitzers, tanks and heavy weapons.
The guerrillas have not carried out any planned actions against the Turkish occupiers since the severe earthquake in the Turkish-Syrian border area on 6 February for humanitarian reasons and are in a defensive position.