HPG publishes names of 6 fallen guerrillas
Guerrillas Ali Asya, Rojhat Zîlan, Serhat Colemêrg, Şervan Intikam, Welat Reşan and Mazlum Gelhat fell in 2017 resisting Turkish attacks in the Medya Defense Areas.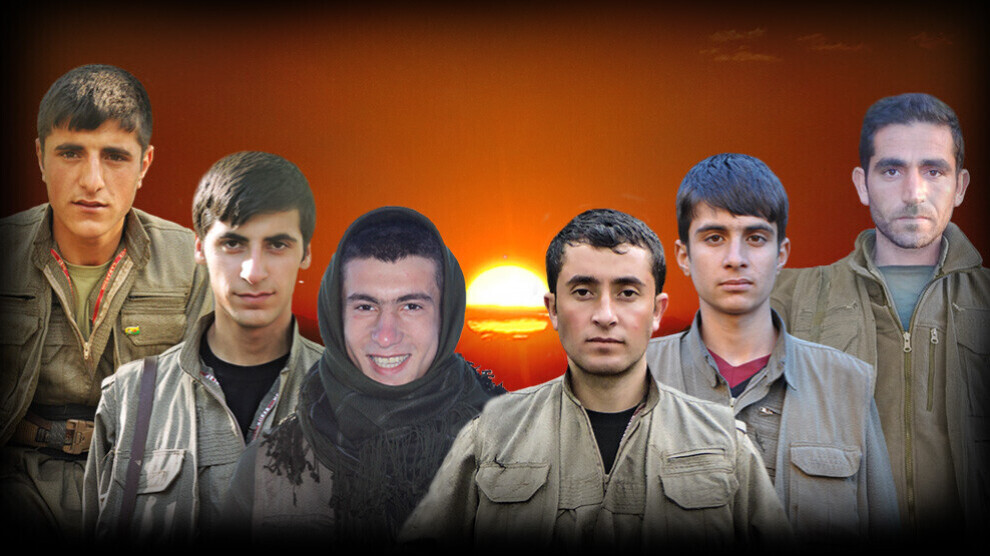 The Press Center of the People's Defense Forces (HPG) published the names of six guerrillas who fell in 2017. In a statement, the HPG said: "We commemorate our comrades Ali, Rojhat, Serhat, Şervan, Welat and Mazlum with respect."
According to the statement, guerrillas Abdurrahman Saltan (Ali Asya), Tarık Tunç (Rojhat Zîlan), Erdal Bozkurt (Serhat Colemêrg), Fırat Ay (Şervan Intikam), Orhan Sağnıç (Welat Reşan) and Diyar Kaya (Mazlum Gelhat) fell as martyrs in 2017 following the attacks by the Turkish army in Medya Defense Areas.
"Our comrades Ali, Rojhat, Serhat, Şervan, Welat and Mazlum fell in the attacks carried out by the Turkish state in 2017 against the freedom guerrillas who protect our people and fight for a free future."
The identities of the fallen guerrillas are as follows:
  Nom de Guerre: Ali Asya
  First and last name: Abdurrahim Saltan
  Place of birth: Amed
  Mother and father's name: Bedriye – Mehmet
  Date and place of death: 2017 / Medya Defense Zones
  Nom de Guerre: Rojhat Zilan
  First and last name: Tarık Tunç
  Place of Birth: Merdin
  Mother and father's name: Nesime – Ramzi
  Date and place of death: 2017 / Medya Defense Zones
  Nom de Guerre: Serhat Colemêrg
  First and last name: Erdal Bozkurt
  Place of birth: Mersin
  Mother and father's name: Hülya – Cevher
  Date and place of death: 2017 / Medya Defense Zones
  Nom de Guerre: Şervan Intikam
  First and last name: Fırat Ay
  Place of birth: Riha
  Mother and father's name: Zehra – Abdullah
  Date and place of death: 2017 / Medya Defense Zones
  Nom de Guerre: Welat Reşan
  Name and Surname: Orhan Sağınç
  Place of Birth: Wan
  Mother and father's name: Nafya - Süslü
  Date and place of death: 2017 / Medya Defense Zones
  Nom de Guerre: Mazlum Gelhat
  First and last name: Diyar Kaya
  Place of birth: Şirnex
  Mother and father's name: Ayşe – Kazım
  Date and place of death: 2017 / Medya Defense Zones