In memory of Martyr Zilan Afrin
Martyr Zilan Afrin, who walked the line of a free woman throughout her struggle, gained the respect and love of all her comrades with her hard working personality and became an exemplary YJA Star commander in every field she was involved.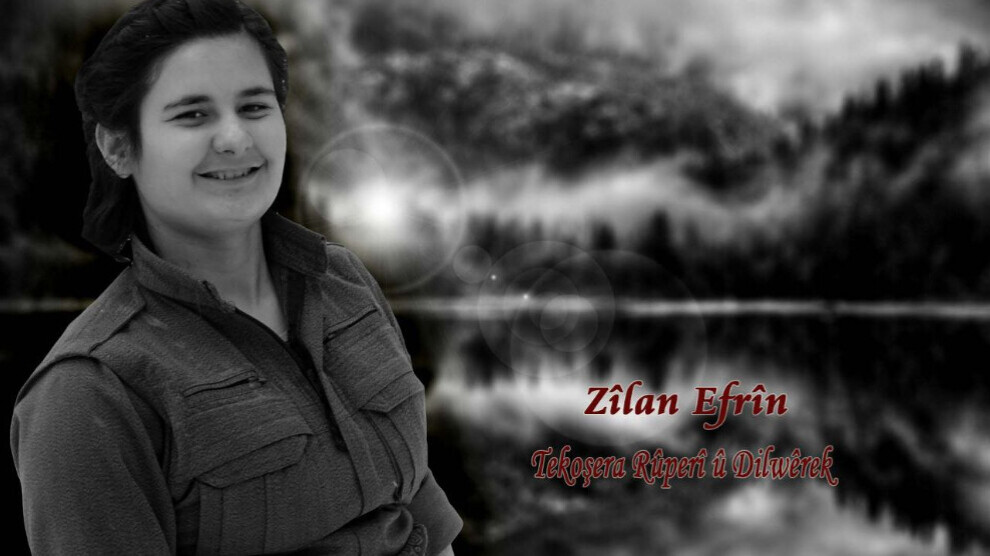 In line with the ideas and philosophy of Kurdish People's Leader Abdullah Öcalan, thousands of Kurdish youth went to the mountains to fight to restore the territorial integrity of their country.
One of those young people who took his place among these guerrillas was Zilan (Cîlan Ebdullah) from Afrin.
Zilan devoted her youth, energy and love to the liberation of her country and people. Cîlan Ebdullah, who was born in a patriotic family committed to the Kurdish freedom cause, lived a life away from the attacks of the BAAS regime because she did not attend mainstream schools. This situation made her even more committed to defending freedom values.
Cîlan, who has always expressed her love for her country, decides to join the ranks of freedom fighters after the Turkish army and its mercenaries launched the invasion attacks against Afrin, the city where she lived.
She joined the fight to defeat the Turkish state and the mercenaries and took the name of Zilan, one of the leading cadres of the PKK, and becomes Zilan Afrin in her new life. Zilan Afrin fought her first war in the land of her birth. Martyr Zilan, who fought with great devotion and determination against the occupying enemy, then went to the free mountains after the Afrin war to join the guerrillas.
Martyr Zilan, who met her essence as a woman in the mountains of Kurdistan, walked on the line of a free woman throughout her life of struggle.
Zilan Afrin completed her training in guerrilla fields, carried out successful practices in the region of Garê. Martyr Zilan, an exemplary YJA Star militant who exceeded the limits set by the system for women with the philosophy of Rêber Apo and carried the spirit of victory of the period, set an example for her comrades in every field.
Zilan Afrin won the respect and love of all her comrades with her hardworking personality, and undertook important tasks in the most difficult conditions. Zilan Afrin, raised by the people of Rojava and one of the leading militants of the freedom struggle, fell as a martyr in Garê as a result of the attacks by the Turkish state on 8 August 2022.