Internationalist Martyrs of the Rojava Revolution -II: Sarya Özgür
Countless people from all over the world joined the Rojava revolution and its defence. One of them was Sarya Özgür, who fell in Kobanê in 2014, becoming the first female internationalist to fall a martyr in Rojava.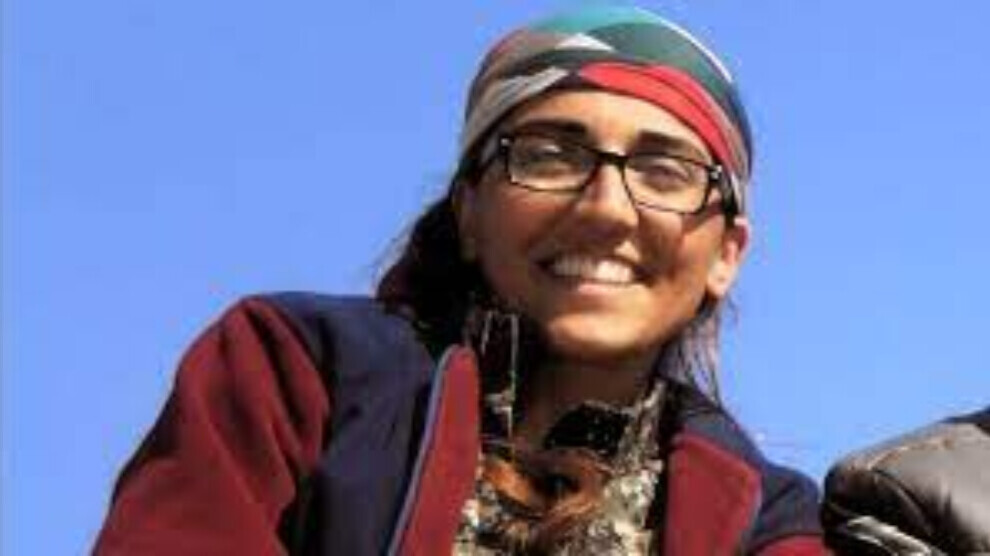 "Being in Rojava and joining the resistance here are of great importance. We base on the slogan 'Wherever there is an oppressed, we are there'. Rojava is the most important place to fight for all those oppressed and exploited," said Sarya Özgür during her first arrival in the region.
In this second part of our dossier, we will address the life and struggle of Sarya Özgür (Sibel Bulut), one of the commanders of the Marxist-Leninist Communist Party (MLKP), who lost her life in Kobane.
Sarya Öz was born in Dersim province of Northern Kurdistan in 1986. She joined the organized struggle at a young age and worked in many cities, including Istanbul and Van. For a period of time, she worked for the Atılım newspaper as the chief editor. Known by her comrades for her devotion and decisiveness, Sarya always expressed that the emancipation of the Turkish people passed through the emancipation of the Kurdish people, defining this state as "a bond of fates". She put emphasis on this fact also at her arrival in Rojava in September 2013, saying;
"We have a bond of fate. Being in Rojava and joining the resistance here are of great importance for this bond. In addition, responsibility falls on us, communists, as well. We base on the slogan 'Wherever there is an oppressed, we are there; no matter where, and in which country.' Standing by all those oppressed and exploited. Leading them and struggling for them. This is what Rojava represents to us."
"I have come here for the revolution and to create a new Sarya, leaving the other Sarya beyond the borders," she said when she came to Rojava, where she stayed at the headquarters of the People's Defence Units (YPG) in the first place to get accustomed to the region. Beginning her first struggle as a part of a mobile troop in Rojava, Sarya was on the frontline in all operations and actions. After two months, she joined the heavy weaponry troops as per the requirements of the struggle. Despite difficulties with the language, she was quite fascinating with regard to communicating with people and influencing those around her. She was amazing at encouraging herself and others to learn more and improve. Regarding the things she was not familiar with, she never pretended to know and was in constant effort to learn them. She was a commander who was learning as she was teaching.
"Standing by Kobane is a duty for every honorable person. Everyone with a conscience must stand with Kobane in this fight. As a communist, I have to be right in the middle of this rightful fight," she said as she demanded to go to Kobane from Cizîrê Canton, which she indeed did on 16 September 2014 with great devotion and internationalist spirit.
As a woman, a female commander and a revolutionary fighting on the front, martyr Sarya believed from the bottom of her heart that women's freedom needed to be on the frontline of revolution, saying;
"Rojava Revolution is also a women's revolution. Women are always considered to be the secondary sex. They are oppressed and despised. The severity of this oppression is greater in the Middle East. Women came into prominence with the Rojava Revolution. They have taken to the streets. They have taken up arms and begun to fight. They fight on fronts, fall as martyrs and command. And they put up a truly strong will. They continue the struggle with commitment. It is the same both in Cizire and Kobane."
Sarya Özgür fell as a martyr on 12 December 2014 in the resistance against ISIS gangs on the southern front of Kobane. She became the first female internationalist to fall in Rojava. She remained loyal to her dreams and goals at her death as in her lifetime.
Commemorating the revolutionaries who fell in Kobane, her mother, Zekiye Bulut, said, "I would sacrifice my life to be the dust on their feet and the earth on their graves," while her father, Murat Bulut, said; "My daughter came and fought here as a revolutionary, saying that every revolutionary should come here. We are proud of her and all of her martyred comrades." She was laid to rest in Dersim with the message: "Welcome to the side of Sakine Cansız."
An avenue in central Kobane and an MLKP troop were named after Sarya, whose life was marked by resistance and struggle. Her struggle is kept going by the people organising commemoration ceremonies on that street, and by her comrades from MLKP who say, "The weapon of comrade Sarya is in the hands of the companions now and it will not be silenced until victory."
Remembering Sarya, her comrades say, "She was more sensitive when it came to women. She believed that importance needed to be attached to the education of women. Freedom is a necessity for female companionship. Her expression at every opportunity and in every speech that the Rojava Revolution is also a women's revolution was a representation of her resolve. She believed it because she witnessed the reflections of women's revolution in her own practice. She would never tolerate the dominant attitudes of her male comrades. Her reflexes on this issue were not only for herself, but also for all of her female comrades. She was aware of the fact that an attitude seeking to weaken a single woman would weaken all women as a whole. While defending her female comrades, she also confronted their passivity in the face of a problem. She would say, 'As women, we have to protect each other, but there will always be those to be protected. For this reason, it is obligatory for every woman to have the power and skill to protect and defend herself'."
Sarya and many of her comrades have made Kobane into a place of victory. They could not join the dances of victory, but the people of Kobane will never forget them, and their comrades will never drop their flag of struggle. Whenever the people of Kobane walk on the Martyr Sarya Özgür Avenue, they will commemorate her and her never-ending struggle…