Karayılan: Kurds have victory in their hands
The courses carried out in the Medya Defense Zones by the Apollo Academy ended with a diploma ceremony.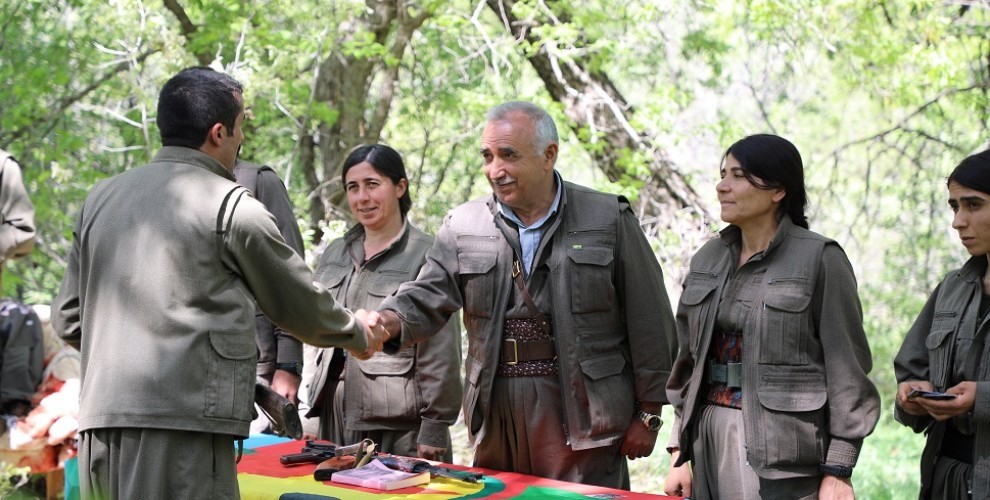 The courses carried out in the Medya Defense Zones by the Apollo Academy ended with a diploma ceremony.
Murat Karayılan, head of the People's Defense Central Headquarters, Gulistan Gulhat from the YJA Star Commanders, Xeyri Garzan from the Apollo Academy Commanders and a large number of guerrillas attended the ceremony.
Speaking at a ceremony Karayılan made important evaluations about the various issues on the agenda.
Karayilan pointed out that the occupation operation carried out by the Turkish state in the Bradost district targeted all of South Kurdistan and reiterated that Kurds should be united to counter the attack against what Kurds have gained.
Karayılan also pointed out that the guerrillas have started a massive move in North Kurdistan, while the Erdogan-Bahçeli alliance has called an early election out of fear.
Karayılan underlined that "we will defeat Turkish colonialism following new professional paths and methods, not with classical methods" and added: "They may come and occupy some places, but they will pay for it every day".
Here some point made by Karayılan in his speech:
The Kurdistan Freedom Struggle today represents a very important and historical process. Based on the paradigm of Leader Apo, the paradigm of democratic, ecological and women's revolution, our struggle has grown and developed. The Kurdistan Freedom Struggle in Turkey and the region has become the struggle of peoples for freedom and democracy. We have grown and developed and this development scared the enemy. Turkey colonialists are living in a great panic. Which is why Tayyip Erdogan, at the beginning of 2015, rejected dialogue and the Dolmabahçe agreement and proclaimed war against Kurdistan Freedom Struggle and the people. This war has been going on for 3 years and today this war has reached a very important level. Nevertheless Turkey has not achieved any of the results it hoped for.
Likewise it has not achieved any result despite the ongoing persecution, torture and total isolation imposed on Imrali, despite the persecution of the Kurdish people, its political genocide politics, the arrests of co-chairs and parliamentarians, the occupation of the municipalities elected by the people of Kurdistan and all the violence it has carried out.
Today Erdogan's colonialism is not fighting against us by land, but by air. Undoubtedly, this war is costing them very much. But they continue. Why? Because they know that to solve Kurdish question through dialogue and peaceful ways, will also mean democratising Turkey. And this is a nightmare scenario for them. Because a democratised Turkey will eventually expose all the theft and dirt. So they created a different scenario. They said: "Turkey's future is at stake. Turkey has the problem of survival and Turkey can save itself with war". This is the propaganda they are making. They carried out a comprehensive psychological warfare. But in reality there is no problem with Turkey's survival. Erdogan's survival may be the problem itself, but there is no question of the survival of the people of Turkey.
Everyone knows that the PKK doesn't work to divide Turkey, but to make a revolution in Turkey. What the PKK is trying to do is democratising Turkey. This is the first goal of Kurdistan Freedom Guerrillas. But Erdoğan, Bahçeli and the Ergenekon-linked people have reversed this truth and made alliances on this basis. With the AKP-MHP-Ergenekon alliance they are waging this war for their own power, to raise the vessel chauvinism in Turkey. They tell people Turkey's survival is at stake but in reality, this is a big lie, there is no such danger. The PKK and its friends, Turkey Socialist Democracy movements stand for brotherhood among peoples, to build a united Turkey. They want to build a free and democratic Turkey. That's the main purpose.
But those who are afraid of democracy have declared war against our people to reverse this truth. They did not get any result in Bakur (northern Kurdistan), they attacked Arin and targeted the Rojava revolution. Now they attack Lêlîkan and Xakurkê in Bashur (southern Kurdistan).
In other words, the AKP-MHP-Ergenekon fascism wants to carry out a policy of genocide in Kurdistan and occupy the Misaki-Milli borders. Now it seems that our people will have to resist in the 3 parts of Kurdistan against the invasion and aggression attempts by the government of Turkey.
In 2018 guerrillas have made various assaults in Bakur Kurdistan. Those assaults were successful in Botan and Serhat, but also in Zagros, Amed, Garzan, Dersim and the Black Sea. Now the guerrillas are launching assaults. We believe that this year the war between us and Turkish colonialism will reach another stage and we will succeed. Erdogan saw this. He saw that he could not make it. On the one hand the economy is weakening, while on the other hand, Turkey cannot be governed and they are actually governing it with extraordinary laws.
Erdogan and Bahçeli have then called early elections on 24 June. Where did this come from? It comes from fear. They fear the struggle of the peoples, the struggle of the people of Kurdistan, the struggle of the peoples of Turkey and Syria.
There is no such example anywhere in the world. They are saying at the same time: "We are at war, and Turkey is in a liberation war". Erdogan is trying to seize power by establishing an empire of fear.
We are ready to do anything to give the appropriate answer to the people of Turkey, Kurdistan and the Middle East.
Before it was Turanism, Pan-Islamism and Ottomanism, now is AKP-MHP-Ergenekon.
In 2014, this attack concept was first tried at the time of the Kobanê war, within the process called 'Crushing Plan'. Then they formed their own internal alliances. Ergenekon people were in jail and they freed them in order to incorporate them into this new alliance. Fettullah Gulen was left outside. He also wanted to take power. That is why they launched a war against Fettullah and they liquidated them.
Turkey, no news there, wanted to destroy the Kurds, assimilate them. But Leader Apo exposed their project. The struggle carried out so far has passed through many processes. They could not dismiss this movement. They asked NATO and international powers for help. An international conspiracy against was set in motion. Not only Turkey fought against us but NATO too.
A war began in the Middle East in 2011. This is the Third World War. It was said about a restructuring of the region. And Turks feared this. They feared that "The region will be restructured, Kurdistan can be established". And they reacted: "This cannot be, Kurdistan cannot exist within Turkey nor outside" they said. Because, according to them, if there is a federation in South Kurdistan or independence, and Rojava is added to it, the Kurds in the North cannot be stopped. Therefore, not only they have declared war to Kurds within their own borders, but also to Kurds outside their borders.
Erdogan is a dictator, he is just thinking about his own power. When our Leader sent his letter asking for negotiations, in 2013, Erdogan accepted this letter and acted like he wanted to develop a solution.
But it soon turns out that Erdogan had no such intention. He understood that if the Kurdish question was solved Turkey would be democratized. A democratic Turkey does not come good for Erdogan.
Therefore, on 18 March 2015, he said there was no "Dolmabahçe reconciliation".
This year, the war will be a crucial year. Now we need to say something here. This Turkish colonialism clearly says: "We are against the PKK". But it is in reality against all the gains and the very existence of the Kurdish people. As the European Union and America have the PKK on the list of terrorist organizations, Turkey insists in saying that Rojava is the PKK. It says that the YPG, YPJ, QSD are all PKK. South Kurdistan is PKK, Shengal is PKK, he says.
In fact, using the PKK as an excuse he is targeting all the gains of the Kurdish people.
To counter this policy it is important to be united as Kurds. Our politics may be different, our views may be different, but our interests are common. We're on the same boat. If we cannot use this historical process in the region correctly, these states - unscrupulous as they are - will unite to erase us.