KCK: Turkey attacks Kurds to keep fascism on its feet
KCK said Turkey attacked Makhmur, Shengal and Rojava to keep its fascism on its feet and called for a stronger resistance against fascism.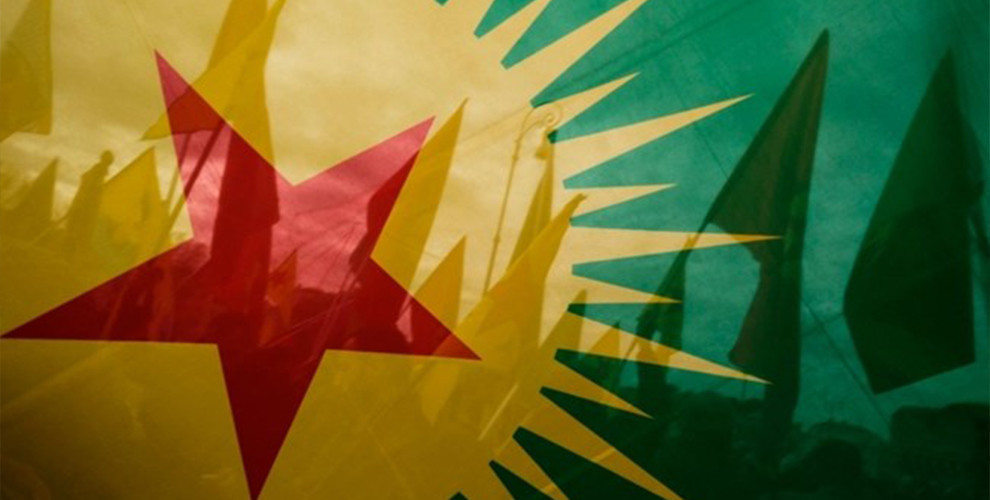 Kurdistan Communities Union (KCK) Executive Council Presidency released a statement following the Turkish attack that claimed the life of four women from Makhmur Thursday night.
Remarking that Turkey's recently increasing occupation threats and attacks on Makhmur and Shengal had a special meaning, KCK statement said that Turkey is trying to keep Syria in a constant state of war in order to keep its own fascism on its feet.
The statement said the following:
"The Turkish state which has built its existence on the physical and cultural genocide of peoples and faith groups since its foundation, continues its attacks against the peoples of the region, Kurds in the first place, and faith groups. In this scope, the fascist Turkish state has most recently attacked Makhmur refugee camp and Shengal and threatened to launch new invasion attacks in Northern and Eastern Syria. The attack on the Makhmur camp which is under UN protection claimed the life of four patriotic women. May God rest their soul. We offer our condolences to the people of Makhmur and Kurdistan.
SYRIA INTENDED TO BE KEPT IN A STATE OF WAR
It goes without doubt that the fascist Turkish state's threats to occupy Northern and Eastern Syria and attacks against Shengal and Makhmur, have special meanings. The Turkish threats to occupy Northern and Eastern Syria aim to eliminate the democratic, free and equal life peoples have built together there. This is because fascism sees democracy, freedom, equality and peace as a threat against itself. Turkey knows very well that they will not be able to keep fascism alive once a democratic order is established in Syria. In order for its own fascism to survive, Turkey is trying hard to keep Syria in a constant state of war because fascism feeds on blood and animosity.
ATTACK ON THE NONBENDING STANCE OF MAKMUR
The reason why the AKP-MHP fascism is constantly targeting Makhmur is the dignified stance of our people there and the system they have built. The people of Makhmur have been standing tall against any and all attacks for a quarter century. From Sur to Cizre, from Afrin to Bamerne, the people of Makhmur have been the symbol of our people's honorable resistance against the Turkish state fascism. For this reason, fascism has attacked the dignified and nonbending stance of our people in the person of Makhmur.
TURKEY WANTS TO DO WHAT COULDN'T BE DONE IN SHENGAL
It is no coincidence that the Turkish fascism is continuously making Shengal a target. Turkey has attacked the minority peoples and religious groups in the body of Shengal. Turkey doesn't tolerate the fact that our Yazidi people, who it has tried hard to destroy, subjected to exile and massacres for centuries, are regaining their will today. Turkey is trying to execute by itself what it couldn't do through ISIS in Shengal. In the person of Yazidis, Turkey has attacked Alavis, Kakais, Shebeks, Assyrian-Syriac-Chaldeans and Christians. The fascist Turkish state has undoubtedly intended to create a conflict, intimidate and oppress our people through these attacks.
UN TAKING NO STANCE AGAINST MAKHMUR ATTACK UNACCEPTABLE
Just like what happened during the First World War, the Turkish state's attacks against Kurds and other peoples of the region today are not developing outside the knowledge and approval of international and regional powers. Iraqi airspace is under US control and such attacks cannot take place without US approval. In a previous incident, the Turkish state had stated that the attack against our comrade Zeki Şengali was conducted within the knowledge of the Iraqi government. Just like then, the Iraqi government has not adopted a deterrent attitude against the most recent attack either. The same thing goes for the government of Southern Kurdistan. This situation shows that Turkish attacks are also approved by the governments of Iraq and Southern Kurdistan. The UN taking no stance against an attack on the Makhmur camp, which is under its own protection, is by no means acceptable.
HONORABLE RESISTANCE OF MAKHMUR AND SHENGAL PEOPLE
Our people in Makhmur and Shengal manifested an honorable stance and resistance against fascism after the attacks. We, the Kurdish Freedom Movement, salute the honorable stance of our people in Makhmur and Shengal. Kurdish, Arab, Turkmen, Assyrian, Muslim, Christian and Yazidi peoples and our people in Northern and Eastern Syria have also risen up against the fascism's threats of invasion. Our peoples have seen very clearly that the attack targets not only the Kurds, but also the democratic and free life they have been building together. We salute our people's dignified stand against the threats of invasion. On this basis, we call on all our people, those in Northern and Eastern Syria in the first place, to resist fascism stronger, and we invite the friends of Kurds to show solidarity with this resistance."