KDP, PUK agree on improving cooperation following talks
Following the KDP and PUK Politburo meeting in Sulaymaniyah, YNK's Mela Bextiyar and KDP's Nechirvan Barzani held a joint press conference. Speaking at the meeting, Barzani said they were ready to hold talks with Iraq.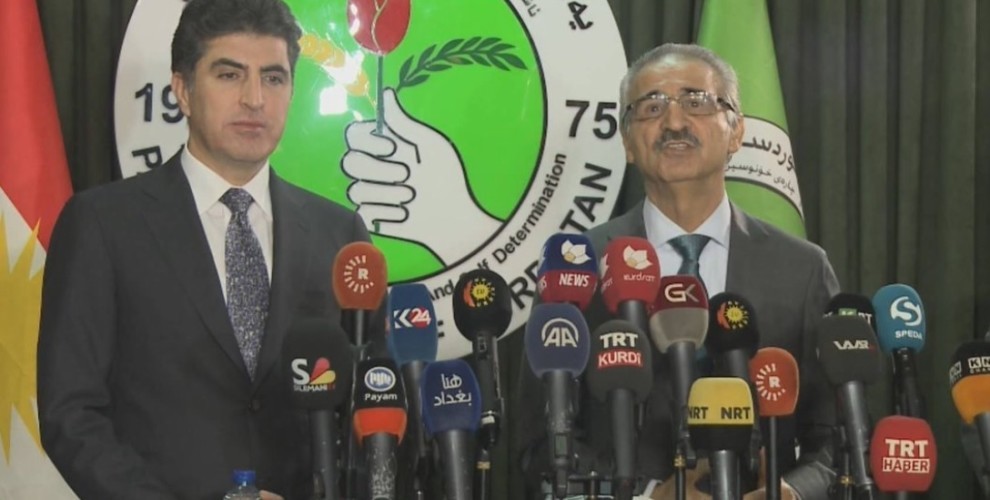 Following the meeting of Kurdistan Democratic Party (KDP) and Patriotic Union of Kurdistan (PUK) politicians today in the PUK Politburo in Sulaymaniyah, PUK Politburo member Mela Bextiyar and Kurdistan Region Prime Minister Nechirvan Barzani held a joint press conference.
In the meeting, the KDP delegation included Kurdistan Region Prime Minister Nechirvan Barzani, members of the KDP Politburo Fazil Mirani, Hosyar Zêbari, Roj Nuri Şawês, Mahmoud Muhammad, Azad Berwari and Dilşad Shahab; On the PUK board, Hêro Ibrahim Ehmed, Sadî Ehmed Pîrê, Mela Bextiyar, Sheikh Cafer Mistefa, Şoreş Îsmail, Aso Mamend, Omer Fetah and Hakim Qadir took part.
'WE SHOULD IMPROVE COOPERATION'
Speaking at a press conference after the meeting, Barzani said that the meetings was "a new door for the development of relations" and pointed out that Kurdish parties should be united. Barzani said, "We need to cooperate to overcome this difficult process we are going through. First of all, the relations between KDP and PUK should be stable."
Barzani also remarked that Kurdish parties would be better off visiting Baghdad with a joint delegation, referring to the visits already made by Kurdish parties in Baghdad three times this week. Barzani stated that they were ready for dialogue with Baghdad on the constitutional scope as he said, "We have repeatedly expressed Baghdad that we are ready for dialogue within the constitutional framework."
BARZANI: WE HAVE NO CONNECTION WITH THE PROTESTS IN IRAN
Referring to the allegations that the public protests in Iran were organized from capital Hewler (Erbil), Barzani said that they had no issues with Iran and added, "We have nothing to do with what's happening in Iran."
MELA BEXTIER: WE WILL DISCUSS KIRKUK
Mela Bextiyar, who spoke at the press conference, said the meeting was positive. Noting that Kirkuk's situation was discussed in the meeting, Bextiyar announced that the KDP and PUK will have another meeting tomorrow to clarify this issue.
Evaluating the Kurdish party visits to Baghdad, Bextiyar argued that they had been invited to Baghdad as a party but did not go. "The parties which went to Baghdad did not give us any information about the talks they had made," said Bextiyar.
BAGHDAD TRAFFIC
The Gorran (Change) Movement, Komela Islami and the Coalition for Justice and Democracy, established by Berhem Salih went to Baghdad and met with the Iraqi Prime Minister, President and opposition parties this week.
Pawel Talabani, the son of Former Secretary General of the PUK, Jalal Talabani, also went to Baghdad to meet with Iraqi Prime Minister Haider Al-Abadi. Meanwhile, the KDP is reportedly pursuing meetings with Iraqi former Prime Minister Nuri al-Maliki.