Kermanshah residents to spend one more winter in tents
It has been 11 months since the devastating earthquake hit Kurdistan's Kermanshah region in November 2017, but hundreds of survivors still live in tents.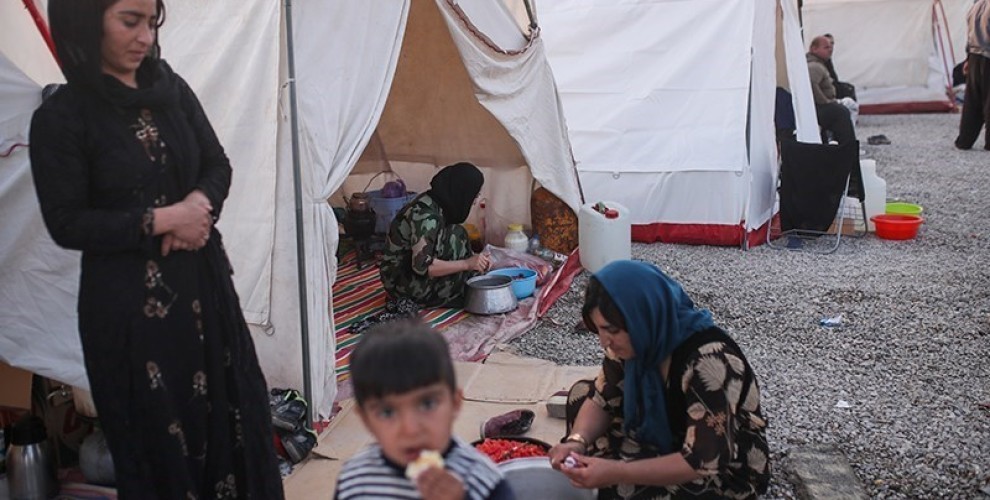 At least 630 people lost their lives in the earthquake with a magnitude of 7.3 on November 12, 2017 and some 8.500 people were wounded in the strongest earthquake to hit Iran in the last 10 years. Over 70.000 people were forced to move away due to the earthquake, and many lost their lives in the harsh winter conditions after the earthquake.
The Iranian regime didn't take any serious precautions for affected survivors. It has been 11 months since the earthquake, but people still have to live on the streets.
ANOTHER WINTER IN THE TENTS
Mayor of Sarpolê Zahab in Kermanshah Muhamed Cemal Niya accepted that 30% of the people in areas affected by the earthquake are still living on the streets.
Niya spoke about the situation the people left homeless are facing: "It took 28 days just to lay down concrete on the ground. All in all, we can see that repairing all homes with small loans will take a very long time."
Which means that hundreds of people are going to spend another winter with extreme temperatures outside in tents.
SELLING ORGANS TO REBUILD HOMES
According to the Iran Human Rights Organization's website, the housing issue is so bad that some residents have resorted to selling their kidneys to rebuild their homes.
Sapole Zahab City Council Chairperson spoke to the Ilna news agency on September 14 and criticized President Hasan Rouhani's administration for doing nothing and stated that some residents have resorted to selling their kidneys because of that.
WHAT HAS THE IRANIAN REGIME DONE FOR VICTIMS OF THE EARTHQUAKE?
The City Council Chairperson said, "The citizens' mental state is extremely worrying. Hygiene conditions are insufficient. The municipality still hasn't given us the budget to carry out works. I would like to hear the Interior Ministry to say what services they offer for a city like Zarpolê Zahab."
On September 5, an article in the Irna news agency said: "Families with sick or elderly members or young children are worse off among the survivors of the earthquake, because they can't rebuild their homes and will have to spend another winter in shabby shelters or tents."
CHILDREN DIE DUE TO THE COLD
New tragedies come by as the damage the earthquake did is not remedied. Iranian media announced last year that a 2 year old girl named Sarina Zahabi had lost her life due to the cold in the tent her family lived in.
Iranian MP Shehab Naderi said, "Other than Sarina Zahabi, many children including an 8-month old baby have lost their lives due to fevers and frostbite."