KJK: No concessions on Kurdish language and co-chairmanship
The KJK Coordination said the Kurdish language and the co-chair system, which are under the attack of the colonial system and some Kurdish parties, are two principles on which no concessions can be made.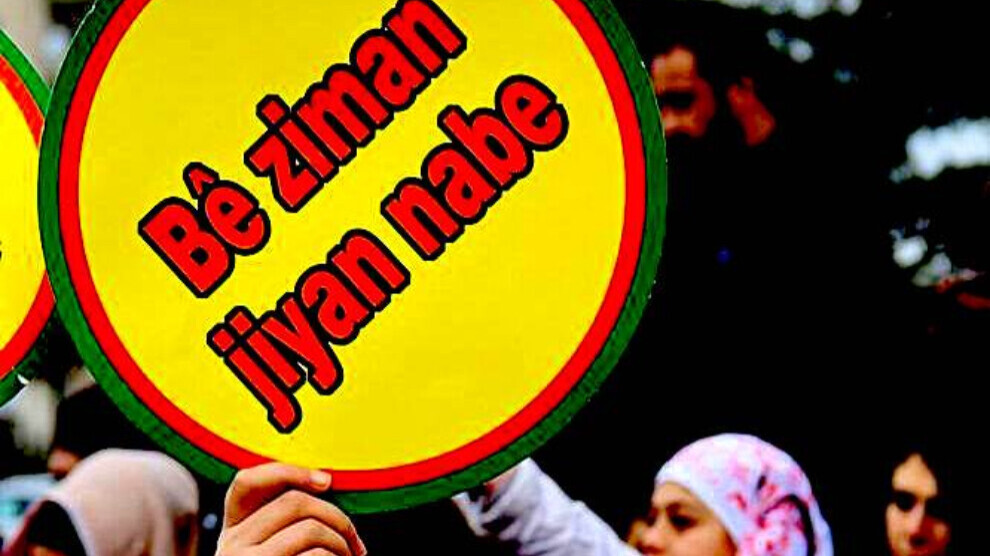 The KJK Coordination has called to develop Kurdish in all areas of life and to protect and enlarge the co-chair system.
In a written statement the KJK Coordination said that the struggle for freedom passed through an extremely historical stage, and added that the AKP-MHP fascist government is trying to maintain its existence with the attacks aimed at the annihilation and genocide of the Kurdish people.
Reminding that a policy of total destruction was carried out against the language, culture and identity of the Kurdish people, the KJK said: "After the disappearance of Zazaki as a result of the prohibition of Kurdish language and Kurdish culture in North Kurdistan we see now that Kurmanji if facing same danger. In the same way, the policy of hostility towards women's freedom has not been carried out so systematically and in a planned manner in any period of government. The ugly special war practices carried out against Kurdish women, the effort to get out of the Istanbul Convention, are the most concrete plans of the widespread increase in murders of women. All women's gains are being seized. The system of co-chairmanship and equal representation is considered a crime. The fascist government is trying to keep its power by promoting misogyny and sexism."
The statement continued: "The negative attitude of ENKS towards Kurdish education and co-chairmanship system was criticized in the debates on the establishment of Kurdish national unity in Rojava. We support the statements of the Autonomous Administration and Kongra Star on this issue. Now, can any Kurdistan organization or party put as a condition of national unity in South Kurdistan, no education in the mother tongue, but in Arabic? Clearly not."
The statement pointed out that co-chairmanship and equal representation is a great step in the formation of the democratic civilization system and a historical freedom move. "The co-chair system was developed primarily as a result of President Ocalan's understanding of freedom. Co-chairmanship and equal representation have been practiced on the basis of guerrilla army / partyzation developed by Kurdish women with great resistance, work and a great price. Women's system and women's revolution work are being developed by our people under the leadership of women with extraordinary efforts and sacrifice."
The statement continued: "The women's revolution is taking place in Rojava in the most comprehensive and systematic way today. Moreover, the YPJ resistance in Rojava, accepted by the whole world, is known. ENKS should never have voiced such a proposal in order to respect the will of women freedom fighters, our women martyrs, and the line of women's freedom. These issues are not topics to be discussed at tables. Today, the co-chair system is applied in all areas of our work in Bakur, Rojhilat, Bashûr, Rojava and Europe. In this respect, the co-chair system is not only on the agenda of Kurdish women, but also of women in the Middle East and the whole world. It is a model that affects all humanity, changes and transforms the society when it comes to freedom and equality. It constitutes the grounds and foundations of men and women to develop a free life. It is the only guarantee for our people, our peoples to live free and dignified in Kurdistan."