"Let's crown the hunger strike resistance with victory on Newroz"
HPG guerrillas said Newroz is a day of emerging from the darkness into the light and added: "Let's crown the hunger strike resistance with victory on Newroz."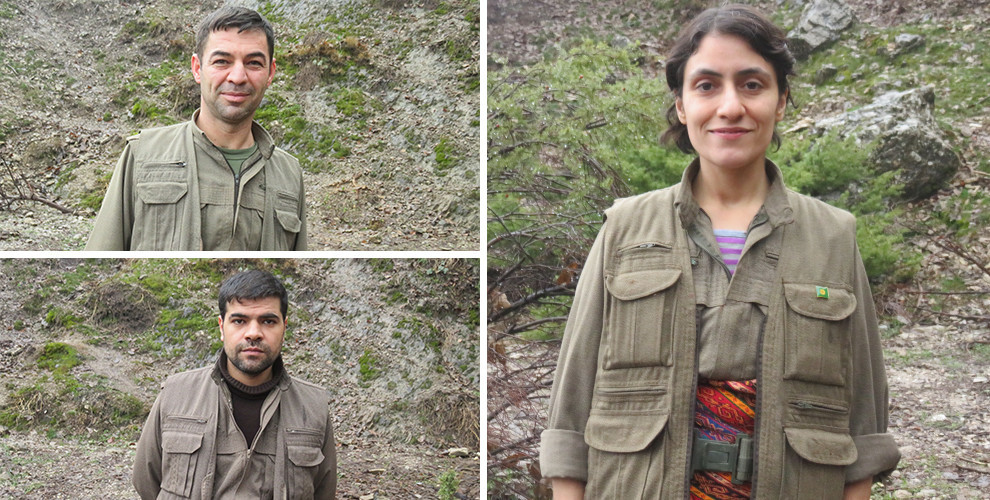 Newroz, a day of resistance for the peoples of Kurdistan, is being celebrated in Kurdistan and throughout the world. HPG and YJA Star guerrillas spoke about the significance of Newroz and said Newroz 2019 has been greeted with a great resistance. HPG guerrilla Bawer Munzur started his speech by saluting Mazlum Dogan and all martyrs of the revolution and Newroz Day, stressing that this year's Newroz is out of the ordinary.
Munzur pointed out that there is a great ongoing resistance under the lead of Leyla Guven and said: "First, we salute all friends in the resistance. We celebrate Newroz for Serok Apo and all our people. Newroz means freedom, peace and the fraternity of peoples for us. Newroz has a historical significance. Dehak's tyranny over the Middle Eastern peoples was ended by Kawa on this day. So we celebrate every year.
Today, Newroz is even more significant in the person of modern day Kawa Mazlum Dogan. We as the HPG and YJA Star guerrillas will break the isolation against Ocalan with the spirit of resistance that Mazlum Dogan had. We salute the hunger strike resistance that spread throughout the world under Leyla Guven's lead once again."
NEWROZ IS THE DAY OF EMERGING FROM THE DARKNESS INTO THE LIGHT
YJA Star guerrilla Hevidar Siyar said over 7.000 prisoners are in resistance in prisons and stressed that they as the guerrilla derive great strength from the resisters. Hevidar Siyar said the resisting prisoners are following on the path of Mazlum Dogan, Kemal Pir and Sakine Cansiz: "Their resistance is a great call for us and for the people. From now on, we must raise the resistance. The Kurdish people are resisters. They follow the path of Mehmet Tunc and Martyr berivan. Let us crown the resistance with victory on Newroz."
HPG guerrilla Dijwar Garzan said there has been a historic resistance against tyrants and added: "In the person of Mazlum Dogan, the Kurdish Freedom Struggle has reached millions today. Mazlum Dogan gave a new meaning to Newroz tradition, which was then continued by Rahsan Demirel, Zekiye Alkan and dozens of young people. Today in prisons, in cities, in the mountains, thousands of people continue this resistance.
Thousands of people resist injustice, unlawfulness, captivity and isolation under the lead of Leyla Guven and Nasir Yagiz. What is expected of us is to respond to this resistance. Newroz is the day of emerging from the darkness into the light. The months of March and April are for resistance. Once again, we celebrate Newroz for Leader Apo, martyrs' families and all our people."