Man deported from Hewler detained in Sulaymaniyah
Hasan Kaçar, who was deported from Hewler by the ruling Kurdistan Democratic Party, was taken into custody after he launched a protest in a tent he set up in front of the United Nations office in Sulaymaniyah.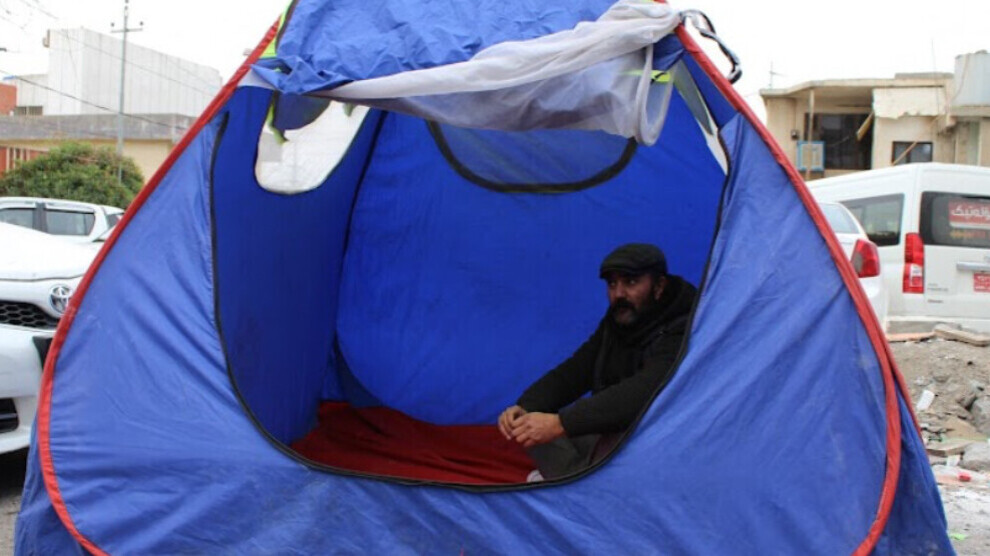 Hasan Kaçar from North Kurdistan was deported together with his wife and two infants by the Kurdistan Democratic Party (KDP) local security forces (Asayish) in Hewler (Erbil) on November 23.
To protest the mistreatment, the Kaçar family set up a tent in front of the United Nations (UN) office in Sulaymaniyah on December 1.
Hasan Kaçar made a statement here and expressed that he was tortured by the Asayish when deported from Hewler. He stated that he had been living on the streets for 8 days, and added, "Our children were going to school in Hewler. They have been left deprived of their right to education now."
Kaçar urged the United Nations to fulfil its duty, saying, "Relevant institutions should fulfil their responsibilities to ensure our return home. Our kids should continue their education."
In the evening of the same day, Hasan Kaçar disappeared, and his family could not hear from him for a while. Father Kaçar called his family several hours later, and said that he was fine. During the phone call, a person who identified himself as a police officer, reportedly said that Kaçar was under custody.
Sulaymaniyah Police Directorate confirmed earlier in the morning on December 2 that Hasan Kaçar was held in custody, RojNews reported.
Afterwards, Sulaymaniyah representatives of the Peoples' Democratic Party (HDP) contacted the General Directorate of the Asayish. The Asayish informed the HDP representatives that they took Hasan Kaçar into custody on the grounds of the lack of a residence permit and tent action. The complaint against Kaçar is suspected to have been filed by the United Nations office.
Kaçar was jailed by the Turkish state for 12 years and released along with 20 other political prisoners in 2014 because of his chronic illness following a call from Kurdish leader Abdullah Öcalan.