Maxmur hunger strikers: The goal is to free Ocalan
Activists from the 9th group of hunger strike pointed out to the activities initiated against the aggravated isolation of the Kurdish People's Leader Abdullah Ocalan, and said: "Our main goal is to remove the isolation and free Leader Apo."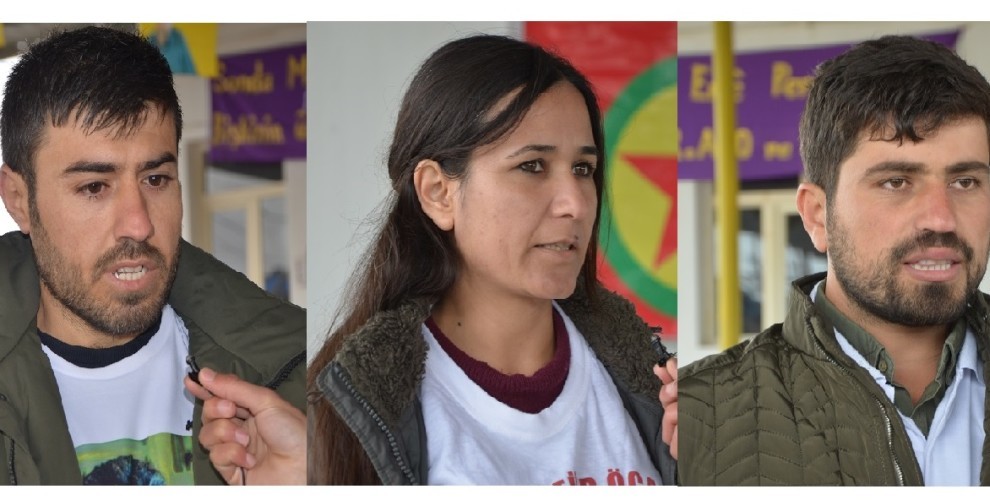 The hunger strike campaign which had begun in Maxmur Şehîd Rustem Cûdî camp on December 16, 2018, was handed over the 9th group taking turn on the 25th day. The hunger strikers stressed that their goal is to remove the aggravated isolation of the Kurdish People's Leader Abdullah Ocalan.
"The isolation will be defeated"
Many from different components of the society have so far joined the hunger strike campaign which is spreading. In North Kurdistan, in and outside the prisons, in South Kurdistan, in Europe and many other places, the Kurds and their friends continue the hunger strike activities to undermine the isolation. Free journalists, not only by reporting on the hunger strikers' situation, but also by joining them, carry out their intellectual duties.
Nihat Pusat is a journalist and he has joined the hunger strike in Maxmur. Pusat started by remembering one of the PKK's founders, Sakine Cansiz, KNK's representative for Paris, Fidan Dogan, and member of the Kurdistan Youth Movement, Leyla Şaylemez who were assassinated in a conspiracy on January 9, 2011 in Paris.
"We have decided to participate in the hunger strike in solidarity with the initiative launched by the DTK co-chair and HDP MP Leyla Guven against the aggravated isolation on Ocalan. This campaign which is ongoing in Kurdistan and diaspora, will endure until the isolation is ended," Pusat said.
"No matter what the price is, we will free our leader"
Journalist Reber Kapar also mentioned the hunger strike initiative and said: "Guven has been on an indefinite hunger strike. Similar initiatives continue to take place in the prisons, in South Kurdistan and in Europe. As journalists and residents at Şehîd Rûstem Cûdî refugee camp, we have joined the campaign to show our solidarity.
Our first and foremost goal is to remove the aggravated isolation imposed upon our leader, and to have him physically freed. For this to be possible, our actions will continue using different methods. The enemy tries to normalize and legitimize the isolation. We do not accept this. No matter what the price is, we will struggle for our leader."
"There should be a mass resistance against the attacks"
The co-chair of the People's Council in Maxmur, Filiz Budak said: "It has been a long time that there is a strict isolation against our leader, and there is no information about him. With the beginning of the New Year, the enemy launched a new concept of massacre against the Kurdish people. Therefore, there should be a mass resistance against a mass genocide. Our main goal is to physically free our leader. We continue to repeat this, the isolation imposed on our leader is a wide isolation forced upon the Kurdish people in general.
As woman, to be able to lead the activities has a strong meaning for us. For women, it is crucial to protect our leader. The New Year has begun with a new range of different activities including the current hunger strike campaign in Kurdistan, the prisons, Europe and elsewhere around the world. The one and only purpose behind this campaign is to have Leader Apo physically freed."