May 1 in Diyarbakır: Time to stop AKP-MHP
People gave messages on the upcoming June 24 elections at the May Day rally in Amed (Diyarbakır).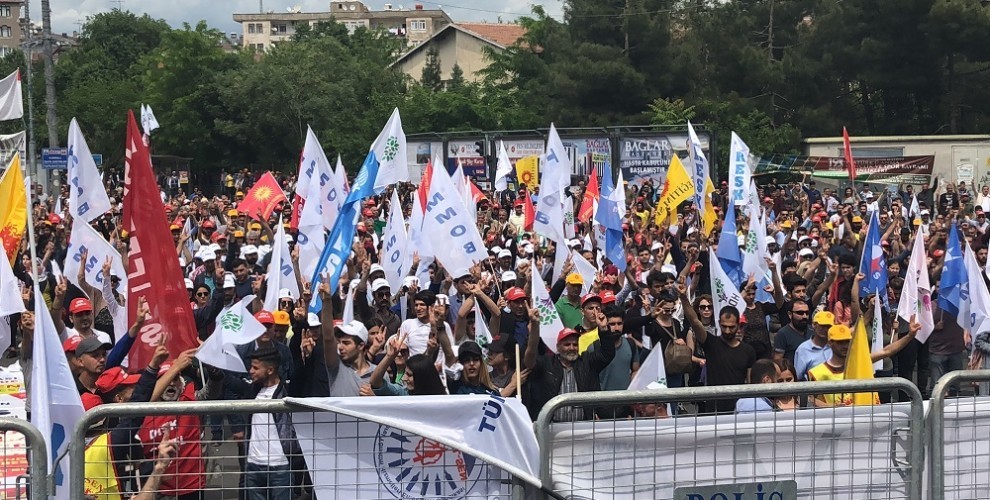 DİSK (Confederation of Revolutionary Workers' Unions), KESK (Confederation of Public Workers' Trade Unions), TMMOB (Union of Chambers of Turkish Engineers and Architects) and TBB (Turkish Doctors' Union) organized this year's May Day rally in the mainly Kurdish city of Amed (Diyarbakır) with the motto 'We will see good days with May 1, Bijî 1 Gulan'.
People chanted 'Bijî 1 Gulan' (Long Live May 1st), 'Bijî Berxwedana Surê' (Long Live Resistance of Sur), 'Bijî Serok APO' (Long Live Leader Öcalan) and 'Down with fascistic dictatorship'.
Executives and members of Peoples' Democratic Party (HDP), Labor Party (EMEP), 78's Initiative, Democratic Society Congress (DTK) and several civil society organizations participated in the rally in addition to large numbers of workers and people.
Speaking here, HDP Co-chair Sezai Temelli said the following; "The government remains standing by means of war policies. They base their rule on animosity towards the Kurdish people. We are in the streets to say 'NO' to all war policies and corruption. They have displaced the people with policies of urban devastation. They think they will be able to cover up their crimes by constructing TOKİ (Housing Development of Turkey) buildings. We will not forget your faults. For this very reason, we will build Sur and generate our living areas. They are tearing down our statues, thinking that we will forget what happened. They tear down the Roboski monument as they think we will forget it."
Referring to the situation of HDP's former co-chairs Figen Yüksekdağ and Selahattin Demirtaş, Temelli vowed to keep their love alive. He continued; "On June 24, no votes will come out for the AKP in Kurdistan. It is time to say 'Stop' to this regime. We must reclaim our job, bread and city."
Calling for an immediate end to the isolation imposed on Kurdish People's Leader Abdullah Öcalan, Temelli said the following; "Mr. Öcalan's messages must be read well and the coup mechanism must be broken in order for peace and democracy to come to this country. Turkey is in search of peace. War policies must be gotten rid of in order for democracy and peace to be achieved. Women workers, the first victims of the work life, are underpaid. Violence against women and feminicide is political. The government reveals its mentality even when they enact a law on abuse of children. Solving the problem of workers is solving the Kurdish question. These issues are interwoven. Our alliance must come into play in order to handle these issues."