Nasir Yagiz: My protest will end when the isolation does
Nasir Yagiz has been on an indefinite and non-alternate hunger strike in the HDP Hewler Representation Offices for the last 46 days, and said he will end his protest when the isolation imposed upon Ocalan does.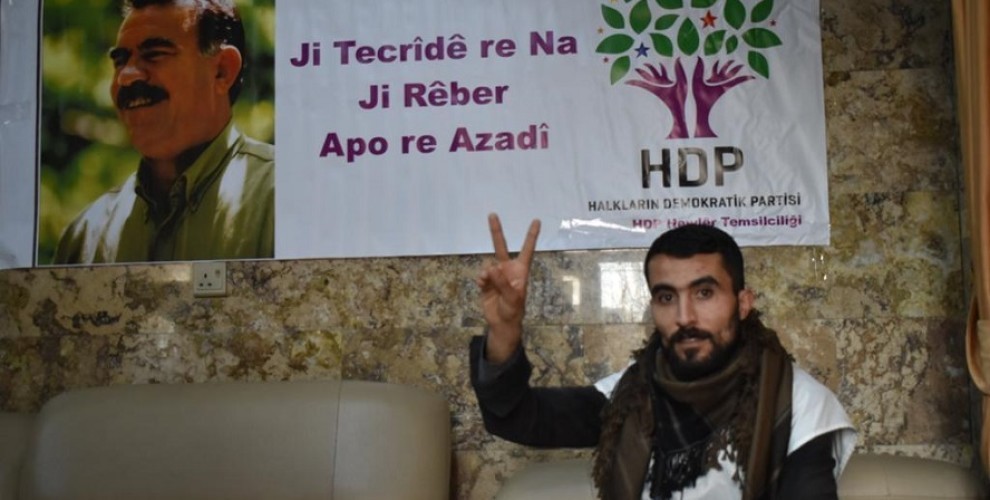 Northern Kurdistani Nasir Yagiz was detained and arrested for political activity in August 2016, and wasn't released until February 2017. After he was first released, Yagiz was detained 5 times. Following the last detention in February 2018, he was forced to move to Federal Kurdistan. Yagiz continues his political efforts as a member of the Peoples' Democratic Party (HDP) Hewler Representation member, and has been on an indefinite and non-alternate hunger strike for the last 46 days. Yagiz said he is determined and that his protest will only end when the isolation does. Yagiz said the following:
"My name is Nasir Yagiz. I am from the Gercus disrict of Batman. My family had to migrate to during the '90s. My two uncles were killed in front of their homes by counterterrorist units in 1992. Another uncle who had joined the Kurdish Freedom Movement was martyred in 2016. At first I joined for sentimental reasons."
Yagiz participated in political party efforts and was tasked as an HDP Youth Assembly Member in 2014. Then he became the Youth Assembly Spokesperson. He was detained in a political genocide operation in August 2016, to be released on February 2017. He stayed in Batman until 2018 but he was detained numerous times. After this treatment, he crossed into Southern Kurdistan.
"I UNDERSTOOD IT BETTER"
Yagiz said he understood the importance of Kurdish People's Leader Ocalan's system after he saw the system in Southern Kurdistan: "I started to work harder, and eventually decided to launch this protetst, when I saw that this system directly serves the people"
THE ISOLATION NEEDS TO BE BROKEN
Yagiz said a fascist dictatorship is trying to take root in Turkey and continued: "If the forces of democracy create a unity in the grassroots, it will be possible to push back fascism. In this sense, the hunger strikes have a historic mission and an opportunity. As long as they are supported by a social embrace and nurtured with various methods of struggle. The Imrali regime is an inhumane regime with international aspects. All international powers are accomplices to this regime. The Imrali prison is run outside of universal legal norms, through piracy and barbarism. Imrali is the arena where the free human will battle barbarism. The Resistance of the Age manifests in Mr. Ocalan. All who call themselves human should support this resistance and break this isolation.
EVERYBODY SHOULD THINK AGAIN
Yagiz pointed out that Ocalan hasn't been heard from in 3 years and added that everybody should put their hand on their heart, think again, and take action. He continued: "All the people of Kurdistan should defend the Leader. Defending the Leader is defending one's culture, nation and identity. We must stand against fascism with the motto 'You Can't Darken Our Sun'. We will continue the demonstrations until the isolation imposed upon our Leader is lifted. If it comes to that, this will continue until death. We can sacrifice our life. All the people of Kurdistan should have this awareness."