People of Shengal take to the streets and start resistance- UPDATE
Armed forces of South Kurdistan's ruling party KDP want to enter Shengal on the pretext of the upcoming elections. People took to the streets and started sit-in actions to voice their reaction.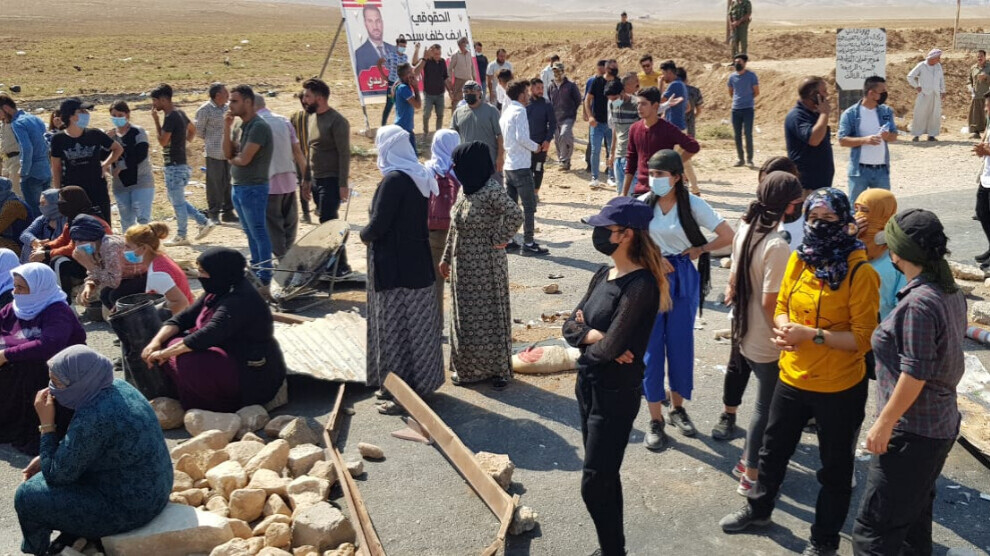 The Yazidi town of Shengal (Sinjar) in southern Kurdistan (northern Iraq) has been witnessing military activity by the armed forces of the KDP and the Iraqi army since early this morning. Residents took to the streets in several locations across the town in the face of military activity and reports are coming through of an extraordinary situation in Shengal.
Reports from the ground say that a large number of KDP and Iraqi troops have been deployed on the roads leading to the Yazidi settlement. The KDP is said to be seeking to implement the Shengal Agreement on the pretext of the upcoming elections.
KDP forces were deployed at checkpoints between Shengal and the regions of Rabia and Zakho as well as other regions in Kurdistan Region.
People of Shengal have gathered at all roads and checkpoints and built barricades against the military forces of the KDP to prevent an imminent action. Masses have also gathered outside the centers of the public security forces (Asayish) in Guhbel and Borik. The people, the majority of them being women, have started sit-in protests on the main streets to prevent the movement of the military forces.
According to reports, the KDP is preparing its military forces to enter Shengal, while Iraqi forces have been stationed in several locations in the town. Residents of the Yazidi settlement have gathered on the main streets, at checkpoints and local councils, voicing their reaction against the KDP and the Iraqi army.
The KDP-affiliated forces under the command of Qasim Şeso are on the move in the vicinity of the Şerfedîn Cemetery.
In a statement released on Friday, the Autonomous Administration of Shengal said they received information that armed units of the KDP want to enter the region. The Autonomous Administration said they would not allow such an attempt by the KDP, calling it a provocation.