PJAK co-chair Zîlan Vejîn: "Standing up for Öcalan means standing up for freedom"
The co-chair of the East Kurdistan party PJAK, Zîlan Vejîn, spoke about the 23rd anniversary of Öcalan's abduction and said that "standing up for Rêber Apo means standing up for one's own will and freedom."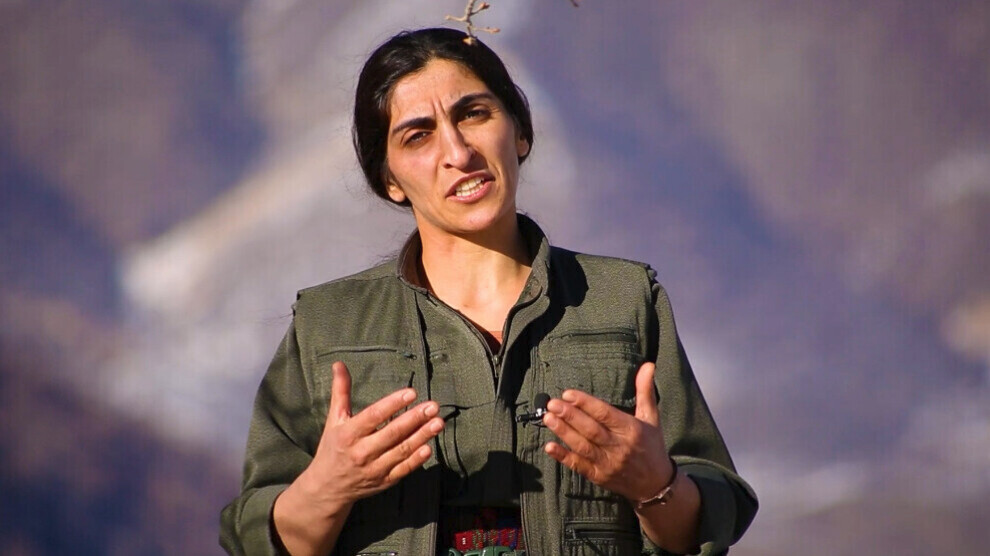 15 February marks the 23rd anniversary of the abduction of Kurdish representative Abdullah Öcalan. The co-chair of the East Kurdistan Party for a Free Life (PJAK) talked to ANF about the importance of the fight for Öcalan's freedom for the people of East Kurdistan. "The people here stand up for Rêber Apo [Abdullah Öcalan]. Rêber Apo's achievements, his struggle and resistance have been recognized and accepted throughout Kurdistan. That is why millions stood up for him when he was taken prisoner by the Turkish state. Turkey thought that the international conspiracy was to lead to success through several phases. But this conspiracy failed for three main reasons: because of the attitude of Rêber Apo, his resistance and his projects for peace and democracy, the conspiracy came to nothing. Second, the success of the conspiracy was prevented by the strong resistance of our people and their support for Rêber Apo, his thoughts and philosophy. And third, the conspiracy failed thanks to the resistance and struggle carried out by the freedom guerrillas to this day."
"Stand up for human values"
Regarding the prison conditions in Imrali, Vejîn said: "Rêber Apo has been in isolation for 23 years. We have to make a self-criticism. Ending Öcalan's isolation and thwarting the enemy's plans is closely related to our struggle. If we expand our struggle as a movement and as a people, if we realize the philosophy of apoism, the enemy will never achieve his goal. The people of Rojhilat (Eastern Kurdistan) also support the offensive for the freedom of Rêber Apo. We must push this offensive even harder, because standing up for Rêber Apo means standing up for human values. Therefore, our people should give even more support to this offensive to ensure Rêber Apo's physical freedom. The people of Rojhilat should take the same radical stance against the conspiracy as they did in 1999."
The PJAK co-chair added: "Standing up for Rêber Apo means standing up for one's will, one's freedom and one's rights. Rêber Apo has been resisting for 23 years under the most difficult conditions for the rights of society, its freedom and its struggle. Today's attack on him is an attack on the entire Kurdish society. Our people can defeat these attacks under the leadership of women and young people. In the 24th year of his imprisonment, we must ensure Rêber Apo's physical freedom. To do this, we have to mobilize and go on the offensive."