Resistance of Maxmur people enters third day
Refugees in the Maxmur refugee camp have been resisting the Iraqi army's attempt to isolate the camp.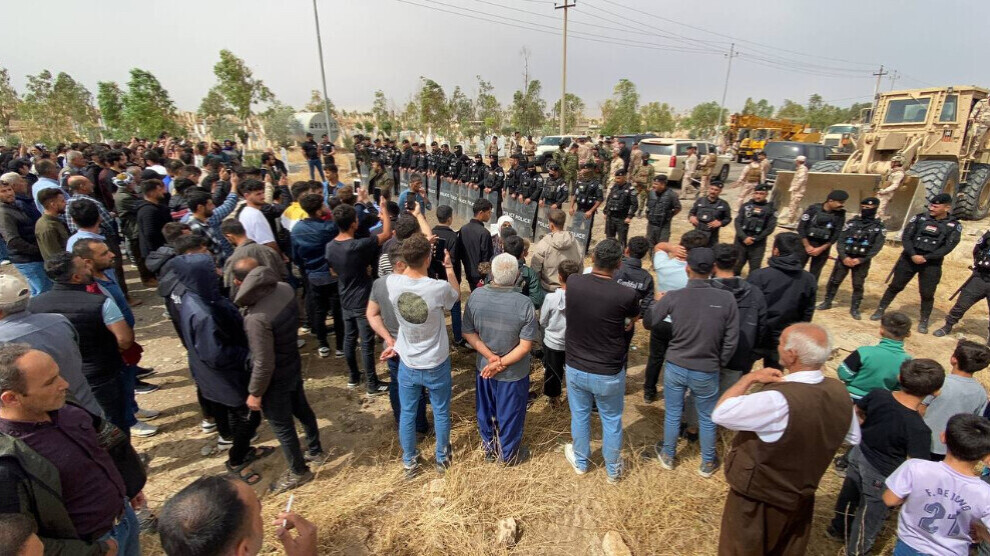 On the morning of May 20, the Iraqi army, supported by a large number of police, took action to surround the Maxmur refugee camp with barbed wire and towers. The residents of the camp opposed the blockade and resisted the Iraqi forces.
NO ENTRANCE TO THE CAMP
All the entrances and exits of the camp, where about 12 thousand refugees reside, have been closed by the Iraqi army. The blockade is jeopardizing the lives of the residents of the camp where there are many seriously ill refugees.

The Maxmur camp has already been under a strict embargo by the KDP since July 17, 2019. The residents of the camp are not allowed to enter the cities of South Kurdistan and to provide basic needs from outside. Numerous people have already lost their lives due to the embargo.
The resistance against the Iraqi army blockade has entered its third day. The residents of the camp are standing guard in tents and say that they will not leave until the Iraqi forces withdraw.
Fatma Cizîrî, one of the residents standing guard, said: "The Iraqi state is persecuting us. We are already surrounded by ditches, and now they want to surround the camp with barbed wire."
WE ARE ALREADY IN OPEN PRISON
Cizîrî added: "If they stay here, we will stay, too. We live here as refugees. What do they want from us? We are already in an open prison. What else do they want? We will resist until the last drop of our blood."

A young woman named Jiyan Posat said: "They attacked from five directions. Against this, the camp residents are positioned at every point where the Iraqi forces are. There is outstanding resistance. Young people and mothers are resisting."
CALL FOR SOLIDARITY
Addressing the international community and the Kurdish people, Posat stated: "We are resisting. You need to support us. In particular, our people in Bashur (South Kurdistan), young people, the United Nations and our people in Europe should support us. Without strong solidarity, the Iraqi state will not stop."
Posat emphasized that they were not in favour of conflict and two of the camp residents were injured by Iraqi forces. She said: "We do not want to be surrounded by barbed wire. The Iraqi state claims that the people demand it. But the people are here, and they don't want it."
IRAQ SHOULD STOP AIR STRIKES IF THEY WANT TO PROTECT US
Posat noted that they have been protecting themselves for the last 30 years. She concluded: "They claim that they want to protect us. We don't need their protection. If they want to protect us, they should stop the air strikes first."