Seven soldiers killed in actions by YJA Star guerrillas
Seven soldiers of the Turkish army were killed in guerrilla actions by the YJA Star in Southern Kurdistan. The HPG reports attacks by the invading forces and denies a report about an alleged MIT operation in Maxmur.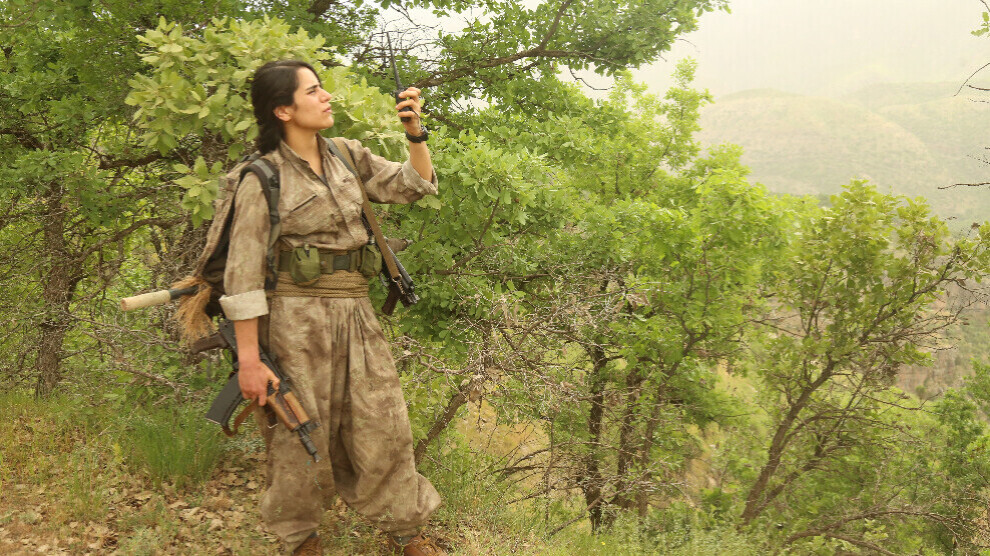 According to the Press Centre of the People's Defence Forces (HPG), seven soldiers of the Turkish army were killed during the ongoing invasion campaign in the guerrilla-held Medya Defense Zones in southern Kurdistan (northern Iraq). The guerrillas also destroyed a surveillance camera system installed by the invading forces.
On Monday, six soldiers were killed in a sabotage action carried out by a mobile unit of the YJA Star (Free Women's Troops) in the Şehîd Bêrîtan area in Xakurke. In the Zap region, YJA Star guerrillas struck a Turkish squad with heavy weapons near the Şehîd Aryen position on Tuesday. At Girê Amêdî, a surveillance camera was destroyed by YJA Star guerrillas, and a soldier was shot by a sniper at Girê Cûdî. In the area, an advance by the Turkish army was also stopped by a guerrilla attack with firearms.
ATTACKS BY THE TURKISH ARMY
According to the HPG statement, Turkish fighter jets bombed guerrilla areas eight times on Tuesday. Twenty more airstrikes were carried out by attack helicopters. Positions in Girê Amêdî were bombed twice by drones. In the Girê Amêdî, Çemço and Şikefta Birîndara areas, prohibited high explosive and chemical weapons were used. The Turkish army set flammable material on fire in front of the entrance to the Şehîd Bahoz tunnel. In addition, there were renewed attempts to demolish guerrilla positions in Şikefta Birîndara with construction machinery. Dozens of other attacks were carried out with howitzers and heavy weapons.
HPG DENIES TURKISH MEDIA REPORTS
In its statement, the HPG denied the Turkish media report about an alleged MIT operation in Maxmur Camp in which two PKK members were allegedly captured. HPG said that this report by the Turkish special war media lacks any basis and is designed to portray Turkish intelligence as successful and to distract attention from the heavy losses suffered by the army in the war in Kurdistan. HPG stated that the two people allegedly captured, Hatip and Aria, had already separated from the Kurdish liberation movement in July and had subsequently been handed over to the Turkish state.