Shengal Autonomous Administration re-greens areas dried up by Iraq
The Sinun Municipality of the Shengal Autonomous Administration is reintroducing the projects the Iraqi municipality has failed to do in the region.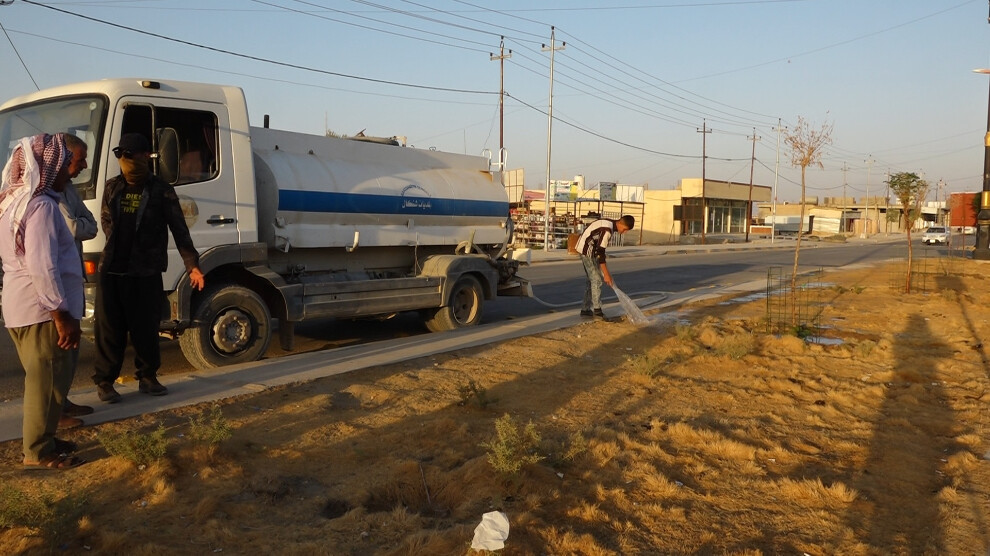 In the Yazidi town of Shengal (Sinjar) in the Kurdistan region of Iraq, the Iraqi government has built institutions affiliated to Mosul.    
Numerous people have been tasked with working within these institutions. Yet, the Iraqi-affiliated municipality has conducted no single work for the local people so far and no one knows what kind of job those assigned by the Iraqi government do. The municipality affiliated to the central Iraqi government sometimes introduces projects to attract public attention. However, most of these projects remain unfinished and unclaimed.
The municipality of the Shengal Autonomous Administration has stepped into action to complete the projects in question to serve the public.
The municipality of the Iraqi government introduced a greening project for the town of Sinun. However, since the project is not completed, the planted trees have dried up.
The Sinun Municipality has now introduced an irrigation project to save these trees.
Speaking to Rojnews, a member of the Sinun People's Municipality, Berekat Kasım, said that since the Iraqi municipality irrigates the trees only once a month, they are drying. The central government municipality does not take care of its own projects, he said, adding, "As the Sinun People's Municipality, we have started an irrigation project to prevent the trees from drying. In the coming days, we will plant new trees to replace the dried ones. We will also decorate the sidewalks with flowers and roses."
"We are carrying out these projects without any support since we consider it a duty. The Iraqi government offers no assistance to us in this regard. Still, we do our duty and continue to do whatever is necessary for the public service," Kasım concluded.