Student protests spreading in South Kurdistan
Protests by university students in South Kurdistan are continuing in Hewlêr (Erbil) and Sulaymaniyah.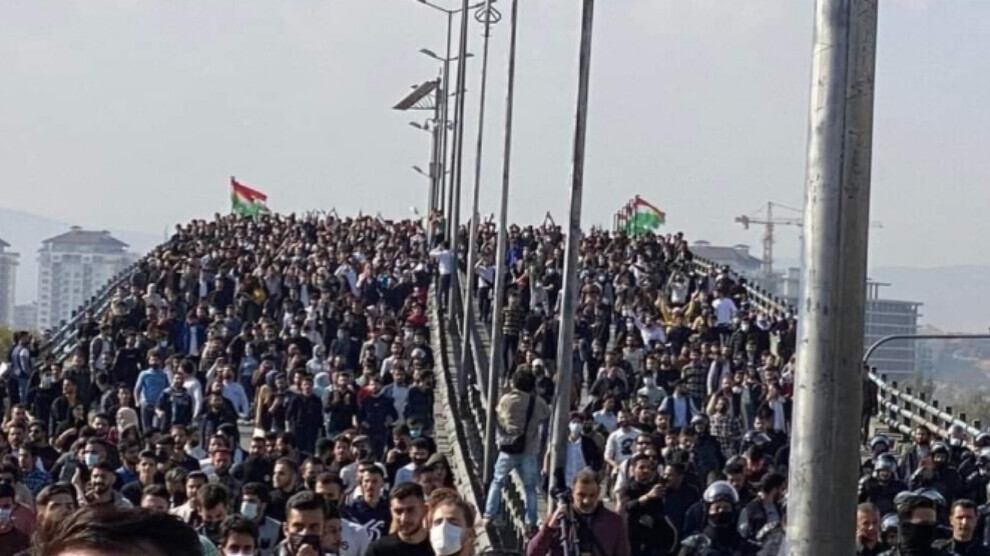 The protest demonstrations by university students that started two days ago in South Kurdistan (North Iraq) are continuing in Hewler, Sulaymaniyah, Raperîn, Germiyan, Koye and Soran.
The protests against non-payment of scholarships have marked their third day. Security forces attacked the students protesting in Sulaymaniyah. Numerous students were injured, and some others were detained. The students stated that they would continue their protests.
'WE WILL PROTEST UNTIL WE GET RESULT'
Students from Sulaymaniyah, Raperîn, Germiyan, Koye and Soran Universities have once again taken to the streets and voiced their demands on Tuesday.
A large number of students gathered in front of Sulaymaniyah University and announced that they would continue their protests until their demands are met.
Students from Soran University and Koye University have also started to protest.
HEWLÊR
In the city of Hewler, university students have taken to the streets to protest the government's failure to pay monthly scholarships. The demonstrations are taking place in front of the Council of Higher Education building.
Students are chanting slogans demanding their rights during the demonstrations.
Student protests are currently continuing at the universities of Sulaymaniyah, Hewler, Germiyan, Raperin, Koye, Soran and Halabja.
SULAYMANIYAH
While thousands of protesters gathered at the Salim Street in the city of Sulaymaniyah, thousands of others marched along the 100 Meter highway in Hewler.
The marches interrupted the traffic flow in both cities.
Security forces attacked university students at the Sera Gate, Sulaymaniyah with tear gas.
In the early hours of the morning, students took to the streets in Hewler, Soran, Sulaymaniyah, Halabja, Germiyan and Raperîn to demand their rights from the government.
Thousands of students marched towards the Sera Gate during a protest that started in front of the governor's office in the early hours of the morning in Sulaymaniyah.
Security forces blocked the entry to the Sera Gate by attacking the protesting students with tear gas and opened fire on the crowds.
Numerous students were injured by the gas bombs and were unable to breathe for a while.
DR. GULPI: I AM READY FOR SUPPORT
In the meantime, a general surgeon living in Sulaymaniyah, Dr. Faîk Gulpi released a message for students on his Facebook account. "I am ready to provide medical assistance to five students or their families each month until the 9th governmental reforms are introduced, and student scholarships are granted," Gulpi wrote.