Thousands bid farewell to Zeki Şengalî
Thousands attended the funeral of Yazidi Society Coordination and KCK member martyred by Turkish army raid.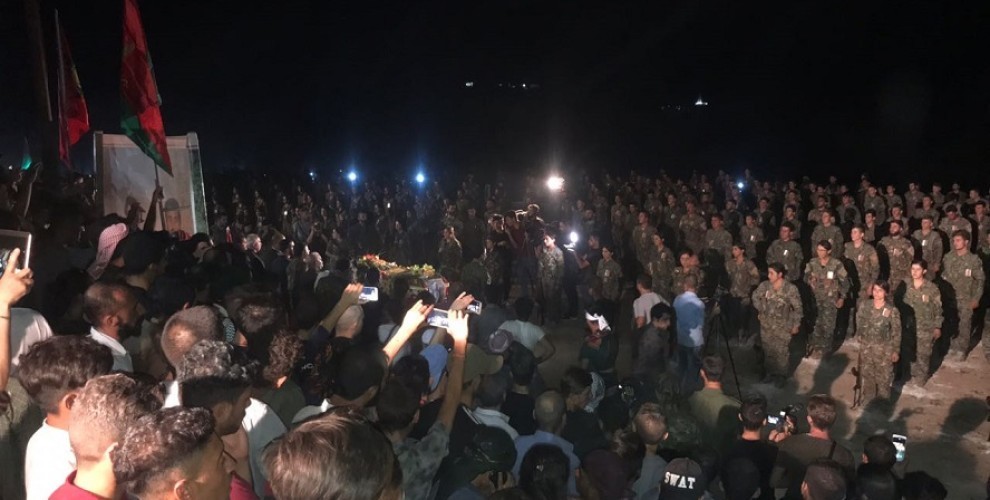 Thousands of people bid farewell to Zeki Şengalî, Yazidi Society Coordination and KCK Executive Council member who lost his life on 15 August as a result of Turkish warplane airtrikes. 
Thousands gathered at the Martyr Dilgeş and Martyr Berxwedan Martyrs' Cemetery in an emotional funeral ceremony for the very much loved Mam (Uncle) Zeki.
The Turkish state carried out an assassination with fighter jets on August 15, the 4th anniversary of the massacre the ISIS gangs carried out in Shengal's Kocho village. 
A military ceremony was held at the cemetery of YBŞ (Shengal Resistance Units) fighters.
Speaking after, YBŞ Commander Zerdeşt Şengalî stressed that the Turkish attack, which was carried out on the anniversary of the Kocho massacre, targeted all Yazidi people.
"Mam Şengali undertook historic roles in the struggle of the Yazidi people and accomplished his mission. We will avenge Şengali who gained a great place in the Yazidi community and history. We will resist against all attacks", said the YBŞ commander.
Shengal Administration Co-president Ferid Herbo also spoke, saying the following; "We, the people of Shengal, will avenge Mam Zeki's blood. The enemy must know very well that they cannot finish us with massacres. We will make Mam Zeki's dreams a reality with an autonomous Shengal. His dream was the unity and alliance of the Yazidi society."