Thousands attend funeral of KNK representative Bülbün
The funeral of KNK representative Deniz Bülbün, who was shot dead in Hewlêr, was attended by thousands of people in Yüksekova.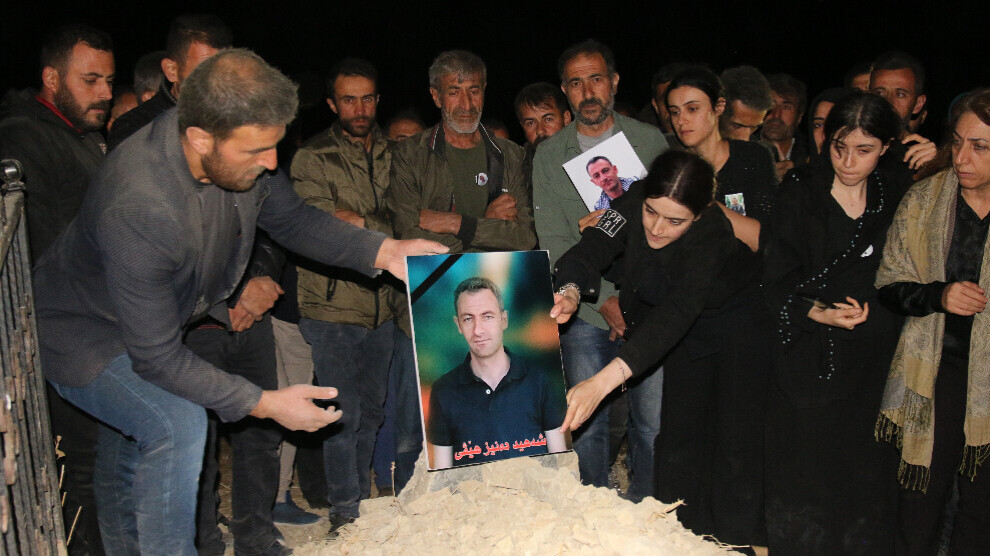 Deniz Bülbün, who was murdered in an attack on the Kurdistan National Congress (KNK) in Hewlêr on 18 September, was buried last night in Yüksekova (Gever).
The transfer of the body from South Kurdistan across the Iraqi-Turkish border to North Kurdistan was accompanied by harassment. After waiting for hours at the Habur border crossing, the body was transported to the state hospital in Şırnak for an autopsy and was only released in the evening.
From there, Bülbün's body was taken by his relatives and an accompanying convoy via military and police checkpoints to Hakkari (Colemêrg) province. 
The funeral in the village of Dêleze was attended by thousands of people, including DBP co-chair Saliha Aydeniz and Green Left Party spokesperson Çiğdem Kılıçgün Uçar. After the religious ceremony, the coffin was taken to the cemetery, with people repeatedly chanting "Bimre îxanet, bijî Kurdistan" (Down with betrayal, long live Kurdistan).
Green Left Party co-spokeswoman Çiğdem Kılıçgün Uçar said at the grave of Deniz Bülbün: "The Kurdish people have been fighting a struggle for a hundred years. This fight is facing sinister attacks in Turkey and everywhere in the Middle East where Kurds live. The attacks have intensified after Turkey's foreign minister, Hakan Fidan, traveled to the Kurdistan region of Iraq. South Kurdistan has become a major crime scene where murders are committed. The Kurdish people continue to fight and do not give up their resistance. And what is Turkey doing now? It is looking for new allies in the war against the Kurds."
The Uçar blamed the Turkish state and the Barzani family for the assassination of Deniz Bülbün. "The KNK representation is monitored around the clock by the KDP  and the security forces. How could this murder happen? How was it carried out? How can it be that the Barzani family didn't know about this? How is it possible that they didn't say a word about the attack? As long as the perpetrators and their backers are not exposed, the KDP and the Barzanis are guilty of this murder."
Uçar continued: "Dear Deniz, we welcome you here, where you were born and raised. You didn't come back alone. You came together with what you believed in and fought for. Your people have embraced you here. We promise you to continue your fight for Kurdish unity. The Kurdish people will take this fight to a higher level."