Three more guerrillas killed by Turkish chemical weapons in Southern Kurdistan
HPG published the names of three more guerrillas killed by Turkish chemical weapons on Girê Sor in Southern Kurdistan (Northern Iraq).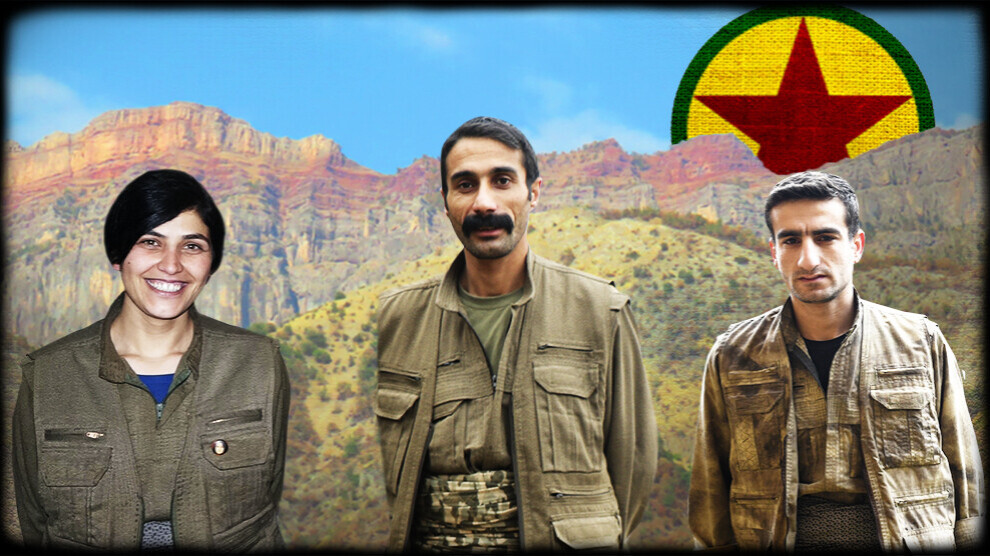 The People's Defense Forces (HPG) Press Office released information on the identities of three more guerrilla fighters who were killed by Turkish chemical weapons. The HPG Press Office said, "In our statements on September 8 and 11, we made public that three of our companions were killed in the Girê Sor resistance positions because the Turkish occupying state committed a war crime and used chemical gas." After three surviving fighters reached the guerrillas in another area, according to HPG, it has been confirmed that Özgür Bagok, Serhildan Mordem and Argeş Botan were also killed on September 3. The circumstances of their deaths are detailed in the survivors' accounts.
The personal details of the three martyrs are as follows:
Nom de Guerre: Özgür Bagok
First-Last Name: Fatma Balica
Birthplace: Mardin
Mother's-Father's Name: Heybet – Ramazan
Date and Place of Martyrdom: 3 September 2021 / Avaşîn
Nom de Guerre: Serhildan Mordem
First-Last Name: Serdar Dinç
Birthplace: Van
Mother's-Father's Name: Şefika – Ahmet
Date and Place of Martyrdom: 3 September 2021 / Avaşîn
Nom de Guerre: Argeş Botan
First-Last Name: Hasan Emcür
Birthplace: Şirnak
Mother's-Father's Name: Kadibe – Hacı
Date and Place of Martyrdom: 3 September 2021 / Avaşîn
ÖZGÜR BAGOK
Özgür Bagok was born and raised in Mardin's Nusaybin district, and her family was close to the Kurdish liberation struggle. She joined the guerrillas and spent the first five years of her fighting life in the mountains in Heftanîn where she continued her ideological and military education. When the Turkish army attacked Heftanîn, she fought on the front line and participated in many hard-hitting actions. She gained great experience in this war and went to Avaşîn in early 2021. HPG described her natural self-confidence as characteristic of women from Nusaybin, saying, "She enriched this personality trait with Abdullah Öcalan's philosophy and found herself taking confident steps on the path to becoming a free woman."
SERHILDAN MORDEM
Serhildan Mordem was born in Van's Özalp district and grew up in a patriotic family that was connected to Kurdish culture. He rejected a life within the Turkish ruling system and joined the guerrillas in Amed in 2012. He fought in Northern Kurdistan for years and was involved in many successful actions against the enemy during that time. From there, he went to Southern Kurdistan for further training and has been in the Avaşîn region since 2016. There he put into practice the experience he had gained in Northern Kurdistan and shared it with his companions. According to HPG, he knew every path and mountain peak in Avaşîn and became an accomplished guerrilla commander.
ARGEŞ BOTAN
Argeş Botan was born in Şırnak's Cizre district and grew up with the natural patriotism of the region. He was active in the Kurdish youth movement and joined the guerrillas when the Turkish state committed massacres in his town and other places in Northern Kurdistan. After a short time in the mountains, ISIS attacked Southern Kurdistan and Argeş was part of the guerrilla groups defending Maxmur and Kirkuk against the Islamist invasion. He took on important roles in defeating ISIS in the region and then went back to the mountains. As of 2018, he was staying in Avaşîn.
HPG described the three martyrs as "valuable representatives of the dignified side of humanity" who never bowed to the occupation, expressing their sympathy to the families of martyrs, the people of Nusaybin, Özalp and Cizre, and the entire people of Kurdistan.
RELATED NEWS: