Trustees discussed in Swedish Parliament
Swedish Social Democratic Party MP and Parliamentary Foreign Affairs Commission Member Anders Osterberg and Left Party MP Amineh Kakabaveh took the appointment of trustees to the Amed, Mardin and Van municipalities to the Swedish Parliament.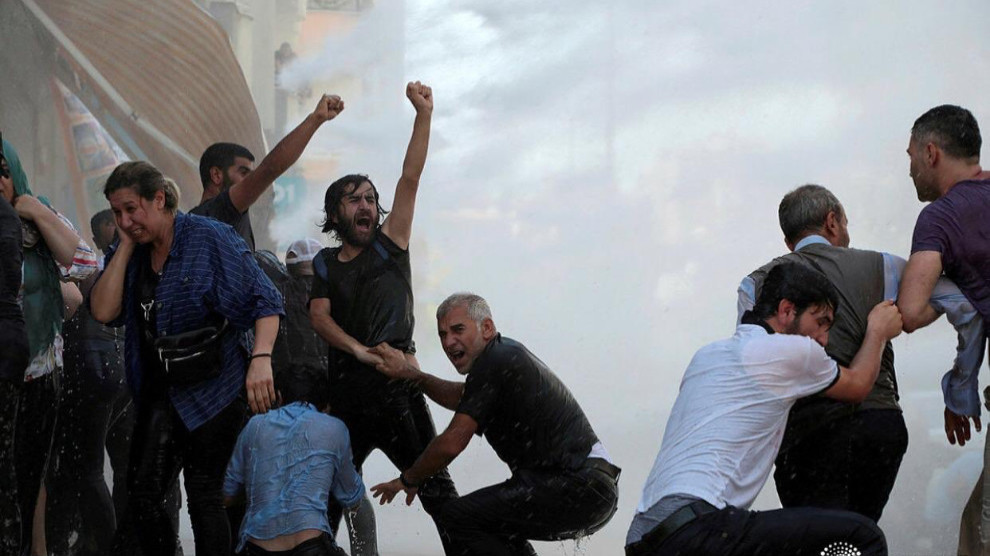 The MPs submitted separate written inquiries to take the matter to the parliament's agenda. Osterberg pointed out that the Turkish government has deliberately increased pressure to intimidate and silence the opposition, and said: "HDP's 3 mayors were removed from office on August 19 by the Interior Ministry and trustees were appointed in their place. 60 city councillors and a total of 400-plus HDP members were also detained."
Osterberg said the anti-democratic practices in Turkey and the continued arrest of former HDP Co-chair Selahattin Demirtas despite an ECHR ruling to the contrary are concerning, and demanded that Foreign Minister Margot Wallstrom take action against the injustice.
TRUSTEE APPOINTMENTS ARE A NEW ATTACK AGAINST DEMOCRACY
Left Party MP Amineh Kakabaveh mentioned the ousting of Amed, Van and Mardin mayors and the political genocide operations against the HDP in her inquiry titled, "A new attack against democracy in Turkey".
Kakabaveh said the Erdogan regime has removed elected mayors from office before and arrested HDP MPs: "Sweden must condemn the arrest of politicians elected by the people, and demand that the HDP members and all political prisoners be immediately released."
Stockholm MP Kadir Kasirga spoke to the ANF about the Swedish government's and Social Democratic Party's stance regarding the appointment of trustees and other developments in Turkey.
Kasirga said opposition parties achieved a great success in the March 31 local elections while the AKP suffered a great defeat, and then a greater one with the renewed elections in Istanbul.
"ONLY THE PEOPLE CAN REMOVE REPRESENTATIVES ELECTED BY THE PEOPLE"
Kadir Kasirga said the AKP government and Erdogan usurped Kurdish cities' municipalities in 2016 too and imprisoned representatives of the people's will with baseless accusations:
"I see the appointment of these 3 trustees as the continuation of the attack in 2016 against Kurdish municipalities and the HDP. These practices are against democratic principles and values. Only the people can remove representatives elected by the people."
TRUSTEE APPOINTMENTS ARE IN CONFLICT WITH TURKEY'S EU PLANS
Kasirga said the AKP-MHP alliance appointing trustees to the Amed, Mardin and Van municipalities goes against Turkey's plans to join the EU: "Turkey and the region need peace and stability. The government confiscating municipalities won't serve that. On the contrary, it makes instability deeper."
Kasirga said the Turkish state is facing serious issues: "For example, there is an economic crisis in Turkey. Unemployment is at 15%, and the number rises every day. This triggers a political crisis. The government wants to distract from this crisis by pointing public attention to operations and attacks against Rojava and Southern Kurdistan."
SWEDEN AND THE OUTSIDE WORLD MUST PROTEST STRONGLY
Kasirga said the government confiscating the Kurdish municipalities, attacking Southern Kurdistan and increasing threats against Rojava is not going to serve Kurdish or Turkish people and said, "Against Turkey's approach that increases tensions, Sweden and the outside world must protest strongly."
Kasirga said the Social Democratic Party considers the removal from office of elected mayors to be a coup against the will of the people, and said hope gets stronger despite the dark times:
IT GIVES ONE HOPE THAT THE OPPOSITION IS TAKING A STAND
"It gives one hope that those who remained silent when in 2016 mayors were removed from office are taking a stand now. The opposition is protesting the AKP's practices. Statements by Ekrem Imamoglu and Canan Kaftancioglu are important. It is a positive development that AKP founder and former president Abdullah Gul and former prime minister Ahmet Davutoglu object to the trustee appointments. These are all signs of discomfort against the new system implemented a year ago. I expect that the opposition will object to the illegal and illegitimate practices together."
When asked why the Swedish government hasn't released a statement condemning the usurpation of municipalities, MP Kasirga said:
"Our European Social Democratic group did issue a statement. The European Parliament has also taken a stand against the AKP's trustee appointments. We are expecting Foreign Minister Margot Wallstrom to issue a statement soon."
THE SOLUTION LIES WITH PEACE TALKS
Kasirga said democratization in Turkey will be through the solution of the Kurdish issue: "As a party and the government, we want the PKK and Turkey to sit back down for peace talks. War has continued for 40 years, and the issue has become much more complex. The issue can only be resolved through peace and negotiations. I am hopeful for the future."