Turkey builds walls on Iranian border to disconnect Kurds
Serhat Association for Migration Research (Göç-Der) co-chair Gülşen Kurt said that Turkey is building walls at its border with Iran with EU funding in a bid to severe connection among the Kurds rather than to avoid refugee influx.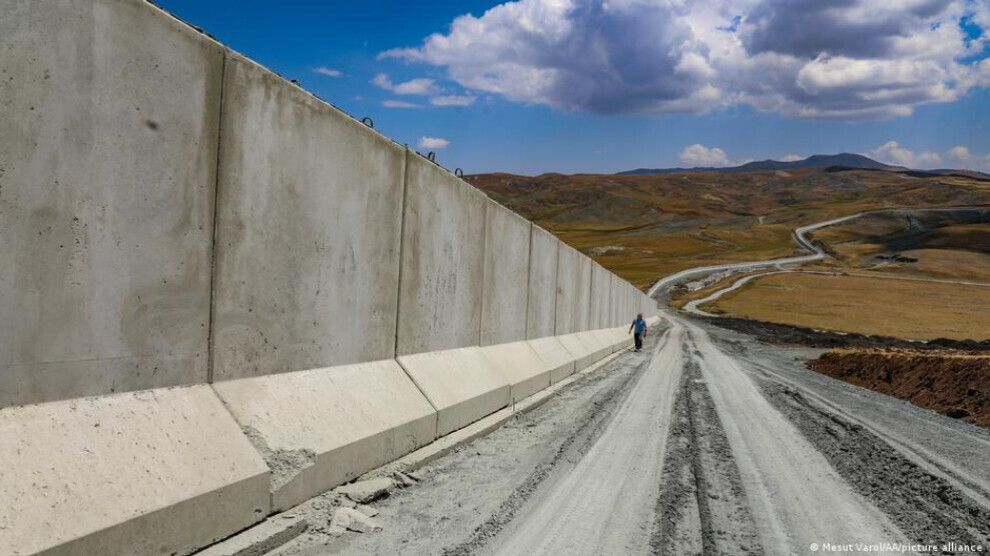 Using the refugee influx as a smokescreen, Turkey wants to separate the Rojhilat (Iranian Kurdistan) and Bakur (Turkey's Kurdistan) Kurds living on both sides of the border.
At the beginning of 2021, Turkey also started to build a wall on its Iranian border with Van and Hakkari cities. TOKİ (Housing Development Administration of Turkey) completed 45 kilometres of a 64 kilometres long wall in Van city and 16 kilometres of a 28 kilometres long wall in Hakkari city.
Government-appointed mayor of Van Mehmet Emin Bilmez said that the construction was interrupted due to the winter conditions yet would resume in the spring. "At the moment, only the wall has been built. Barbed wires will be put over that wall. A 200-kilometre-long ditch has been dug along the border. Our reinforcing units are working to put barbed wires and to construct 217 watch towers and 2 outposts," Bilmez said.
Following the trustee mayor's statements, three Afghan refugees lost their lives by falling into the ditches along the border. 5 more Afghan refugees who crossed the border were returned to the border by Turkish soldiers in two months. The refugees who were not allowed to pass by Iranian soldiers froze to death at the border.
WALL FUNDED BY EU
There is a well-rounded agreement over the refugee crossings between Turkey and the EU. The EU pays a large amount of money to Turkey to keep refugees away from crossing borders. Turkey also receives funds from the EU to build walls on the border. Using the refugee influx as a smokescreen, Turkey is thus breaking off the relations between the Kurds of Bakur and Rojhilat.
REFUGEE POLICY NOT LEGAL
Serhat Association for Migration Research (Göç-Der) co-chair Kurt remarked on the issue. "Since Van is bordered by Iran, there has been an intensive refugee influx from Afghanistan. We are witnessing a great human tragedy experienced by refugees who want to cross into Turkey under the winter conditions. We cannot receive instant information from the border. There is currently a great tragedy over there. Most recently, a mother died after being sent back to the border by Turkish soldiers. There is no legal status for refugees coming to Turkey. When they go to cities like Istanbul and Ankara via Van, they are subjected to racist attacks. The government's refugee policy is not legal, and the rights of refugees are violated. The fact that refugee women are victims of rape and harassment at the borders reveals that Turkey has not done anything to deal with the refugee issue.
TWO SIDES OF THE BORDER ARE DISCONNECTED
Kurt noted that Turkey has made no regulations regarding the refugees and is now building a border wall in order to prevent refugee crossings. "Turkey is building these walls with the funds it receives from EU countries. The border wall is being built to separate people who are relatives of each other. People have long been trading across the border. Trading was their basic means of living, but now walls are ending it and our people living on the border are suffering from starvation. It is so clear that the walls are being built to cut off the contact between our people living there, rather than to prevent the refugee influx with the funds provided by the EU."